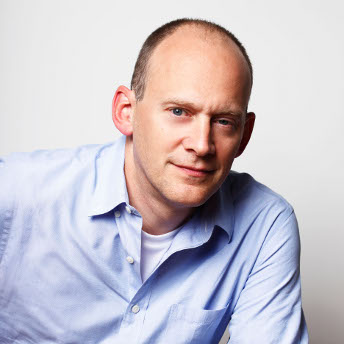 "You really ought to meet Todd, he's a dreamer and he has some really interesting ideas," Lacy Schutz, Director of Collections Access at the Museum of the City of New York (MCNY) recalls being advised. Lacy had been brought on at MCNY to bring a collection of 300,000 photos online, working with Karl Fakhreddine of Orange Logic, the institutions Digital Asset Management (DAM) vendor.
As part of this initiative the Museum was facing a key challenge. The team had the capacity to scan and process up to 700 digital images per day. However, its three catalogers, faced with a more tedious task, could only annotate up to 150 records per day.
Meeting Todd
Todd Carter is a creative, a visionary, and the CEO and Co-founder of Tagasauris. Todd founded Tagasauris, in 2010 with a vision of creating a more linked, explorable, and discoverable world wide web. Tagasauris is a data-curation platform that does just this, makes your content smarter, more searchable, explorable, and discoverable leveraging the 'crowd' coupled with machine learning and the knowledge graph to complete previously daunting tasks in a fraction of the time and cost.
Access, visibility and exposure to your digital collections is readily available, in a cost and time efficient manner with the use of this platform.
In their first meeting Todd shared with Lacy the idea of crowdsourcing. She was familiar with it but never thought of it as applied to large-scale projects within major institutions. Todd explained more with the example of Captcha.
Captcha is the 'security' box that we come across online when verifying we are a human and not a robot. Unbeknownst to many as part of this verification, in some cases, we are part of the 'crowd' and are actually transcribing back issues of The New York Times. How cool is that?
What about Quality Control?
As Todd continued, it became clear to Lacy how this concept of crowdsourcing coupled with Tagasauris' patent pending machine learning technology, ensuring quality control, could actually be a solution to her problem. Tagasauris' software-as-a-service platform is used for tagging, describing, categorizing, annotating, labeling, and organizing online media and other forms of knowledge work.
Hence, your digital images, collections, photos, videos can now be easily found on the web, more easily linked with related media, and most importantly accessible to your audience and potentially a wider audience.
The Landscape, The Lay of The Land
I had the pleasure of meeting with Todd to discuss the landscape of opportunity that Tagasauris is providing. I must say Todd is a genius. Speaking with him is absolutely fascinating and awe-inspiring. He's somewhat of a savant, the way he thinks and makes connections is brilliant and innovative, with a clear idea of how to relate it to real world problems. He has a strong grasp and vision on where we are headed with the increasing amount of data and information online which makes it exciting rather than daunting.
He's broken the concept into three problems: Findability, Discoverability, and Linkability. Findability involves searching on a specific topic or concept. For humanities organizations if assets are not tagged they are not findable. This is why organizations engage Tagasauris. Discoverability is about once an asset is described how well it's connected to or related to other objects. Linkability or the degree in which things are connected and connectable, is the next level in discoverability.
Tagasauris is laying the foundation for data, whatever the form (text, audio, video), to be described and linked into information networks.
The Opportunity
Valerie Matteau, Ryerson's Arts Programmer and Exhibition Coordinator, who was tasked with digitizing the Black Star Collection and making it accessible, read about Tagasauris in the Journal of Photography. She was facing the problem of internal staff feeling pressure to complete cataloging to make the photos accessible within a acceptable time frame. They engaged Tagasauris who has tagged 60,000 photos and counting. "I could never have finished this in a different way.", shared Valerie. "It makes it modern, contemporary, with faster searches and more hits, allowing us to open the collection to everyone, students and the public."
Ryerson Image Centre of Ryerson University was gifted the famous Black Star Collection, a collection of a quarter a million photos from the Black Star photo agency of New York City. The collection contains photos spanning eighty years that mark our history including: a picture of USS Shaw exploding at Pearl Harbor (1941), the famous image of Coretta Scott King at the funeral of Martin Luther King (1968), and an Audrey Hepburn shot atop a boat in Switzerland (1950), just to name a few.

Ryerson Image Centre opens their doors to the world, September 29. An important historical collection, is being made accessible and easily searchable to the general public with the help of the 'crowd', people who care and want to contribute, thanks to the platform built by Todd and his team.
So What Happened with Todd and Lacy?
Want to know what came out of Lacy and Todd's conversation? They chose to join forces and the National Endowment of the Humanities awarded them a grant to tag 60,000 photos, a subset of Lacy's collection. The results will be shared at an upcoming event at the Museum of the CIty of New York October 2nd.
At this event there will be a panel including Lacy Schutz, MCNY, Perry Collins, NEH, Todd Carter, Tagasauris, David Alan Grier, Professor, George Washington University as well as Sharon Chiarella, VP of Amazon Mechanical Turk, one of the crowdsourcing platforms Tagasauris uses, David Lipsey, Chairman DAM / Principal Optimity Advisors and Panos Ipeirotis, Professor at NYU's Stern School of Business and Chief Scientist, Co-founder at Tagasauris. It will be an event that will satisfy the humanities guru and lover, computer science geek, and innovative business leader alike (one in the same) in all of us. The event is invitation only and will be held at the Museum of The City of New York.