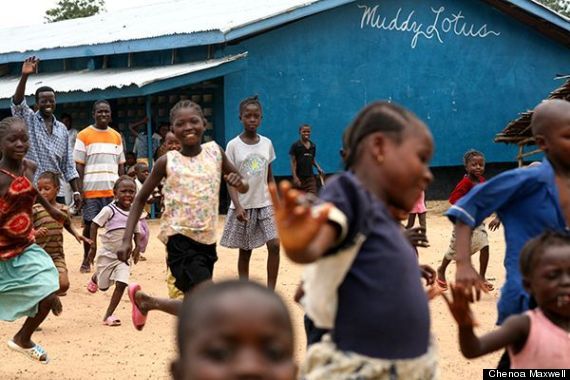 In seven years since founding the organization Shine on Sierra Leone, we have provided micro-loans for 7,000 women, trained 12,000 people in computer literacy, and launched a maternal & child healthcare center that has already served 25,000 members of the community. We did all of this while managing and growing our primary school.
My original charitable intention when I went to Sierra Leone (where I was filming a documentary on diamonds) was to buy new uniforms and tuition fees with $6,000 I had raised on my own. After living among the diamond mining community of Bongema and visiting the roofless school house which had been burned down by the rebels and where 400 students gathered each day for the precious opportunity to learn, my so-called noble idea of purchasing hundreds of new uniforms seemed senseless. I was advised by the film's producer and director to "invest" these funds into something that would last such as replacing the roof on the school. And I did just that. I invested the funds into a new roof, cemented floors, indigo blue paint to redo the walls, and hundreds of school desks for the student. And that is how Muddy Lotus Primary school was born.
But a roof was only the first step. Upon taking our first national aptitude exam to establish our place among the other schools in the nation, Muddy Lotus ranked 736 out of 736 schools. We were last and we knew that was unacceptable. As we grew, we were called to address multiple important components of our students lives in order to ensure that receiving the full benefit of the education that we were offering was possible. We addressed the economic stability of the home through micro credits, ignited the passion for learning in the household through free adult literacy classes, and we put a tremendous amount of effort towards supporting the health of mothers and children to actively reduce the world's highest mother and child mortality rates.
Through all of this, a miraculous shift among Muddy Lotus's students was happening right in front of our eyes.
Our students, who recited a set of affirmations that we created together when we met in 2006, were actively in the practice of saying these 10 positive statements every morning and afternoon. Almost singing them, they would excitedly recite to the point of almost dancing. The affirmations included these phrases: "I have friends all around the world. I am a hardworking dedicated student. All of my needs are met. I have clean water to drink, good food to eat, clothes and shoes to wear. Today is a great day, filled with wonderful surprises..."
I knew that positive affirmations could only help the esteem of the student body but it wasn't until several years later where I received the news of our most recent ranking that I realized just how much our sweet affirmations were changing lives. Muddy Lotus was now ranked #3 out of 736 schools. Our incredible students have unknowingly used the power of their minds to change the trajectory of their lives.
Because of this, Shine On's next phase will focus on strategic growth and focused development. We are creating a Wholistic Education Curriculum that will feed the mind, body and spirit of our students. Funding has been secured for a new secondary school and building will begin soon which will alleviate the 18 mile round trip walk for middle school students. The primary and secondary school sites will be serving every student in the Bongema community and will adopt our new Wholistic Curriculum. The curriculum of our various courses, trainings, and job training is designed to support the student to more fully express themselves as individuals through the process of self-awareness, self discovery, and self-reliance. Our goal is to graduate a self-realized student that is capable of solving his or her own country's problems. This ideology brings us back to our core mission and beliefs that we are all meant to shine, thrive, and evolve. Shine On Sierra Leone is devoted to empower individuals to discover the transformational tools and inner power that will radically enhance their personal lives and therefore contribute to a harmonious world that works for all.
Join us as we journey to the top of a new education in Sierra Leone!