"I couldn't find Darling anywhere. We lived on several acres of land and I searched for hours. I was hopeless. Then, as the sun began to set, I finally spotted him lying in a field in the distance. As I drew closer, my worst fear was becoming reality as he lay there lifeless. I cried --harder than I'd ever cried before in my life. We were planning to take him to another family who could care for him. He was healthy, but then he was gone. Just like that. It was as if he knew we were leaving him behind while we planned to start a new life... "
Those were the words of my aunt in a story she'd told to me as a child. It was a story about my family, their journey to begin again, and Darling, their beloved pup.
After the Royal Lao Kingdom was overthrown by the communist party in 1975, my grandfather, an officer in the Royal Lao Army, was captured and lived in a communist reeducation camp for several years.
After years of being "reeducated" to think as a communist, he was freed. Grandpa, however, had a different plan. He considered himself lucky as many members of the Royal family disappeared or died in the camps. Within a week of his release, he gathered his family and sold what he could to purchase plane tickets out of the country.
During the war, they lost most of their possessions and in the middle of the night as they began their journey in search of freedom, they had to leave everything behind, including Darling.
On their way to America my family traveled through Thailand, where I was born in a refugee camp set on a military base. My first months in the world were spent traveling across the globe and living in a refugee camp in the Philippines. Before I reached my first birthday, my family found themselves starting a new life in the U.S.
Fast forward three decades.
I don't often talk about my past, not even with my closest friends. But when I have, people sometimes say, "You don't have an accent." They're puzzled. I seem so 'American' to them.
Indeed, that's who I am. I had a relatively normal, American, middle-class upbringing. I've been very blessed. My parents worked hard and built relatively successful businesses to provide for us. They gave me many opportunities, including a college education.
But how different my life could have been...
With the help of many generous people -- missionaries and aid workers in the beginning and others along the way, my family found the freedom and opportunity they were looking for.
Three decades after my family came to this country, I find myself working for a humanitarian relief organization: ShelterBox USA, which helps families rebuild their lives after disasters such as earthquakes, floods, hurricanes and conflict -- families just like mine.
At this moment, ShelterBox is responding to multiple disasters in six countries, including the U.S. and Haiti in the aftermath of Hurricane Sandy and in Iraq, aiding the Syrian refugee crisis.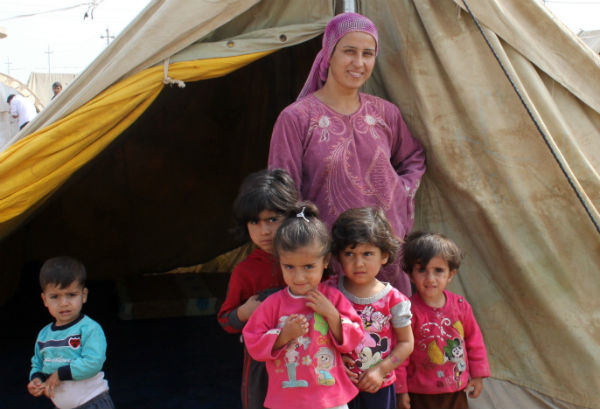 Image courtesy of Shelterbox
In the photo is a Syrian family living in the Domiz refugee camp in northern Iraq, where they've taken refuge as a result of the growing violence, political conflict and economic hardship in their country.
When I look into their eyes and those of the children, the mothers and the fathers that ShelterBox helps -- in our own country or abroad, I see myself and my own family. ShelterBox provides not just the tools, but hope for families to rebuild, to begin a new life -- families who have lost everything through no fault of their own.
In my family's case, the disaster was conflict. It takes hard work and perseverance, but where would my family be if there weren't so many people to help them along the way? Others had kindly given my family the tools we needed to rebuild our lives independently and with dignity.
It is not only my passion but my duty to support the work of organizations like ShelterBox -- to help families around the world, families just like my own.
I am currently going through the selection process of becoming a ShelterBox Response Team member -- a volunteer who delivers emergency supplies to disaster survivors in the field. While I also plan to volunteer my time in the field with ShelterBox, there are so many other ways to give.
Everything happens for a reason and this is why I found ShelterBox. This is why I give. My family and I have received so much in life and it's my turn to give back.
Why do you give? What are you passionate about?
Anyone and everyone can make a difference. During this season of giving, especially on #GivingTuesday, I encourage everyone to take action. Whether you're an individual, a business or nonprofit organization, get involved.
ShelterBox is participating in #GivingTuesday by offering alternative giving options over the holidays.
How will you participate? By giving to your favorite charity? Volunteering your time? Please get involved and you could change someone's life. Others have touched mine and I will be forever grateful.
This blog is part of our #GivingTuesday series, produced by The Huffington Post and the teams at InterAction, 92nd Street Y,United Nations Foundation, and others. Following Black Friday and Cyber Monday, #GivingTuesday - which takes place for the first time on Tuesday, November 27 - is a movement intended to open the holiday season on a philanthropic note. Go to www.givingtuesday.org to learn more and get involved.