So much of our lives these days seems to be spent reacting and even over-reacting. To the world. To the planet. To the country. To our neighborhoods. To our families. Even to ourselves. But, in this time of challenge and change, we actually have the unique opportunity to look at things differently -- to take action and effect change by getting involved in service of some kind.
Every day the media reports on new threats to our families, job stability, national security, personal liberties and more. It all sounds so daunting, and our natural reaction is to hunker down and focus primarily on ourselves and our immediate circumstances. But, instead of looking inward, now is exactly the time you can use your skills to get involved and be part of something meaningful -- not just for the world but also for yourself.
Why Give?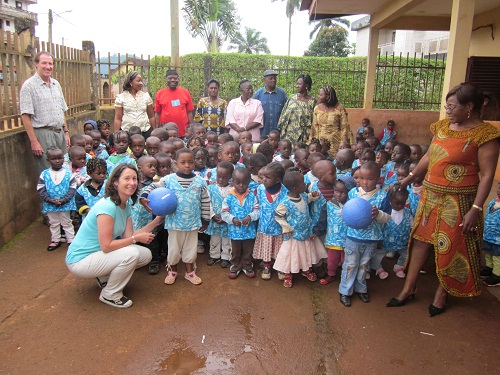 Photo: Ngueuliebou Frederic
After 30 years, ex-Peace Corps volunteer Richard Knutson returns to Cameroon with his wife, Kathy, to visit schools and deliver One World Futbols. Despite the distance and long absence, Knutson has maintained the friendships and connections he made in Cameroon when he volunteered there from 1978-1981.
By taking action for others, you create a level of certainty that is a perfect antidote to the uncertainty and challenges many of us are facing every day. Giving your time and doing service-related work can be a great way to help other people while also learning skills that you may never get a chance to develop otherwise. And, service work not only increases your hourly worth but, more importantly, it increases your own self worth.
In a U.S. News & World Report article titled "Volunteering Does a Body Good" (November 30), author Angela Haupt cited several studies that show a direct and positive link between volunteering and serving others. Some call it the "helper's high"; others talk about it in terms of developing our sense of compassion.
Bottom line, giving not only does a body good, it does lots of good for lots of bodies!
Is Luck an Accident?
I learned from a great man named Tony Robbins--whose own passion for service has impacted millions of lives--that success leaves clues. Through service you may discover opportunities to be mentored and coached by people who see your worth and allow you to learn things that can't be taught in school or found in a book. And, depending on the organization and its mission, you will likely uncover and have unprecedented access to people of influence, skill and good will. In the end, it's fairly certain they'll view you in the same way. The more you contribute, volunteer, serve and give, the more preparation and training you will get.
If luck is what happens when preparation meets opportunity, then I encourage you all to prepare and realize all the opportunities that are out there right now. The more open you are to every opportunity, the more chances you will have to be "lucky".
Now Would Be A Good Time
Opportunities are everywhere. Given the current economy and challenges, it's often intimidating to try something new or different. But, it's in these turbulent times that we do have the chance to look at things differently, do things differently, and take action!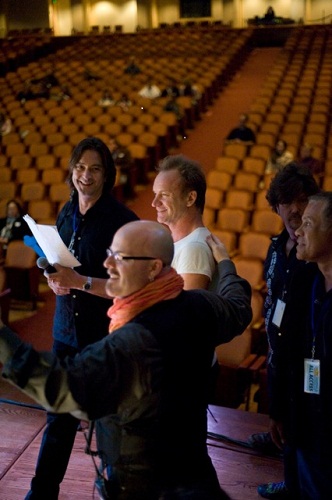 Photo: Jean Marie Reed
Tim Jahnigen and Sting during preparations for Let the Sunshine In concert benefiting the Narada Michael Walden Foundation.
In fact, if it hadn't been for the blessings of my own "lucky" opportunities--which were years in preparation--I would not have been ready to launch the One World Futbol Project. If I hadn't volunteered my time to organizations like The Rainforest Foundation or the Narada Michael Walden Foundation, I may never have developed the skills, confidence and relationships with pivotal supporters like Sting to create the One World Futbol and start this socially-responsible company. Our main mission is to improve the lives of individuals living in disadvantaged communities worldwide by working with organizations on the ground in war zones, refugee camps and other harsh environments. But I also hope we can inspire people to take a chance and help others even during these unstable times. You never know how even the smallest act of giving can add to your own "luck" and lead to something bigger.
Right now, in this very moment, there is a non-profit, foundation, group, organization or movement that is in need of your help, energy and skill sets. A simple way to get started is to go to websites like NonProfitList.org, Idealist.org or Melissadata.com to find local, national or international projects to work with. Scan your horizons, see what captures your imagination and make contact.
Opportunity is knocking. Will you answer?
I hope so, for all our sakes.