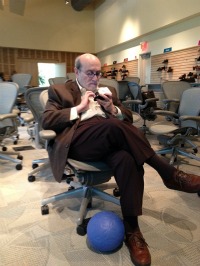 Mal Warwick, managing member of the One World Futbol Project
(Photo: Rob Thomas)
When Lisa and I started the One World Futbol Project, we knew we had the opportunity to create a business that could bring joy to millions of children around the world -- with something as simple as an ultra-durable ball. Our goal was not to make a lot of money, but to distribute as many One World Futbols as possible to kids living in refugee camps, war zones, troubled inner-city neighborhoods and impoverished villages. As we looked at our options, we realized we would need to set up the One World Futbol Project as a for-profit business -- with a structure that would allow us to fulfill our mission and provide us with a platform that was both socially- and environmentally-focused.
Our search for a business structure that enabled us to both focus on and fund our mission led us to Mal Warwick, who helped us organize our company as a B Corporation. Mal's consulting company, Mal Warwick Associates, was a Founding B Corporation, joining the movement five years ago, its first year. An active member of Social Venture Network, Mal had also been involved in the fast-growing phenomenon of socially-responsible business for more than two decades, co-authoring a book on the subject with Ben Cohen of Ben & Jerry's, Values-Driven Business: How to Change the World, Make Money, and Have Fun.
Mal has remained a key member of the One World Futbol Project. His passion and experience have helped us get the company off the ground. Recently, I had a chance to sit down and get his perspective on everything that's happened since we first met in 2010.
Tim: When we came to you with our idea, what were your initial reactions?
Mal: When you approached me two years ago, I knew instantly that you had the makings of a truly magical enterprise. You had already invented and successfully field-tested the virtually indestructible One World Futbol -- something that held promise to bring positive improvements into a lot of lives around the world.
I've been asked several times why a guy like me is selling soccer balls -- someone without a single athletic bone in his body and virtually no interest in sports -- but I was hooked from the start. Because of my background and experience, your idea for a mission-driven business was a natural. I'd served for nearly four years as a Peace Corps Volunteer in rural Ecuador in the 1960s. And, I'd flown almost a million miles around the world to teach fundraising to nonprofit organizations, many of them working in places we've targeted to distribute the One World Futbol.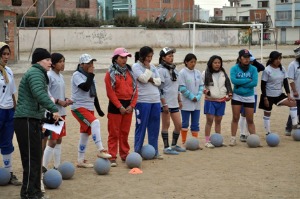 Bolivian girls' team with One World Futbols, El Alto, Bolivia, at 13,600 feet (Photo: Level Playing Field)
Tim: You were clear from the beginning that organizing as a B Corporation was the ideal fit for us. What is it about B Corps that set them apart from other businesses?
Mal: A B Corporation is a for-profit company that regards profit as only one of the reasons for doing business. To become certified as a B Corp, a company needs to pass a rigorous test that examines its business practices and policies -- proving that it's taking into account the interests of its employees, its customers, the community or communities where it does business, and the environment as well as those of its owners or shareholders.
In California and in six other states, there are already laws in place that establish "benefit corporations" (the legal term for B Corporations) as a new way to organize a business. These laws offer a way for companies to prove to the public that they're not greenwashing -- and to open doors to impact investors eager to support companies that work to make the world a better place. What you were trying to accomplish with the One World Futbol Project made it an ideal B Corp candidate.
Tim: With your help, we were certified as a B Corp the day we opened for business July 2010. It's been almost two years since then -- what are your impressions of the business so far?
Mal: I think we're off to a good start. Tens of thousands of One World Futbols have made their way into 128 countries at last count -- helping more than an estimated 525,000 children living in harsh communities around the world.
It's incredible to think about how many individuals have been positively impacted by the ball already. I want to encourage others who would like to share the joy I feel when I learn about another far-away community where children are now playing with One World Futbols. To get a feeling for what we're about, simply go to One World Futbol Project, where you can "Buy One, Give One" or "Just Give One" -- and help keep play alive for youth living in harsh environments around the world.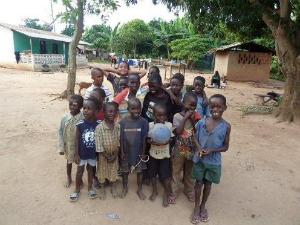 Boys in a Ghanaian village with their new One World Futbol (Photo: Wayne Dunn)