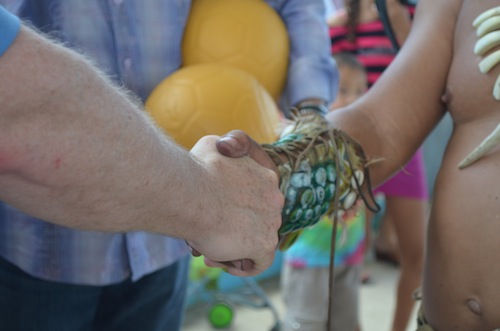 Photo Credit: One World Futbol Project 2013.
I was not prepared for what I was about to experience in Chapab—a village in the Yucatán where we delivered One World Futbols. When we arrived at the center of town, we were greeted by members of the Asociacion de Luegos y Deportes Antictonos y Tradicionales de Yucatan, A.C., a nonprofit that works to preserve the games and traditional indigenous sports in Yucatán.
"They are waiting for you," is what someone said.
I stepped out of our van and I felt in my heart a great sense of spirit, a great sense of dignity. The tribal leader, Jose de Jesus Manruiqe Esquivel, and I connected immediately and I was moved to tears at this moment and several times during this most unexpected yet extraordinary series of moments. The shaman of the Asociacion performed a purification ceremony and, along with members of our One World Futbol Project team, our partners in the Yucatan and the Chapab community, we watched "pok ta pok."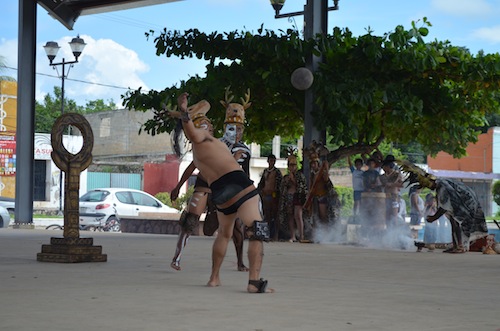 Photo Credit: One World Futbol Project 2013.
As we learned that afternoon and later in Uxmal ("City of the Magician"), "pok ta pok" is an ancient ball game played for more than 3000 years by the pre-Columbian civilizations of Mesoamerica. This game was a ceremonial ritual in which the struggle between forces of light and darkness were recreated.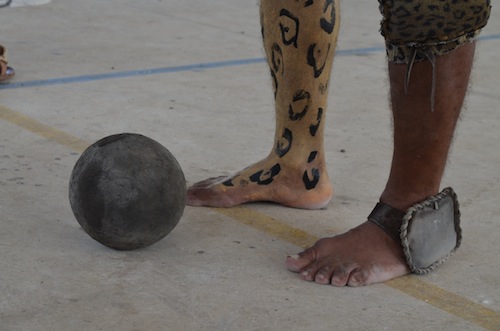 Photo Credit: One World Futbol Project 2013.
A rubber ball (also called "pok ta pok") was used. The goal of the game was to pass the ball through one of the rings without touching it. In fact, when a player was able to pass the ball through the stone rings—this marked the end of the game. As Jose explained, players could only use their elbows, hips, or knees. The game was played with seven players on each side, and each shared "the sun" as their 8th player (teams competed but, in the shared partner, teams were also connected). In the ancient game, a player would have to pay for the result with his life. It is not known if the sacrificial victim was from the loser's team or from the winner's team.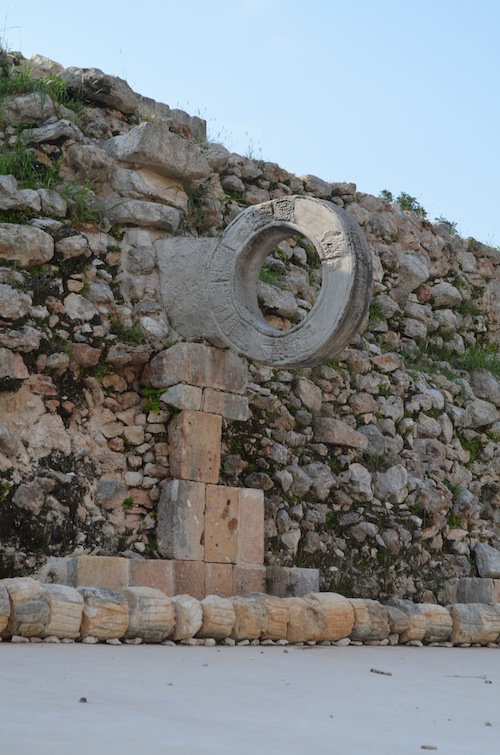 Photo Credit: One World Futbol Project 2013.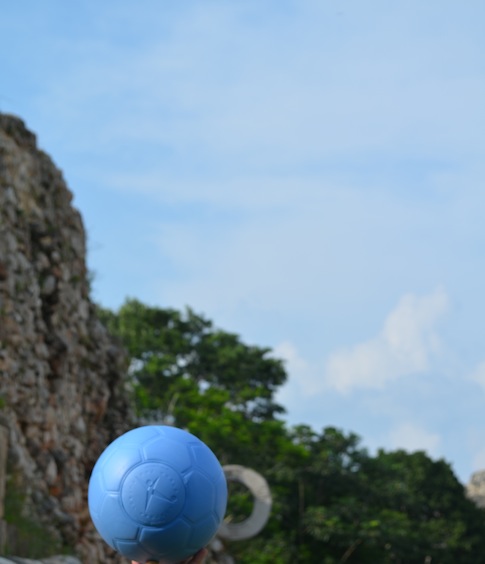 Photo Credit: One World Futbol Project 2013.
I may never be able to fully express what I felt that afternoon in Chapab. Jose and I shared an immediate bond on many levels that will remain with me for the rest of my life. There is an emotional link that I felt, I still feel — I am forever connected to Jose de Jesus Manruiqe Esquivel and the community of Chapab. There was also a connection between the balls — the ancient pok ta pok and the One World Futbol. While they were created centuries apart, they are bonded together — this ancient ball as ancestor to this new ball.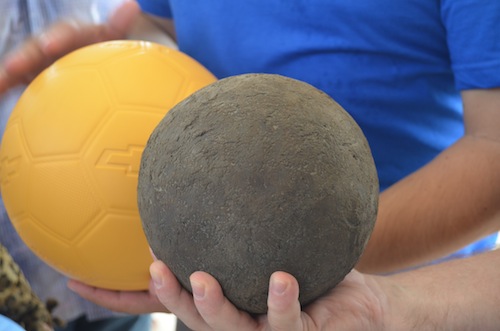 Photo Credit: One World Futbol Project 2013.
Jose visited me the next day in Merida with a special gift—a pok ta pok (ball) he made for me. Jose told me: "Creo que la misión que tiene che tiene—esta misión nos permite conocer unos a otros y nos ayudará en futuros caminos a medida que avanzamos por la vida. Esto es más grande que nosotros y les doy las gracias en nombre de nuestra raza. Su existencia como un ser humano—esta simplicidad, su capacidad de ser sencillo y sin pretensiones, y su sinceridad, que nos ha permitido llegar a ser como hermanos. La comunidad de Chapab me pidió que viniera aquí hoy para decirte esto."
(Translation: " I think the mission you have—this mission permits us to know one another and will help us on our future paths as we go along through life. This is bigger than us and I thank you on behalf of our race. Your existence as a human —this simplicity, your ability to be straight forward and without pretension and your sincerity, it has allowed us to be come close like brothers. The community of Chapab asked me to come here today to tell you this.")
I will never forget Jose, the community of Chapab, pok ta pok and what I experienced. I am so grateful for the wisdom and the courage and Jose's vision to keep his culture alive. It is so inspiring to me.
I often say that the One World Futbol is the ball that our children's children will play with. And, I know it is now part of our mission to help Jose in his calling to ensure his generation and future generations know and play pok ta pok. It's not about me, it's not about him, it is much bigger. It is not enough for us to be human beings—we must be humane beings. And, we can always get there quickly through the power of play.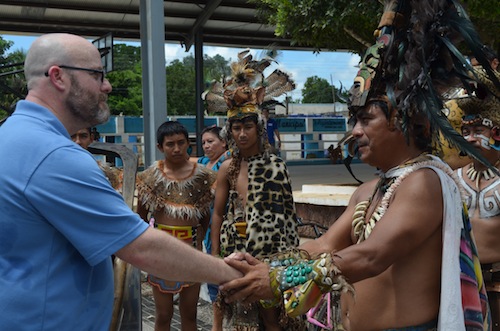 Photo Credit: One World Futbol Project 2013.