It seems like only yesterday I was in Johannesburg for the 2010 World Cup and working with our team to introduce the One World Futbol. Joining me in South Africa at that time was Sandra Cress, who played a key role in our launch. When she joined us, Sandra was living in Portland, Oregon, helping us cultivate relationships with NGOs, government agencies, sport for peace and development groups and sponsors.
We are so fortunate to have Sandra as part of the One World Futbol Project (OWFP) team. In 2011, she moved to Africa with her family, where she has become pivotal to the work we are doing there. I'm excited to introduce Sandra and have her share her insight on our recent work in Zanzibar.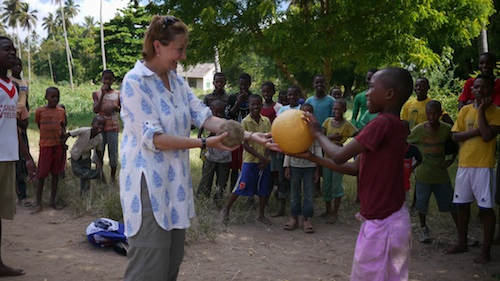 Sandra Cress of One World Futbol Project trades a Chevy-branded One World Futbol for the rag ball of a Zanzibari boy. Photo by Thomas Moll-Rocek, January 2013
Tim: What led you back to Africa and what does this mean for OWFP?

Sandra: Prior to my work with OWFP and after serving as the Director of Soccer for Nike Sports Entertainment in Portland, I consulted for several years and worked on South Africa's 2006 World Cup bid. I also spent four years with the Clinton HIV/AIDS Initiative as Tanzania Country Director, and as Director of Country Operations for the Clinton Foundation's Operations Research Division.
In 2011 my husband was offered an incredible opportunity and became the director of the UN Great Apes Survival Partnership. We moved our family to Nairobi, where his work is based. As the Director of Sales for OWFP in Africa, I believe it's critical to work directly with organizations on the ground doing life-impacting work with children and youth. It's been an incredible journey so far.
On January 10, 2013, you represented One World Futbol Project in Zanzibar to announce the delivery of more than 20,000 Chevy-branded One World Futbols - the largest distribution to date. Can you talk about this milestone?
Zanzibar is at the forefront of our work in Africa, and the delivery of balls will impact more than 340,000 Zanzibari children. Through our partnership with Chevrolet, and our collective efforts with Save the Children and the Zanzibar National Sports Council, we are delivering 20,000 of our virtually-indestructible balls to ALL the schools in Unguja and Pemba, as well as to sports clubs, leagues and youth programs--providing access to equipment that will enable many years of play.
I've been coming to work in Zanzibar since 2004. In that time, I have not only learned how precious the country is, but I have seen first-hand the need of its youth. More than 50 percent of the population, most of them children, are living on less than $1 per day. Nearly 3 in 10 females and approximately 1 in 7 males in Tanzania have experienced sexual violence prior to the age of 18. In addition, almost three-quarters of both females and males have experienced physical violence prior to 18 by an adult or intimate partner and one-quarter have experienced emotional violence by an adult during childhood. We are supporting a campaign to address and end violence against children in Zanzibar, and to help Zanzibari children grow into healthy, happy adults. It was a tremendous honor for me to represent One World Futbol Project as well as our founding sponsor, Chevrolet, at this announcement.
Press release: Chevrolet-Branded One World Futbols Arrive in Zanzibar
Are there any parallels from your experience in Zanzibar to what you see now as part of One World Futbol Project?
It is abundantly clear that all children need access to play to thrive. Play helps children learn life skills and can positively impact all aspects of a child's life. With play, barriers start to fall away. Wounds and scars start to heal. Opportunities begin to open up.
In Zanzibar, even in the hot mid-day sun, with no water to drink and no shoes on their feet, children play soccer with abandon. They play with balls made of rags or deflated soccer balls that have no outside leather left. They play on beaches, stone streets and thorny, patchy fields that double as cow pastures. They imitate the moves of their soccer heroes -- Messi, Ronaldo, Mata, Van Persie, and other global soccer superstars.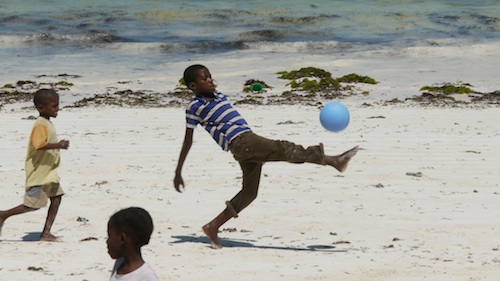 Zanzibari youth play with One World Futbol. Photo by Thomas Moll-Rocek, January 2013
Playing soccer gives children time to feel good and experience joy, to bond with teammates, and to be healthy in unhealthy circumstances. The "beautiful game" builds self-esteem and teaches them to treat each other with respect.
What is something you are seeing in Africa that gives you hope?

When I watch young people interacting and playing soccer with the One World Futbol, I know they are learning life skills that they will pass on to others in the community. They are starting the change needed to better their lives and the lives of the next generations to come.
I am encouraged about the increasing level of collaboration currently taking place in the sport-for-development space around the world, and specifically in Africa. And I'm excited that One World Futbol Project is an integral part of the movement. I know first-hand that our collaboration with organizations and communities will have a lasting and life-changing impact.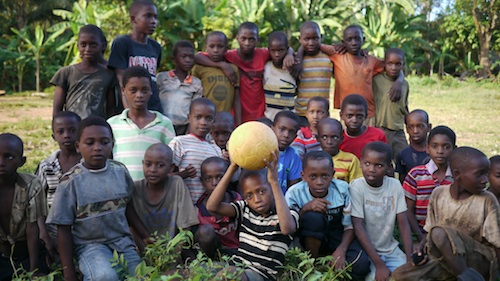 Zanzibari youth play with One World Futbol. Photo by Thomas Moll-Rocek, January 2013
Join us in delivering One World Futbols to the youth in Africa -- go to oneworldfutbol.com and help us pass on the power of play.