We arrived in London after a few days of meetings in Manchester. It had already been an interesting week of stops and starts. I've been to London many times for work and for pleasure. To me it is one of the most beautiful cities on Earth. This time, One World Futbol Project team was in town to promote the launch of our European distribution center -- a milestone for us -- with a stunt involving a flashmob of students, world-renowned freestylers and, of course, One World Futbols.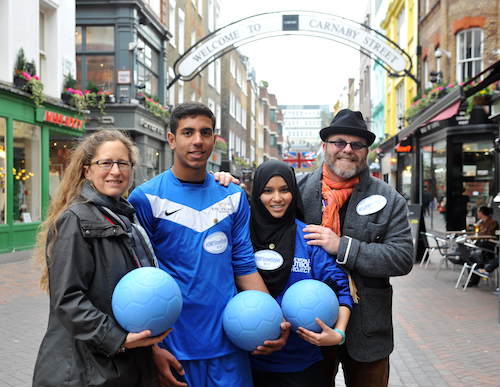 Photo by: Lynn Hilton
We chose Carnaby Street for our event -- one of the epicenters of extraordinary foment and change for the UK back in the 60s. When we arrived for the early run-through, there was already a flurry of activity -- PR people, photographers, videographers and media people all converged early to help set up, promote our company and see what we were up to on Carnaby Street. And then the students for the flashmob arrived from King Solomon Academy, a primary and secondary school with a diverse student population, many from a less-privileged background. They were led by Mr. Cristo, the lead teacher of PE at the school, and were ready and excited to take part in our event.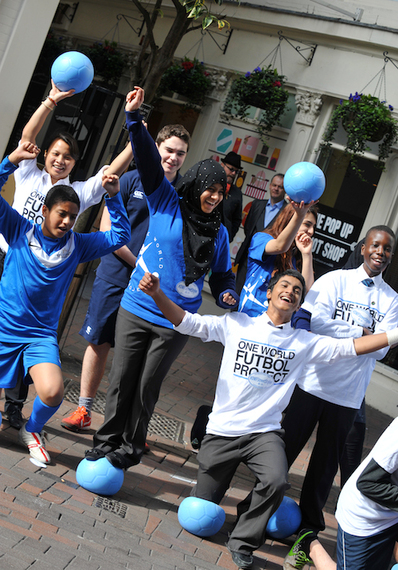 Photo by: Lynn Hilton
The students assembled in the street for a briefing of what they were going to do, and we pulled out the One World Futbols so they could test them out. But as soon as they started kicking and throwing them around -- even before the flashmob started -- everything changed.
Despite all the staging, rehearsals, and prep that still needed to happen, suddenly everyone --the PR people, the media, the photographers, the bystanders, our entire team -- stopped what they were doing. Nobody was thinking about their jobs anymore. We were all just watching these children and young adults of all races, cultures and religious backgrounds. They were all having the time of their lives.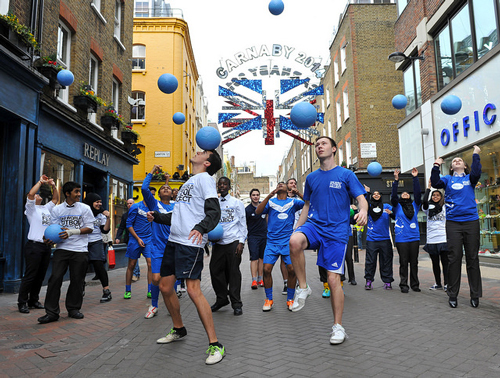 Photo by: Lynn Hilton
At that moment I realized that we have this privilege no matter where we are -- whether a city like London, a wealthy neighborhood or a poor community -- to really witness that when we play as human beings, nothing else matters. It doesn't matter what your background is or what the differences between you are. We are all human beings and we share that incredible joy of play together.
Even if we are jaded sometimes because we think we've seen it all and done it all before -- to watch children light up and see their whole countenance change when they get to play, this never gets old. And to be part of that with the One World Futbol and see the joy that happens when children have the opportunity to simply play with a ball, it's a miracle every single time.