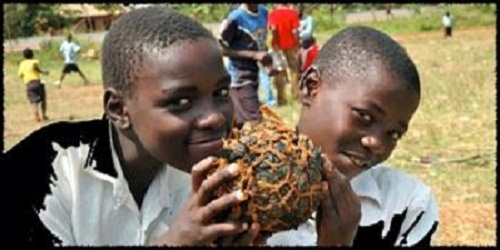 In Africa, kids often make soccer balls out of plastic garbage bags. The one who owns the ball considers himself lucky. (Photo credit: FUNDaFIELD)
When you get to know an amazing young leader like Kyle Weiss, you know there's hope for the future of the planet.
Kyle, now 17 and a senior at Monte Vista High School in Danville, California, is the Executive Director of FUNDaFIELD ("Kids Helping Kids"), a nonprofit that mobilizes money and volunteers among teenagers to build soccer fields in Africa. Kyle was 13 when he and his brother, Garrett, founded the organization four years ago. Garrett is now a sophomore studying business at the University of Southern California.
Why build soccer fields when there are so many undeniably urgent challenges facing Africa?
Kyle explains, "Play and sports are tools that teach important values and life skills, including confidence, teamwork, communication, discipline, respect and fair play. Sports can have a positive impact on children's education and can improve a child's ability to learn, while increasing their ability to concentrate. Children learn better when they're having fun and being active." Food, shelter and medicine heal and nourish the body. Sports and soccer, build the body and heal and nourish the soul.
The One World Futbol Goes to Swaziland
FUNDaFIELD caught our eye early on at the One World Futbol Project. After meeting with Garrett and Kyle this past July, we immediately donated a dozen One World Futbols for Kyle to carry to Swaziland. Within days, Kyle was in the capital city of Mbabane and was welcomed by King Mswati III at the royal palace. After giving the King a One World Futbol, Kyle trekked across the country meeting young Swazis, scouting for soccer field locations, organizing soccer games and introducing the One World Futbol.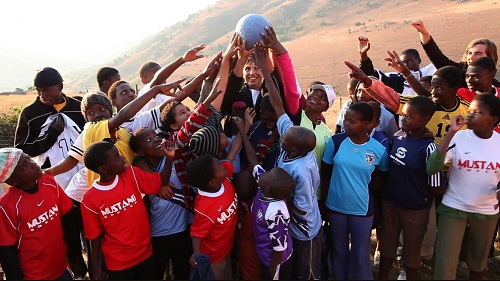 FUNDaFIELD's Kyle Weiss with some of the kids he encountered in Swaziland.
(Photo Credit: Helmut Schleppi, 2010)
In many villages Kyle visited, the kids thought the One World Futbol was "magic" because it went on playing even after he dropped a cement block on it and stuck it with a hunting knife. He was also told that even the King was happily dribbling the ball around his palace.
Kyle Weiss' July trip to Swaziland was a precursor to a much more ambitious project, set for the final weeks of December 2010. Kyle will then be joining a group of 40 people in a campaign dubbed
"Steps over Swaziland" to raise awareness and support for the people of Swaziland. Kyle and the FUNDaFIELD team will be walking and dribbling the One World Futbol across the country's 130-mile length -- from border to border. As part of the campaign, FUNDaFIELD will build a soccer field at El Shaddai orphanage and will work with Coaches Across Continents to teach HIV/AIDS awareness to kids through soccer.
The FUNDaFIELD group, along with Zach Bonner and members of his Little Red Wagon Foundation, will also distribute packages of school supplies and HIV/AIDS prevention material, clothing from YouMe Clothing, One World Futbols and other gear to many of the country's 24 HIV/AIDS orphan care centers. Several centers not directly on their path will receive similar packages later.
For many children in Swaziland, like Sponge pictured here, soccer provides not just an escape but also helps teach teamwork and conflict resolution. When you give a child a ball, so much more evolves in the community. (Photo credit: Kyle Weiss, FUNDaFIELD)
FUNDaFIELD chose Swaziland because it has the highest rate of HIV/AIDS in the world. In fact, UNICEF has reported that Swaziland has the dubious distinction of having the highest percentage of HIV-positive people in the world -- and there are more than 100,000 orphans affected by HIV/AIDS in the country. It is very gratifying that my teammates and I at the One World Futbol Project have the opportunity to contribute in even the smallest way to helping the people of Swaziland brighten their future and turn the tide of AIDS.
The One World Futbol Project is donating at least 150 of our all-terrain balls to the Swaziland campaign, but we can all help FUNDaFIELD deliver even more. You can be part of this effort by donating to FUNDaFIELD or by buying a ball at the One World Futbol Project website. Making a lasting impact can be as simple as giving these kids an ultra-durable soccer ball that will let them play soccer to their hearts' content. As Nelson Mandela has said, "Sport has the power to change the world."