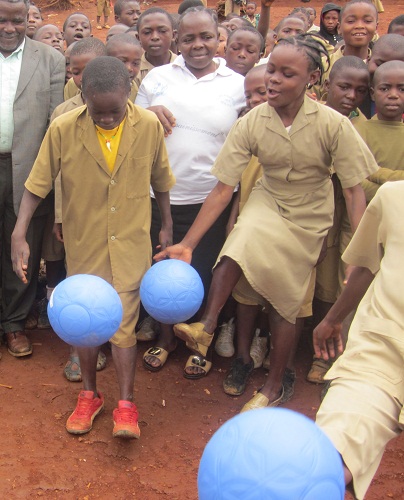 Kids in Cameroun kicking around the One World Futbol. The balls were donated and delivered by a former Peace Corps volunteer who returned to Cameroun after a 30-year absence.
(Photo: Ngueuliebou Frederic)
Happy New Year! It's amazing how quickly 2010 went by -- and now, it's almost the end of January 2011. The last six months have been a whirlwind of activity, and looking back I realize that 2010 was, for the One World Futbol Project, a year of opportunities -- offered, taken and realized.
There have been so many incredible moments since we launched just six months ago. The launch itself was the realization of an idea I had in 2006 -- to create an ultra-durable soccer ball and distribute it to children in need across the world. We've accomplished a great deal in a very short amount of time -- working with over 90 NGOs in 60 countries to distribute almost 20,000 balls by the end of 2010. We've learned and seen a lot -- from introducing the ball to consumers, governments, celebrities, sports figures, nonprofits and NGOs, to basic business details like shipping, setting up voicemail systems and building our website.
With the amazing array of things that have happened in just a few short months, a few of the highlights for me include:
The Beyond Sport Summit and the Peace and Sport Awards
The Beyond Sport Summit in Chicago was the first major conference that we attended focused on sports for social change. It was both eye-opening and inspiring for all of us who went. You can read more about our experience at the Beyond Sport Summit in a previous post.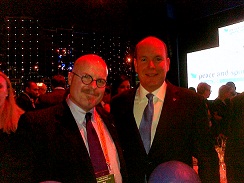 Towards the end of last year, we were invited to apply for the prestigious Peace and Sport Awards. We sent in our application, having no idea what would happen. It was an honor and a surprise to find out that we'd been nominated for a special jury prize. Some of us traveled to Monaco for the awards, where we met a number of extraordinary people working to shape the field of sport for peace and development. All of us were particularly inspired by Prince Albert II of Monaco's incredible generosity and the leadership role he plays in the peace and sport movement. And although we didn't win the award, the nomination and experience of being there was invaluable to us--and helped validate that what we're doing is making an impact.
Triton, the Lion at the Johannesburg Zoo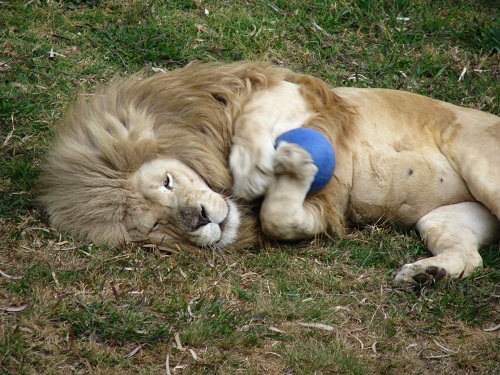 Exhausted, Triton, the lion in the Johannesburg Zoo, cradles the One World Futbol. Typically, Triton can destroy a standard ball in minutes. The One World Futbol continued to last for days despite Triton's attempts to destroy it. (Photo: Sandra Cress)

While we were in South Africa last July, we decided to test the durability of the One World Futbol with some of the animals at the zoo. Balls are often used with zoo animals for recreation and rehabilitation. Unfortunately, for some animals, like lions, standard balls don't last very long. We threw our One World Futbol into Triton's cage and, to everyone's surprise, Triton played with it until he was exhausted. The zoo keeper said Triton usually destroys a ball within minutes and then gets bored. But the One World Futbol survived day after day. Seeing Triton still playing with the ball days later, caught me completely off guard. It underscored how primal a ball is. How important, even to a lion, play is to every living thing.
The Kids in Rwanda
During my time in South Africa, I also met a man from Esperance, a child soldier rehabilitation camp in Rwanda. By coincidence, Esperance is where 100 of our prototype balls were tested almost a year before our launch. I was excited to find out from him how the original balls were doing. The team and I had expected some of the balls would be destroyed. Our assumption was once you told kids that something was "hard to break" they would go out of their way to try and "break" it. But the man proudly told me that all 100 balls we had given the children in 2009 were all still there -- and in great condition. The kids washed the balls every night and put them away. The balls were so precious, so valuable to them, that it never occurred to them to try and destroy the balls.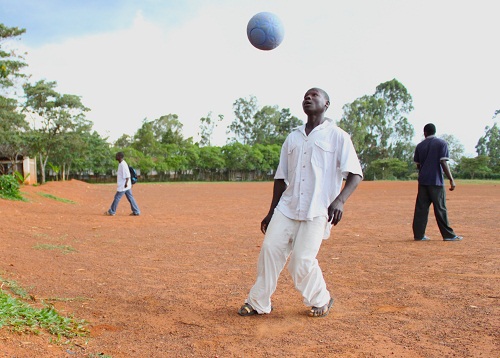 The One World Futbol in action in Kenya. (Photo: The Tiba Foundation)
There were many other memorable experiences last year, and we feel blessed for the support and opportunities presented to us. We have learned so much and come quite far in such a short time. Yet it's clear we've only just begun--as our world grows we see how little we know. And, happily, as a team we stand ready and open to learn and share what comes of it.
Looking ahead, I can't predict where the journey will take us, but I am hopeful and optimistic that new opportunities will continue to present themselves--and that we'll be even better equipped to take advantage of them. Importantly, this year we want to focus on how we can strengthen our mission and create opportunities for others. For all of us at the One World Futbol Project, the greatest gift we've received and hope to share, is the gift of opportunity. I'm looking forward to what lies ahead, and I'd love to hear more from you--send me a note and let's see what lies beyond the doors we can open together.