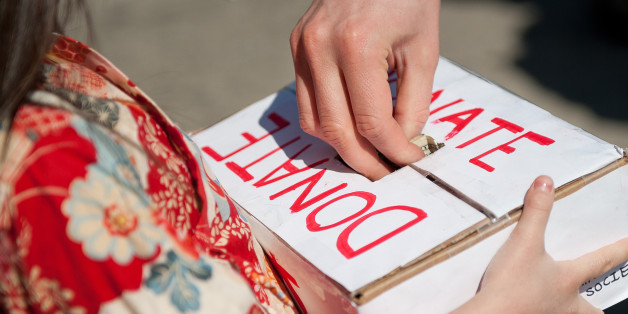 It's here again: that time of year when we start thinking about the holidays and often that means making sure we have a list of the gifts we need to purchase. Black Friday has us standing in lines at midnight on Thanksgiving. Small Business Saturday has us remembering to buy locally and spend our money at the small businesses in our local town. Cyber Monday has us racking up our credit card balances online. Of course, the way stores get us to spend is by offering sales under the cloak of making us think we are giving something meaningful and saving money so we can buy even more. At the same time, there are 16 million kids in the U.S. that will not be worrying about what gifts are being bought for them, but how they will get their next meal.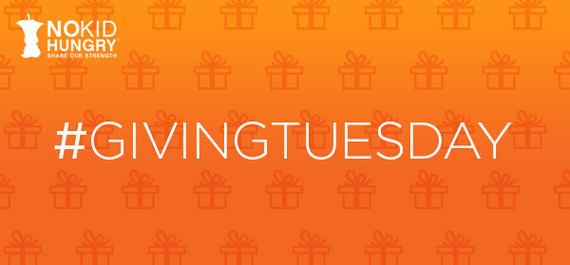 In the true spirit of giving, not masked as a disguise to spend, Giving Tuesday is a day that truly is about giving. Started by 92Y and the United Nations Foundation in 2012, last year saw over 10,000 organizations from around the world use social media to help raise awareness and funds for their causes. At No Kid Hungry, Giving Tuesday is a huge opportunity: for every dollar raised, a child is connected to ten meals. Last year, we saw Giving Tuesday become a day that raised over $56,000 and gave the organization a reach of 35 million on Twitter alone with 2,231 people using the hashtag #NoKidHungry. This year on Giving Tuesday, No Kid Hungry has a goal to connect children with 1 million meals by raising $50,000 and getting a match from a generous sponsor that will add another $50,000, for a total of $100,000 raised to help end child hunger in the U.S. on Giving Tuesday.
Meet Tammy, a mother who found herself a divorced mother of two. She was in the unfamiliar place of having to provide for her children on one income. Tammy firmly believed her kids should not have to deal with an adult problem of having enough money for food. While she worked hard, there never seemed to be enough for her growing boys. Thanks to her mom's advice to ask for help and programs supported by No Kid Hungry, Tammy's kids were able to receive assistance for one year. Her kids never had to take on the adult problems and she managed to become self-sufficient with just a little bit of help. Your kind donation do this work by helping kids like Dakota and Connor, continue to be kids.

Free To Be Kids: Connor and Dakota from No Kid Hungry on Vimeo.
How can each one us make a difference from donating to giving on social media?

Share
Sharing the message about how to give to No Kid Hungry on Giving Tuesday, doesn't involve setting a calendar reminder. Right now you can sign up to share a message on December 2, 2014 by linking your Twitter, Facebook and/or Tumblr account using Thunderclap. Then, at 11am EST on December 2, just watch the Twitter stream for #NoKidHungry. You will see 5 minutes of tweets from hundreds of people sharing the message encouraging people to help end child hunger.
Blog
If you are a blogger, regardless how many readers you have, writing a short post about Giving Tuesday and how people can make a difference in ending childhood hunger in America can help make No Kid Hungry a reality. No Kid Hungry has a resource center of assets for you to use as part of their blogger program.
Donate
On, Tuesday, December 2, visit NoKidHungry and make a donation. For $10, you can connect a child with 100 meals. Your donation will continue giving well beyond just a single day. Remember, every dollar raised on #GivingTuesday, upto $50,000, will be matched by a generous sponsor, so your impact is doubled!
Become a Fundraiser
If you want to take it a step past just making a donation and encourage others to make a donation as well, join the Giving Tuesday for No Kid Hungry fundraising team. You can recruit your company and coworkers to make a donation, ask family and friends, or have some fun by offering prizes or incentives. You'd be amazed at how excited your friends can get over seeing you do something you never do. For me, that once included wearing a Chicago Cubs hat, and this year I may be dared to wear a Speedo to make sure children have the food they need! I will personally do what it takes and get my friends and family to support my cause.

Make no mistake, raising over $100,000 is not going to be an easy goal to reach. But if we all come together this Giving Tuesday, we move from being just one person, to being part of a community. A community that understands the moral right that each and every child in America has to have access to three healthy meals each and every day. We can make a social impact that will have lasting effects just past a single day. Most importantly, you will be giving a gift of love with purpose.
Please donate to No Kid Hungry on #GivingTuesday this December 2.