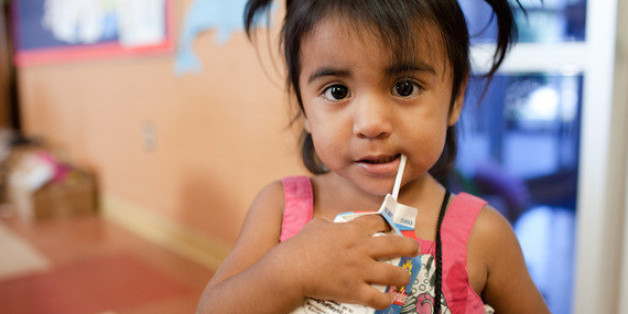 Nearly one in five children in America lives in households that struggle to put food on the table. They may look no different than other children; child hunger in America is often invisible. They are hurting, just the same. And most of us who shop at supermarkets full of shelves overflowing with food choices are simply unaware that there are hungry children who don't have access to regular meals and nourishment to feed their changing bodies and dreams.
So what would you do if I told you that by sharing only one tweet, you could help be the solution to ending child hunger in the U.S.A.? Would that make you more than simply interested? Would you dare to take action and join a movement of people who want to see our children's dreams come true?
September is Hunger Action Month and organizations like Feeding America, Feed The Children and No Kid Hungry all have ways for you to get involved, but one of the simplest I've seen is by donating one tweet to share on Twitter from No Kid Hungry. By using Thunderclap, you simply schedule one tweet, with a message that you select, to post at noon EST on Tuesday, September 9, 2014.
I'm sure you are asking at this point, "How can one tweet help end child hunger?" In every action we take, we create a ripple. On Tuesday, you will see what your ripple looks like combined with everyone else's. As I write this, over 400 people have already signed up to share their voice with a social reach of over seven million. With that type of chatter happening on twitter all at one time, you will see #NoKidHungry trending. But not only you will see that, others will as well. And that is the power of social media. It is not about broadcasting this message but creating a community that is passionate to make sure that every child is fed and that we are engaging in an open conversation about eradicating child hunger in America and hopefully, the world. It's about connecting each other and tapping into our deep relationships through our Twitter streams to make change happen and allow others to make a difference.
Do you ever think about your impact? Your one tweet, assuming you have the average follower count, will reach 208 people. A trending tweet sees a lift of 22% meaning you are now potentially reaching 254 people. Combine that with the fact that last year, No Kid Hungry saw over 3000 contributors in a single day reach over nineteen million. Reach is one thing, but when that translates to more people donating their time and resources to a cause, that's tangible impact you are creating.
Last year's Dine Out for No Kid Hungry saw almost $8,000,000 raised compared to about $5,000,000 in 2012. Comparatively, the amount of talk on Twitter about No Kid Hungry, increased from eleven million, to a reach of nineteen million in 2013. Imagine the impact your one tweet would have, combined with all the others that will hopefully see us get to a reach of fifty million on Tuesday. Tweets don't equal dollars or solutions, but they do help spread the message to those who have not heard it. This is called "word of mouth". In today's world of communication, the organization's message gets spread by you. I realize I only asked you for one tweet, but let me tell you how one tweet changed my life and ultimately, those of others.
When I became aware of No Kid Hungry, I knew little about it. I first heard about it when one of my friends shared a tweet about their Bake Sale for No Kid Hungry. Fast forward to last year. I was giving a talk about how I could help share stories, where someone from No Kid Hungry was listening to my thoughts. Shortly after that, they asked me if I'd be interested in joining the No Kid Hungry Social Council.
This last year has seen me go from sharing a couple posts and having people like them, retweet or share them, but more importantly, it's had people begin to ask me questions about the issue of hunger in the United States. How we have over 16 million children living in households that struggle to put food on the table. That's 1 in 5 kids. As they began to see my consistency, in talking about child hunger, they began to feel my heartbeat. They understood why it was important to me, and the most magical part, they began to understand what it meant to them and how they could play a role in ending child hunger.
So if you choose to get involved, this is the power that your one tweet will have on Tuesday, or any day. It will be your ripple that will be felt beyond your network, and touch people you don't even know. You will be helping to end child hunger. I know this from personal experience.
Will you join me and create your own ripple today? It could also change your life.