I was on my way to another day at work thinking about... And then, when I stepped off the bus at 14th and Broadway, on the south end of Union Square Park, I saw a homeless woman who I have never seen before. I don't know what it was at that moment, but I decided to talk to her. What I wouldn't learn until later was that I thought I saw a woman living on the streets of New York but in reality I saw Robin, who is an angel.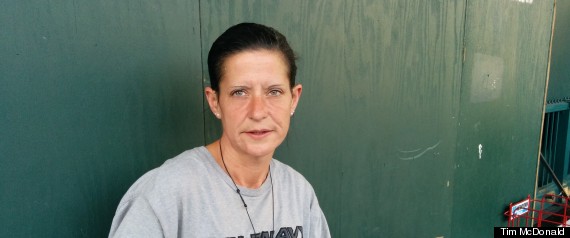 I'm not writing to make you think I stop and talk to every homeless person in New York City. Not even close. For the two years I've lived in New York, this is the third homeless person I have stopped to talk with. The first was this winter. Joshua taught me about leadership. Today, Robin showed me the angel inside all of us.
When I approached her, she showed me the sign saying she washes her clothes so people aren't afraid of her odor when they approach her. Most will only give her money in the cup and will not hand it to her personally. I asked if she was talking with any shelters or agencies and she told me of one, but she has to wait another week until they will work with her. Robin wasn't sure why and neither was I.
Knowing I only had $3 in my pocket, I was wishing I could do more, but only asked her for one thing in return. Before I handed her the money, I asked her name and told her mine. Then I said, "Do you mind if I ask you how you found yourself living on the streets?" Robin began to tell me how she was from a small town in Ohio and had found work at a carnival that traveled the Eastern part of the U.S. She was making decent money when they went to Florida.
As they worked their way up to NY she started to notice the owner of the carnival was having money problems. After an event in Yonkers, the owner ran out of money, sold the equipment and didn't pay them. There were about 13 of her fellow carnival workers who came to NYC, but all had gone in different directions. She was now alone. She's been homeless in NYC since November. At that point she started crying, I reached out and gave her a hug. I saw her not as a homeless woman on the streets of NYC but as a woman who ran into some bad luck. Almost instantly her tears stopped.
Remembering I had bought a $30 MetroCard for the subway after meeting Joshua and never being able to give it to him, I asked her if she used the subway. She told me "that's where I stay when it's raining." I finally had a chance to use the card I had been carrying around for months and gave it to her. It wasn't the $3 or MetroCard I gave her that helped the most, it was the hug I gave her when she started crying. I can't imagine ever being homeless, but I hope people would treat me like a fellow human being if I was.
As I carried on with my day, I got home and had dinner, but was still thinking of Robin, so I shared a shorter version this story on my Facebook page. The response was overwhelming but one of the first comments said, "Tim, you are an angel." I didn't even think before replying, "Robin is the angel. We all need to help her remember that."
Our humanity has no labels or boundaries. We realize that certain choices in life lead us in different directions. The next time you see a friend, neighbor or homeless person, remember they all have an angel inside, and you can be the one to remind them, and the rest of us, of that. If we rush through life, we miss out on what and who is right in front of us.