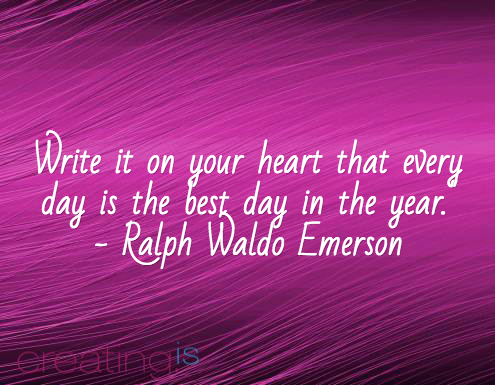 This may surprise many people who know me. I am giving up something people associate me with today: Social Media. To many, checking Facebook messages or playing online games may be an addiction that's hard to break, but for me, social media has become part of my everyday life.
Social media has helped me get jobs and change my career trajectory. I've also used different social media networks in many of the jobs I've held to connect people, ideas and brands. I've even been invited to speak about my experience with these tools. And there are so many relationships that have been formed from social media, that this isn't just an addiction, it's been a way of life for me.
But today, I am taking back control of my life and leaving social media behind. Today is the day I am publically quitting social media.
By now, many of you know that today is April 1st and many people will share posts with a serious tone, which will become part of an April Fools' prank. While the introduction and title of my post may appear to be one of these jokes, it's anything but. Let me explain.
April is the month of my birth. And for the past two years, I have asked for donations to be made to my favorite organizations in lieu of gifts. This is also the month I was planning to pull off an April Fools' joke. I was going to milk a cow wearing a Speedo. If you are wondering how I picked that, you have to check out my Giving Tuesday fundraising campaign for No Kid Hungry. As I started working on making it happen, I came to learn just how serious cow milking is. If you think about it, milk is something most of us consume, so it needs to be done it a somewhat sanitary way. So just image a hairy man in a speedo milking a cow. That's not so sanitary. My crazy idea was crushed by reality. But it did get me thinking, instead of trying to do a stunt on a single day, what if I used the power of social media, by not by using it myself, and the result would be something with a lasting impact and not just a single day of notoriety. This led me to the idea of quitting social media. At least, until I raise $10,000 for No Kid Hungry.
Being Heard
My theory is, by not posting on any of my social channels, my message will still be heard. Anyone who reads this has the opportunity to share it. Quite possibly, it may reach more people than if I was still on social to share it myself. Why? We all know that only a fraction of our friends and followers see the content we post. For the most part, it's the same people seeing most of your content. If others are sharing your message, not only will more people have a chance to see it, but an entire new group of people will hear my message.
Making An Impact
By donating on my birthday to No Kid Hungry, we can raise $10,000, which will connect children with 100,000 meals. In a country where 1 in 5 kids faces hunger insecurity, this will be a major step in helping end child hunger here in the U.S. How long will it take to raise $10,000? One day, one week, one month? Maybe one year?! Regardless of how long, the impact will be the same. It's the children that matter. Period.
Learning
Having never seen or heard of anyone going through something like this, I'm excited to learn if my theory of more people hearing about No Kid Hungry by me not sharing any of it on social media will hold true. I am hoping my community will help me not only provide 100,000 meals but will also get others involved.
More importantly, I'm looking forward to the lessons I will learn about myself. When I took a digital vacation almost two years ago, it had a lasting impression on me. This isn't the same. I'll still look at social media, I just won't engage or post on it. Will this make me more focused? Will I feel like I have more time? This is about learning. For me and for anyone who learns about No Kid Hungry.
What Can You Do?
There are 4 ways you can help and take action today with me:
Donate to No Kid Hungry and help reach the goal of $10,000.
Share this message.(I won't)
Learn more about No Kid Hungry and get involved
Nothing. (Keep me off social media)