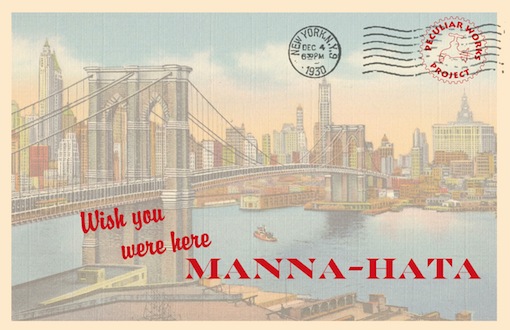 A time machine exists for a short while in June within the abandoned offices, loading docks, and stairwells of the gigantic James A. Farley Post Office as a plucky theater company transports you back through 400 years of Manhattan history. Peculiar Works Project has created a site-specific production entitled, MANNA-HATA, written by Barry Rowell, which takes the audience on a dramatic tour of some of New York's better - and a few lesser - known milestones while featuring the artists, architects, immigrants, and other characters who built the city and gave the city its unique flavor.
The audience is divided into several groups led by Walt Whitman (Christopher Hurt), Jane Jacobs (Catherine Porter), and Shirley Chisolm (Cherrye Davis) and are led collectively through several shared introductory moments including the various meanings of 'Manna-Hata.' Throughout the story, the groups are then separated to experience, more intimately, a multitude of scenes that take place in the building's old offices which have been transformed into speakeasies, apartments, restaurants, and other venues. Conflict is set up early between four scoundrels representing the colonizers from the Dutch West Indian Company who negotiate the transaction of buying Manna-hata from the Lenape tribe. These four scalawags continue their establishment roles throughout the play as they portray the city's industrialists, politicians, and other powerbrokers who continually wield a heavy hand over the immigrants, slaves, and everyday citizens. The backroom deals of graft and corruption are revealed throughout the play as are personal true stories of early arrivals. A highlight comes when Jane Jacobs faces off with the ruthless empire builder, Robert Moses, in a scene you can only hope took place - at least once - when he was on his mission to destroy neighborhoods and build his beloved highway system.
As a site-specific work, the company primarily uses only what is found within the space and creative use is made of objects and materials that were left behind when the post office was emptied. The focus here is on the spoken word and historical stories but there is one stand-out example of simple, but brilliant, set design when the construction of the Brooklyn Bridge is completed and the audience is taken on the first tour across the engineering wonder. The 21 member cast play their 100 roles with a great enthusiasm and the span of 400 years of selected history pass quickly in the 3 hour production (one intermission), thanks to the mobility of the production and the fact that you're actually inside one of Manhattan's most iconic landmarks.
I spoke with Barry Rowell, the playwright on how MANNA-HATA came about.
How did you find the location of the post office?
Co-Artistic Director Catherine Porter is on the board of the theater service organization, the Alliance of Resident Theatres/New York. The NYS Economic Development Corporation reached out to NYS Senator Tom Duane's office (since the Farley Post Office was in his district) with the idea of making the space available for community and cultural use. Duane's office reached out to A.R.T./New York, which reached out to Catherine, and here we are.
What attracted you to doing it in the space?
It's an amazing historic building, and it is enormous, and it's 90% empty. The post office had created a city-within-a-city in there: not just with offices and sorting rooms, but also a health clinic, a police station, several cafeterias, a wood-working shop - and so there are so many different kinds of space. Plus, it has been renovated at different times throughout the years, so walking from hall-to-hall, you can enter the 1920s or the 1960s or the 1970s, etc. The possibilities just seemed endless.
What challenges does this location pose for doing a theatrical piece?
Well, since much of it hasn't been used in a while, it's a massive cleaning job! And because the space is so big, actually choosing where to perform a story or song, and figuring out a way to get audience from one part of the space to another easily--these are big challenges. Plus the fact that there are a number of entities co-existing in the building already--the people managing the building, the different people managing the Moynihan Station project, the company actually doing the project construction, and the postal service--so we have to share the space, which is unusual. And, finally, as with most of our sites, we have to create the performance space and bring in the lights, sound equipment, tons of extension cords, chairs--you name it.
Peculiar Works finds unique spaces to work all the time. How do you find these hidden gems? Do you feel like Manhattan is running out of them?
We have, on occasion, gotten a space with a "cold call"--just picking up the phone and asking someone if they would consider having a theatrical performance at their location. But more often, it's that someone we know someone gives us a tip. Sometimes, like with the post office, it's getting an opportunity to see a building; other times, it's someone's chance remark about a space that we then doggedly pursue.
Manhattan hasn't run out of the hidden gems. There are always going to be empty spaces that can be filled with art. It just takes a willing landlord or building manager - someone who loves performance or artists, and can put up with us for a brief time. Peculiar Works always leaves a space in better shape than we found it, so we're a good bet. But it can be hard to convince someone to play with us; lots of folks just don't want the bother. One of the tricks is to be open to all kinds of spaces - not just landmarks like the Farley Post Office, but also some empty storefront on a side street.
Where did the idea for Manna-hata originate?

There were several inciting events. Nearly 20 years ago, after he'd read Robert Caro's The Power Broker about Robert Moses, Barry said he'd like to do a play about the first person in New York to take graft. Another time, Barry and Ralph were attending an event that allowed folks on the roof at the Clocktower Gallery in lower Manhattan, and wanted to do a show that could use the skyline of NYC as a backdrop (which this show doesn't do, but the idea led us here). There's also the September 11, 2001 attacks - all 3 of us wanted to pay tribute to our City after that. And we all saw the Ken Burns' New York: A Documentary on PBS and felt inspired, especially by a number of Walt Whitman's journalistic writings.
Was it easy to find these alternative histories of NY? Was there one source that you kept going to for the information? Or several?
Not just several sources - hundreds! This was the project that started with Google and Wikipedia, and finally went down a multitude of online rabbit holes. Caro's book, Jane Jacobs' The Death And Life of Great American Cities, funky little tidbits like the Manual of the Common Council of the City of New York (http://goo.gl/P6pnt) and the weird little book, New York: the Wonder City 1932 by W. Parker Chase. Once we starting looking, a lot of fascinating stories--not just those of the well-known rich white guys--were everywhere.
What was the one thing about NYC history that you learned in the process of creating the show?

How often riots occur in New York City history! There have been so many of them, and so many notoriously horrible ones, that we only address them in a very small way. The first one happened pretty early in New Amsterdam (essentially a slave rebellion) and every few decades, there will be another one. Maybe it's life in a big city: we put up with a lot in our day-to-day lives but then we just reach a point where we can't take it anymore and we push back. And sometimes, we've lashed out at the wrong targets, as in the Draft Riots of 1863.
There is a lot of site-specific work happening in NYC right now that's very successful. Why do you think audiences are drawn to this sort of non-traditional theater, particularly now?
The feeling of interactivity really appeals to people: following characters into different rooms, you feel like you're part of the action. Plus there's a voyeuristic quality in many immersive and promenade shows that's a lot of fun. New Yorkers like to play the urban explorer, too--we all want to be ahead of the curve, to discover some place or some thing that's new and different.
What is the dream NYC location for you to use for a theater piece?

Yikes, so many! The Woolworth Tower, the original City Hall subway station, the Starrett Lehigh Building, several of the piers, a number of rooftops. We looked at the Temple Court building at 5 Beekman for a benefit but it was out of our budget - it's a shame because that space is spectacular! There's a side street downtown off Broadway that's had a construction canopy over it for a dozen or more years, the entire street: that would make a fantastic performance space. The list is long; don't get us started...
Advance Tickets Required
Performances are June 13 - 26
Thursdays - Sundays at 7 PM
$18 adults / $15 stu/snr
212 352-3101
Peculiar Works Project
2 1/2 hours with intermission - beverages/snacks provided
Wear comfortable shoes to traverse this architectural gem.