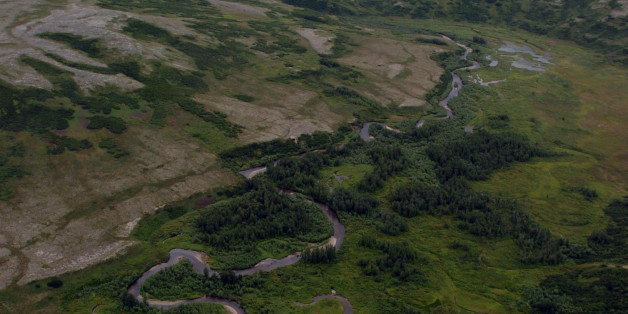 Until this week, Alaska's three-person Congressional delegation had presented a mostly united front on the controversial Pebble Mine, the massive and as yet un-mined copper, gold and molybdenum deposit in Southwest Alaska, near the headwaters of the rivers that feed the famed Bristol Bay salmon run.
Their position: supportive of the mining company's' right to explore the deposit and leery of any effort to quash the mine's development preemptively, particularly if it came from outside the state's borders. Pebble, they held, was an Alaskan resource on state-owned lands, and the decision ought to be made by Alaskans. Which is why they took offense to the EPA's decision in 2011 to begin a study of the potential impacts of large-scale mining on the Bristol Bay watershed.
Last week, the EPA released the final draft of its Bristol Bay Watershed Assessment, concluding that a large-scale mine in Bristol Bay would represent an unacceptable risk to the region's salmon-based ecosystem. It was that report, widely seen as the first step towards a potential action to block the mine, that seems to have goaded Sen. Mark Begich into coming out against the mine.
In an interview over the weekend with the Anchorage Daily News, Sen. Begich said of Pebble:
"Wrong mine, wrong place, too big ... Too many potential long-term impacts to a fishery that is pretty critical to that area but also to Alaska, to world markets."
The "wrong mine, wrong place" formulation is a nifty one, allowing Begich to toe a line necessary for any Alaskan politician opposing Pebble: pro-mining in general, just opposed to this mine in particular. For those who have been following this issue for a while, there were clear, and likely intentional, echoes in Begich's statement, one of which Anchorage Daily News picked up on:
Begich's language almost mirrors former U.S. Sen. Ted Stevens' wording back in 2008 when asked about Pebble at a campaign stop in Kodiak. "I am not opposed to mining, but it is the wrong mine for the wrong place," Stevens said.
On reading Begich's words, I thought immediately of Stevens, but also of another Alaskan politician, Rick Halford, former President of the Alaska State Senate and now a vehement opponent of the mine. I can't be sure that he originated it, but he has long used an eloquent variation of that mantra. Here's what Halford said in June 2008 at the Pacific Fisheries Legislative Task Force meeting in Dillingham, as I reported in Outside Magazine:
Rick Halford, a former Alaska state senator who's generally pro-extraction but opposes the Pebble mine, summed it up at the Dillingham meeting. "Mining is an important part of Alaska's heritage," he said. "But this particular prospect, in this particular location, is a disaster for all time."
Coming on the heals of the EPA's report, it was hard not to see Begich's statements as a tacit endorsement of EPA action. According to Anchorage Daily News, that's not the case:
Begich said he wasn't calling for EPA to veto the mine. Alaskans have been pushing him for years to take a stand, and with the study finally complete, he said it was time. His office has received about 2,800 communications from Alaskans against Pebble and about 280 in support of it, he said.
Naturally, the Pebble Partnership was not pleased and issued its own statement, in which they tried to portray Sen. Begich as in the pocket of a carpet-bagging, overreaching EPA.
"We also are stunned that an Alaskan Senator supports the EPA, a federal agency acting unilaterally to make decisions about future development on state land in Alaska," it reads.
The Senator's statement, in their eyes, aids those who would seek to prevent them from a fair hearing via the state and federal permitting process.
"There is no environmental harm whatsoever that will be caused by allowing Pebble into that [permitting] process," the Pebble Partnership released in a statement.
This has been Pebble's response to criticism for years: Wait until we have a mine plan, and then give it a fair shot in the permitting process. And while opponents say that the permitting process is rigged in the mining company's favor, and Begich grew tired of waiting for them to release a detailed plan, the two other members of Alaska's Congressional delegation seem to agree, at least in part, with Pebble.
As Murkowski told Anchorage Daily News, "I remain convinced that a preemptive veto of a mine or any other project, which the agency claims it can do under the Clean Water Act, would set a terrible precedent for development in our state and across the nation."
Representative Don Young was a little more direct in his defense of states' rights.
"For the EPA to come into Alaska and lay the groundwork to preemptively oppose a project located entirely on state lands, and subject tot rigorous state permitting," Young said in a press release, "is a serious threat to not only Alaska's sovereignty, but the rights of states nationwide."
But I wonder if, behind Rep. Young's vehemence and Pebble's outrage, there might be a hint of desperation. In September of last year, Pebble lost its major backer when Anglo-American pulled out of the project, and in December, Rio Tinto, another global mining giant, said it was re-evaluating its stake in Pebble. For Begich, it seems the EPA report was the last straw. And now that he's jumped ship, will others follow?
A version of this post originally appeared on timsohn.com. To read more about the EPA's Bristol Bay Watershed assessment, check out my last HuffPo blog post here.