Sideline reporters in sports are usually window dressing. The cameras cut to them between innings or after the game as they try to chat up the likes of Richard Sherman or Buck Showalter.
Yet the onboard reporters in the Volvo Ocean Race need to be more than just another pretty face with a microphone. In fact, they may be performing the toughest job in sports journalism. For nine months, they will be embedded with the crews, but they cannot help the 65-foot yachts go faster.
Amory Ross, aboard Team Alvimedica for this year's competition, said "the toughest thing about being an onboard reporter is not being able to help the guys sail."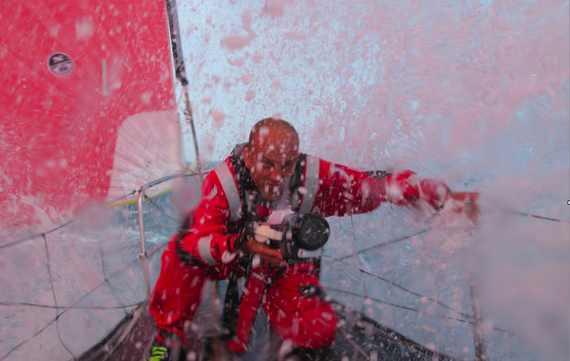 Instead Ross, who is from Newport, Rhode Island, will focus on shooting video, writing regular dispatches and taking still photographs.
Matt Knighton directed the 2013 documentary Black Hawk Down: Return to Mogadishu, and has shot footage in a Somalia war zone. Yet being the outboard reporter for the Abu Dhabi team brought a new set of challenges.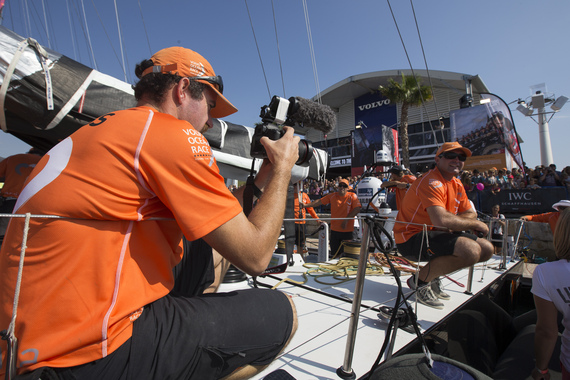 "The toughest part of being an OBR isn't dealing with the elements, learning to live on freeze-dried food or navigating life offshore," he said. "It's getting creative each day with how you tell the story of the eight sailors on board with the same 65 feet of carbon fiber."
The first leg of the Volvo Ocean Race recently finished in Cape Town, South Africa. After 25 days at sea and covering 6,487 nautical miles, the top two boats - Abu Dhabi's Azzam and Chinese rival Dongfeng - finished within 12 minutes of each other. Over the last 24 hours, Azzam skipper Ian Walker's crew was above deck much of the time. Walker himself didn't rest for the last three days on the water as he navigated the tricky winds and currents off Cape Town.
"Wearing his stress and nervousness onboard, Ian hasn't been able to sleep," Knighton wrote in one dispatch. "His eyes are bloodshot, he's jumpy for each perceived decrease in boat speed and his familiar humor is subdued under a quieter exterior."
The seven boats in the Volvo Ocean Race will be back on the water again November 19 as the second leg gets under way. That segment ends in Abu Dhabi just after New Year's. Each boat has a dedicated onboard reporter shooting video, writing stories and taking photographs and sending it along to race headquarters in Alicante, Spain, daily via satellite.
To follow the onboard reporter blogs, go to http://www.volvooceanrace.com/en/news/7815_From-the-boats.html.
Video dispatches from the OBRs can be found at www.youtube.com/volvooceanrace.
Corinna Halloran, the onboard reporter about Team SCA, the all-women's team, has a journalism degree from the University of San Francisco and wanted to sail after college. This job brought both of those pursuits together.
"You have to have a trifecta of media skills - video, writing, shooting," she said. "The biggest thing I learned so far is how to manage your kit. How to work with my equipment to produce quality footage."
Sometimes there are more basic concerns, though. Early on in the Volvo Race, Francisco Vignale, the onboard reporter for Team MAPRE, struggled with sea sickness and fitting in with the crew. Still, sailing the seven seas, even under such trying conditions, can offer sights that Erin Andrews or Ken Rosenthal will never know.
"The best is when we are sailing downwind at 25 or 28 knots, water on the deck," Vignale said. "Sunset in the distance with coffee -- it doesn't get any better than that. That's what you live for out there."