That's what BB King's friends call him: B. And in one of those smack-me-is-this-real experiences over the course of 35 crazy years in the advertising business, I got to be friends with B. Ok, friends with business, to turn a phrase.
I grew up a white-boy wannabe blues guitar player, getting close enough to play out in some bands and adventurous enough to end up with a '59 Fender Stratocaster and a '53 Telecaster. But the main thing is I grew up on blues music - R&B - "ethnic" they called it back when I was listening to the two black radio stations in St. Louis - KXLW and KATZ. And BB King was the man, despite never really having a mainstream commercial hit until "The Thrill is Gone" earned him a Grammy in 1970. Didn't mater. There was "Rock Me Baby," "Every Day I Have the Blues," "Sweet Little Angel," "How Blue Can You Get?," and many more, for those who knew where to find them...
Jump ahead, through the blur of high school and college and grad school - after which I land this amazing job with a fabulous St. Louis ad agency - D'Arcy MacManus Masius - who had Budweiser, and most of the Anheuser-Busch business, since 1909. A year later I'm in the beer business - which for me was like going to heaven without having to die first - and three years later I'm a wise ass 28-year old running the business, or at least I was supposed to be.
Then everything changes: we launch "This Bud's for You" and begin to make advertising and beer history. In fact Budweiser was the first ever advertiser to use blues music in their advertising, something BBC interviewed me for for their two-part documentary, "The History of Blues in America." Music was always at the core of Budweiser's advertising: "Where There's Life There's Bud;" "When You Say Budweiser, You've Said it All;" "Here Comes the King;" and now "This Bud's for You." Until then the agency produced various arrangements of the commercial jingle with New York and Los Angeles studios; "sound alikes," they called them. Now it's time for "This Bud's for You" and this young black kid, the only one at D'Arcy at the time, comes to me with what can only be described as a precursor to ... rap. "Bustin' Bud Suds," he calls it, and tells me it should sound like Johnny Guitar Watson. 'Course I knew who JT was - so, says me, hell, let's just hire Johnny! And we do. No more sound alikes. We go on to hire ... Rick James, The Temptations, George Thorougood, Billy Preston, The Busboys, Stanley Clarke, Herbie Hancock, Bootsy Collins, Lou Rawls, Frankie Beverly and the Maze and many more ...
And BB King.
Got to have BB.
First time I actually meet B is at a taping of the United Negro College Fund's "Lou Rawls Parade of Stars" fundraiser, in Las Vegas. I'd hired Lou to be Budweiser's national spokesperson (http://www.adweek.com/news/advertising/buds-lou-83882) - the first ever black to represent a national brand. Lou knows I love B and takes me over and introduces me. B gives me one of his personalized guitar picks. From humble beginnings ...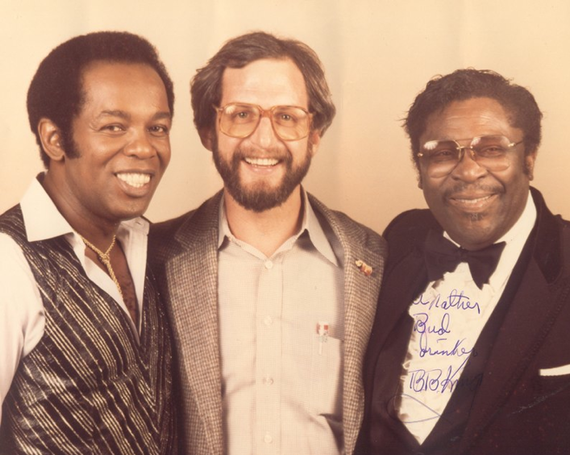 Lou Rawls, the author, and BB King, backstage, Las Vegas, 1979.
Our New York agency guys set a meeting for me and B after a concert in St. Louis, and backstage I go to meet my lifelong, he's-the-Man idol. I walk into his dressing room, crowded with admirers, hangers on, band members and road girl friends, and soon as I do B's ushering everybody out! Clears them all out, so that he and I can get down to business. I take a folding chair in the back room and my eyes land on ... Lucille! Jesus - there it is, his baby, his Lucille, sitting right damn there on the floor in an open guitar case, ready for him to take out on stage in about 15 minutes. It was all I could do to not get down on my knees and submit to solitary worship or something.
This meeting is for concept only. The mojo. Sure, he says, he'd love to do something with our "This Bud's for You" music. Artists loved our take on "commercial jingles:" no sell, no endorsements, no "this is BB King, drink Budweiser." Just the Bud melody and vocal in the first and last eight bars, and in between - jam. The melody is so well known we get most artists to do instrumental-only versions! Which we air. Zero words. Just the music. Most artists jam to their next release, knowing they'd get huge airplay. All that's left is formality with B's agent, which is done before his next concert, two nights later.
A few weeks later and it's time for the session. We're doing it in San Diego where he's got a major arena concert the night before, so we're there in time for the gig. Backstage I go, again. This time the room's crowded and no need to clear it out. And there, over in the corner not paying nobody no mind, is ... John Lee Hooker! Jesus! Well, almost. Actually, better. Over I go, got to say hey. He's looking at me with some kind of curiosity and finally says, to this white guy, "Boy, how you know who I am?" Seriously, I'm thinking? "Cause, I do. I grew up with you, and I love your shit." He likes that.
Next day - ok late afternoon, ok evening - we're in the studio, which one has long since escaped me. B's bus brings them all, him, the band, miscellaneous whoevers, and we get into it. Each track is laid down: rhythm, horns, background vocals, B's lead vocal.
B sits right there in the control room with the rest of us for the whole session. Occasional comment, likes what's going on. Story telling. One he tells me is a classic: one night after a gig out on the road B's telling me he's ready to call on one of his many lady's. He shows up at her house and knocks on the door. This is way past the midnight hour ... and from way back of the house he hears, "B, is that you?!?" It's Ray Charles himself! "The great Ray Charles! The high priest." Back in there with B's lady of choice for this town, for this night. Off B goes, no doubt to his second choice. I know this is true for one because a creative partner of mine, years later, works with Ray and gets the same story. Besides, more years later I'm replaying the story to B, and he says, "Yeah, and I know who that was." And names her. Damn if I can't remember the lady's name!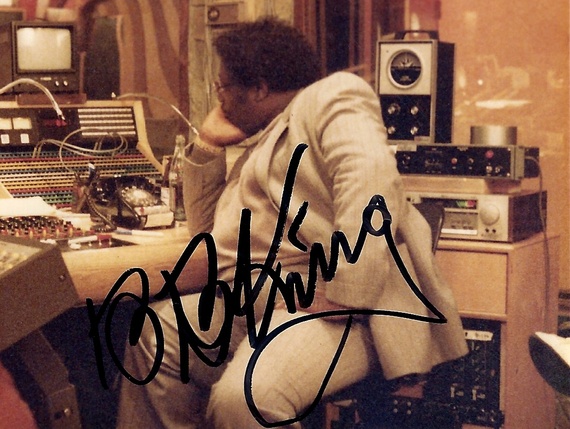 "This Bud's for You" session, in control room before laying down guitar lead, 1980.
(Autographed later).
Then it's time for B and Lucille to lay down the guitar solo. It's just B out in the studio all by his ownself, with his baby. And he's trying to get the melody. Again. And again. And he just cannot hit it. B doesn't play notes. He plays from his soul. I doubt if he can even read music, and am sure he never needed to.
He's sweating bullets. He's pushing it. The notes just ain't there. I'm in the control room and look over to his bandleader. We shake our heads, simpatico.
So out I go into the studio, and kneel down next to my idol, my man, to talk. Back in the control room my agency guys are going, "Jesus Christ, here goes Arnold out there to tell BB King how to play guitar." Not exactly. What I tell him is, "forget it B. Screw the melody. Play your thing. Play B's version of the intro." A palpable sigh of relief, and gratitude. And he kills it.
Now it's like 3 am and his crew is long gone, out in his bus. I ask B if we can get a photo and sure, he says, and goes out to his bus and wakes every last dude up to come back inside for a group shot ...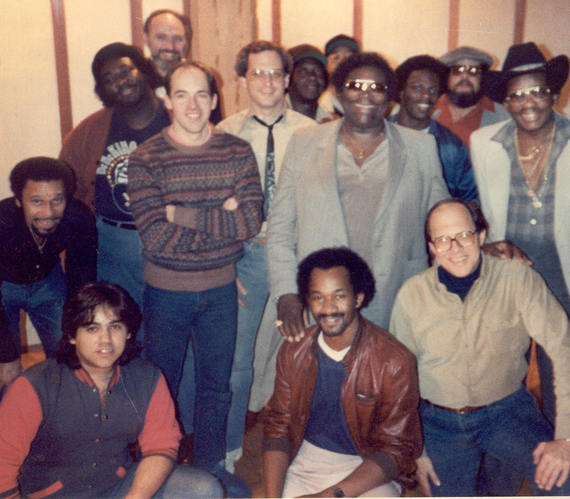 Budweiser recording session, San Diego, 1980.
Next time I see him is back in St. Louis, at the old StL Arena. He's appearing with Albert King - another one of those guys I worshiped - and B introduces me to him. This is years after our commercial session. B must know by now there's nothing much to gain, outside of connecting a fellow blues dude to another legend. That's what kind of guy B is.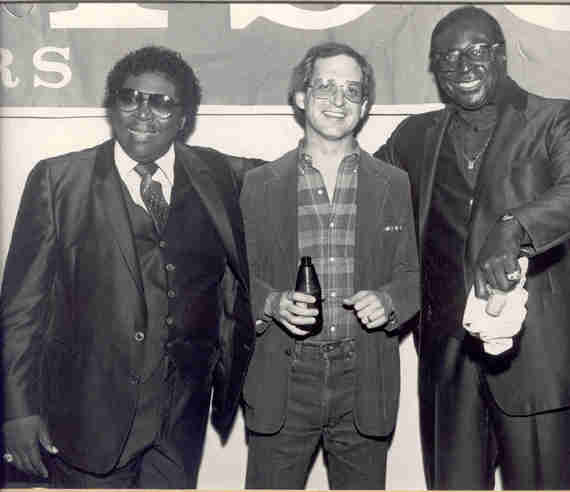 BB King, the author, Albert King, St. Louis Arena, 1983
I see him a few more times along the way, when he comes to New York. I remember one time sitting back stage with him when Dr. John - who's sharing the bill - comes by to say they need to play Happy Birthday for somebody. "What key you want?," Doc says. "B," says B. Each time it's his road manager that I see first, usually opening the door to the dressing rooms. "Here he 'tis," he'd say, "Give that man a Schlitz!" And we'd all laugh, every time. A good guy. Can't remember his name, but he would send me postcards from Europe, when they were on tour.
Last time I see BB King is up in Peekskill, New York, after an appearance at the historic Paramount Theater. By now he's talking to the audience as much as he's doing music. Doesn't matter. He's earned it. After his concert I sit outside his bus waiting, long after midnight and some 30 years and a lot of miles after our Budweiser recording session. Finally, in I go, and (re) introduce myself as the Budweiser guy who did that session with him those many years ago. "Yeah, I remember," he's gracious enough to say, even though I can't imagine he really does. Didn't matter. This is the kind of guy BB King is. I tell him the Ray story. He remembers that one for sure.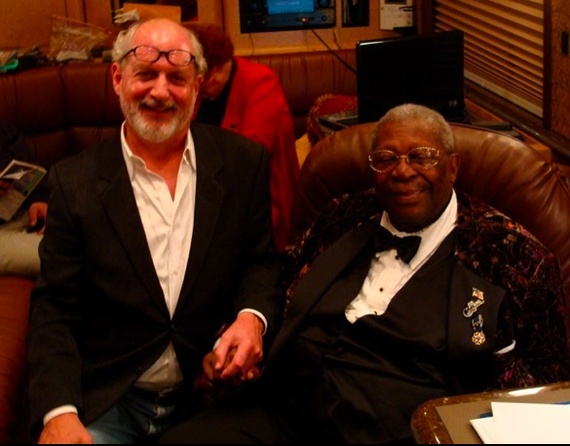 The author and BB King, in his bus, Peekskill, NY 2012
The whole world, not just the music world, has lost a special soul in BB King. Despite his fame, his fortune, his legendary accomplishments, he will forever be a genuine, humble, gracious member of the human race, representing racial blindness and a gratitude for his blessings, for what he was able to achieve and, in his mannerisms and decorum, was able to give back. This was evident in his concerts, and his personality. And in the man I was blessed to have known some.
"Oh I'm free, free, free now ...*" You sure are my friend. And your spirit, and music, will live on in us forevah!
*From "The Thrill is Gone," as recorded by BB King (Hawkins, Roy/Darnell, Rick R.).
All photos used by permission of the author.
Tim Arnold
10 May 2014
www.possible20.com
possible20@aol.com
917.748.6058