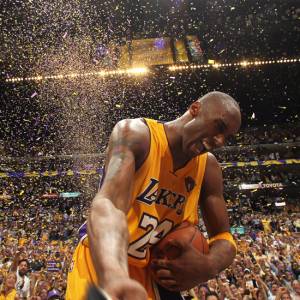 Nathaniel S Butler/NBAE via Getty Images
The sweetest. That's how Kobe Bean Bryant described his savoring of the hardest-fought championship he has won to date. The fresh taste of redeeming the embarrassing loss that his 2008 Lakers suffered to the Boston Celtics two seasons ago has to be pretty delectable. Paul Pierce, Ray Allen, Kevin Garnett and Rajon Rondo could have permanently put a blemish on Kobe's place in the hierarchy of basketball royalty by defeating him twice in the NBA Finals. But some how -- some way -- Kobe and company used their imposing wills to fuel their dreams for a back-to-back title. It was the Boston Celtics. Game 7. Los Angeles, California. Home Sweet Home. There's no better way to close it out for the man some call the ultimate closer.
As Kobe Bryant made his way off of the floor of the TD Garden on the night of June 17th, 2008, while the green and white confetti falling from the rafters stuck to his sweat-drenched, playoff-weary body, you knew that he had to make his way back to this stage. The Celtics had humiliated the Lakers 131-92 to take home their 17th championship banner in six games. And as Kobe made his way through all of the celebration to congratulate the Celtics on their chaotic home floor, his eyes gave him away. His chiseled face was drained and his hunger to win was broken. But there was unfinished business for the Black Mamba.
Exactly two years to the day brought him closure, even though Kobe was struggling in Game 7. He was trying to do too much, trying to get revenge on the Celtics all by his lonesome. Help came in the form of the defensive-minded enigma that is Ron Artest. It was Artest who approached Bryant while he was showering after the defeat in Boston in 2008. As he came into the shower, uncomfortably face-to face with Bryant's naked body, he pleaded with the Mamba to bring him to LA so he could bring him another championship. It took two years to cultivate a chance for both players to capture something that they have starved for from the beginning of their careers. For Bryant, it was a chance to become the greatest Laker ever. For Artest, it was redemption to win the ring that eluded him in 2004 -- a year that changed the current culture of the NBA, when the former Indiana Pacer was involved in that infamous brawl in Detroit. And Ron-Ron delivered. So did the best big man currently playing the game, Pau Gasol. So did one of the most underrated players ever to play the game, Derek Fisher. And they were all led to the promised land with Zen-like focus by a coach who now has more NBA rings than fingers, Phil Jackson.
The confetti falling from the rafters this time around was purple and gold. And it was falling from the roof of Kobe's house. The house he had to protect from Celtic lore, by any means necessary. If the sun is shining brighter in LA today, the skies in Boston are flooded with doubt and uncertainty for next season. This season brought them an unsuspecting run to the NBA finals, but it also brought gang green an unfulfilled promise of getting their second ring in three seasons. Against Kobe Bryant and those hated Lakers.
One for the thumb. Kobe can breathe a little easier going into the summer. More rest. More time with the family. More time to reflect. At only 31-years-old, Bryant has logged a substantial amount of minutes on his fairly-young body, as he battled a bum knee and a broken finger for most of the regular season. But if anyone dares to bring that up, it should only serve as the motivation Kobe will use for his 2011 campaign. But for now, he can just sit back and relish this fifth ring. Out of all his ring jewels, Kobe cherishes this last one as the sweetest. So sweet that Lamar Odom and Pau Gasol had to let their tears of joy flow all over the hardwood of the Staples Center. So sweet that Ron Artest was consequently giddy while giving his crazy post game interview surrounded by his loving family, all while plugging his new single dropping on iTunes next week. So sweet that Kobe Bryant raised his battered five fingers to his ecstatic home crowd as they were on the brink of as blissful eruption. For now, life is good.
But, even in all of his championship glory, there is a two-headed monster currently looming over Kobe's legacy as we speak--the Magic-and-Jordan ogre. But I think it's pretty simple. If Kobe can get to number 6, he may just surpass Magic as the greatest Laker ever. If he can get to number 7, Mr. Jordan just may have to watch his back. Well, nothing is ever as simple as it seems; but after tying Magic's championship number of five, Kobe has solidified his position as the greatest basketball player in the world as we speak. We've all witnessed the evolution of the brash and cocky kid, blessed with unlimited talent, transform into a wise, battle-tested veteran who is still learning the tricks of the championship trade. So, what happens following the aftermath of this victory: the parade down Figueroa Street, the NBA Draft, the FIBA games in Turkey and the summer of LeBron? It's back to work. Number five will be forgotten. And then it's on to the next one.
Pick 6.