LGBT equality has become the litmus test for progressive believers, and yet even the more "progressive" denominations seem to be partially stuck in their conservative roots. No example is more relevant than the United Methodist Church, who recently "defrocked" the Rev. Frank Schaefer (not to be confused with the son of late Francis Schaeffer, also a notable religious writer and thinker). The highlights, as described on his website, are as follows: "Frank Schaefer is an ordained minister in the United Methodist Church where he ministered for more than 20 years (in the Eastern Pennsylvania conference) when, in 2013, he was tried by a United Methodist court for officiating his son's same-sex marriage. He was defrocked on December 19th, 2013, when he refused to uphold the Book of Discipline in its entirety, which would have meant to denounce gay marriage rights. Following his defrocking, Frank became a speaker and activist, and though he was reinstated by the North Eastern Jurisdictional Committee on Appeals on June 26, 2014, he continues to advocate for human rights while also working in a new United Methodist parish in Isla Vista, California. Rev. Schaefer's re-instatement as clergy in the United Methodist Church has been appealed by the Council for the Church, Dr. Chris Fisher."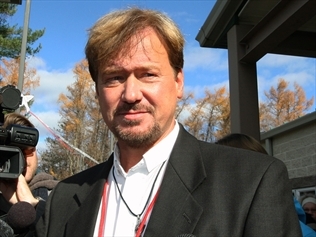 On October 22, a council of United Methodists heard the case for and against Rev. Schaefer. As it so happens, another activist who was formerly a United Methodist minister, Connie Waters, was present, along with a group of clergy from ten states. Rev. Waters account of the event is as follows:
This morning I traveled from my home in the suburbs of Memphis to Downtown, where in Court Square, 1.1 miles away from the Civil Rights museum, a small band of people wearing rainbow colored stoles gathered. There were United Methodists from at least 10 different states and at least one former United Methodist, a Wandering Wesleyan, me. It was so encouraging to see familiar faces in the crowd, some wearing clergy collars, all of them welcoming one another as they come together for a common purpose. They met as a show of support to Rev. Frank Schaefer as he prepared to have his case heard before the "supreme court" of the United Methodist Church. If you are unfamiliar with the journey Frank and his family have been on for the past 18 months, I would encourage you to visit www.franklynschaefer.com for more details. Bulletins were handed out, songs were sung, peace was passed, communion was served, and then this small group of people called Methodist took a walk down one of the streets Rev. Dr. Martin Luther King Jr. had hoped to march in support of victims of injustice.

Frank's story is at the epicenter of an issue that threatens to divide the United Methodist Church. While the Appellate Council tried to assert that this case has moved beyond the LGBT issue and is simply about the upholding of church law, the public who were in attendance seemed to believe that the LGBT issue was the heart of this case. Asking those who have followed the case to separate the two is like being told by the big smoking head to pay no attention to the man behind the curtain. We find ourselves in an age in which we have been asked to separate our hearts from our heads and to listen to reason, sometimes to the exclusion of listening to our spirit.

Frank's decision to follow his heart and to trust his understanding of the very nature of God gives me great hope for clergy those sacred duty it is to uphold the discipline of the church. The courage it takes to make a stand as Frank has done so publicly reminds me of another story from Memphis, the Rt. Rev. William Dimmick, Dean of St. Mary's Episcopal Cathedral, who the day after Dr. King's assassination, led an impromptu march to finish the work that Dr. King had come to Memphis to do and carried the cathedral's processional cross down Poplar Ave to City hall, a move towards racial unity that eventually cost him almost half the cathedral's congregation, but was the just thing to do. It appears that there are United Methodists striving to use their hearts and spirits alongside their reason, and those who are willing to grab their cross and march towards justice. The jury is literally still out on what Frank's move towards unity has cost him, but from the bottom of my heart, my spirit says thank you to Frank for doing the just thing.
It could be as late as Monday before a ruling is handed down, and before Rev. Frank Schaefer knows whether or not doing the right thing, being a model father, and being a model example for the United Methodist denomination, is going to effectively end his career as a pastor of the good news. But one thing is certain: to claim inclusiveness and then defrock a minister in good standing over legally officiating his son's wedding, well, that is not the image the UMC should aspire to hold.