Senior year. Spring 1962. An announcement blares over the PA at Holy Cross Academy in Kensington, Maryland: "Any girls willing to volunteer to work at a camp for retarded (sic) children, please come to the main office." Seventeen year-old twins Ann and Mary Hammerbacher thought, "why not?" and walked down the hall to sign up.
They walked right into history.
The Hammerbacher twins were among the first volunteers for "Camp Shriver," Eunice Kennedy Shriver's experiment in physical activity and recreation for children with intellectual disabilities that she launched in her Rockville, Maryland back yard.
Shriver's brother was President of The United States, but she was no less a leader. She attracted those first volunteers to a summer camp, but she built their energy into what has become the worldwide Special Olympics movement. Their legacy: over 4 million athletes in 180 countries coming together for 50,000 competitions every year.
In 1962, that was unthinkable. The Campers came from institutions and homes where they were largely isolated and riven by shame. Shriver was well versed in an alternative vision: "You will find that these children are more like you than different," she said at the counselor orientation. The Hammerbachers had no reason to doubt her: they'd never met or seen a person with an intellectual disability.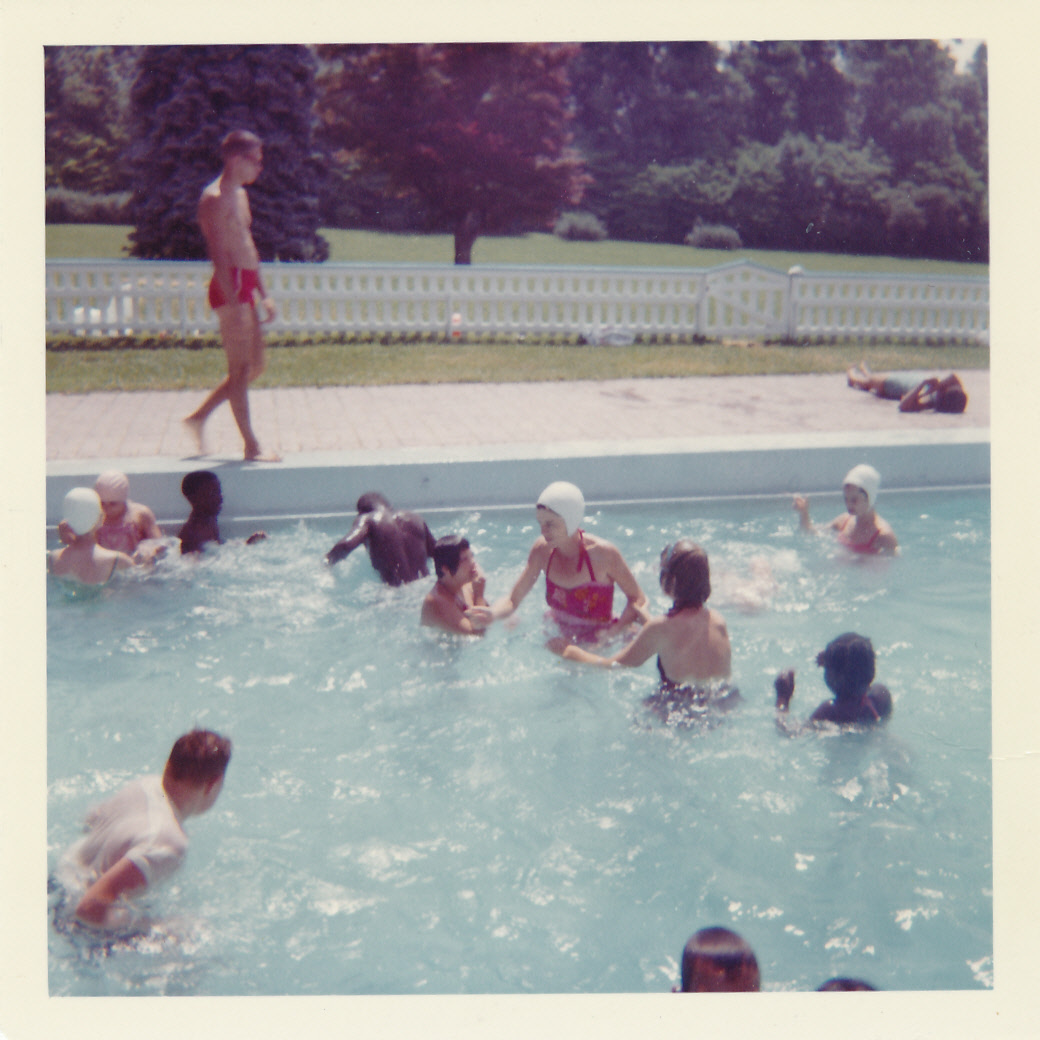 Original Camp Shriver, 1962. Photo courtesy of the Special Olympics.
They were revolutionaries, but like many revolutionaries, they didn't know it. They were not animated by grand designs but rather by an internal compass. They simply did what they thought was right in the moment. "We didn't know enough to think any different. It just seemed like it was the right thing to do and it seemed like it was going to be fun." And in the summer of 1962, they had a blast.
50 years later, they returned to Special Olympics' home office in Washington D.C. to share their stories from Camp Shriver. Joining them was Jim Turner, who began volunteering at Camp Shriver in 1964. They all sparkled with teenage eyes as they told their stories of discovery and delight
"The campers got off the bus every morning and looked so excited--I remember Bobby and Jon and..." Turner smiled before he was interrupted by Ann. "Oh yes. And I remember Lila, Eve, Wendell." The three of them slipped back in time, back to the campers welcome area, back to being young and feeling anticipation in every part of their bodies. "You can't imagine how excited the campers were to arrive at this big field and see the pool and the ponies and the ropes course. They were so eager. I guess we were too."
Jim recalls one little boy looking across the farm expanse and spotting cattle in a nearby pasture. "Look! There are cows over there," he said. "We better get out of here."
Jim was understanding. "Don't worry. Those cows can't hurt you. They're on the other side of that big fence and they won't come near us. There's no way they can get over that fence."
"They jumped over the moon, didn't they?" the camper exclaimed as he ran off in the other direction. Jim was in for an adventure.
After that summer of 1962, my mother, buoyed by the success of the camp, broke a decades old family secret. She wrote a cover story for the widely read "Saturday Evening Post" announcing that she -- and the President of the United States--had a sister who had an intellectual disability. Before sending the piece to the editors, she asked her brother directly if he would approve the revelation. He did, and with one article, the country's most famous family became the country's most visible family dealing with the volatile combination of shame and love for a family member who was different. They broke a silence that had stood for centuries never again to be hidden.
50 years later, the effort to rid the world of the stubborn misperception that intellectual disability renders life hopeless, continues. In many countries, the stigma remains searing as parents still hide their children in closets and among animals. In other countries, policies still render education, health care and childhood play distant dreams. In our own country, loneliness is epidemic among people with intellectual disabilities while the driving progress of science is making human differences into human options. Stigma continues to rear its ugly head in ominous ways.
Thank goodness we can recall the joy and optimism that animated the Hammerbachers and Jim Turner half a century ago. And thank goodness we can count on millions of volunteers who this year will emerge from their schools and homes to teach running and swimming; to join Unified Sports teams in golf and soccer; to cheer with exuberance every competitor who bravely joins the game of life.
What lesson do the revolutionaries of the 1960's have for those of us still in the fight today?
"Don't limit yourself," said Jim Turner. "You have no idea what might be possible." The Hammerbachers laughed as if ready to jump in the pool again. "Just treat all kids well and have fun. You'll make a bigger difference than you can possibly imagine."
Treating all kids well is a revolutionary idea still. Who's ready to volunteer?