Commemorating the 25th anniversary of the fall of the Berlin Wall this November 9th requires more than toasting the Cold War's end, or celebrating a catalyst for European union anchored in a united Germany.
Though the Wende, or "Change," freed the East German people from over forty years of Stalinist dictatorship, remembering the forgotten side of German unification -- when right-wing hooligans waged thousands of attacks on defenseless foreigners -- provides a cautionary tale of failed leadership.
Despite this notable exception, the Federal Republic of Germany has proved for nearly seventy years, that reflecting on a dark past can form a cornerstone of peace and stability. Reflecting now presents an opportunity for the world's fourth largest economy to promote moderation within, and between, immigrant and host populations. Given extremism raging from the Middle East to Eastern Europe, seldom has the world needed such a model more than now.
The first blow to tolerance and moderation in Germany came as an uncontrollable irony of history, on the very day the Berlin Wall fell. "Did East Germany have to open the border on November 9th?" fumed my West Berlin friend, Johann, as we met days later near the Heinrich-Heine-Strasse checkpoint in the middle of Berlin. On November 9th, 1938, he reminded me, the Third Reich had staged a massive anti-Semitic pogrom, Kristallnacht, foreshadowing the Holocaust. "Now, each year, as the Germans celebrate the fall of the Wall," Johann pronounced, "Kristallnacht will be forgotten -- and with it, Germany's tolerance of foreigners."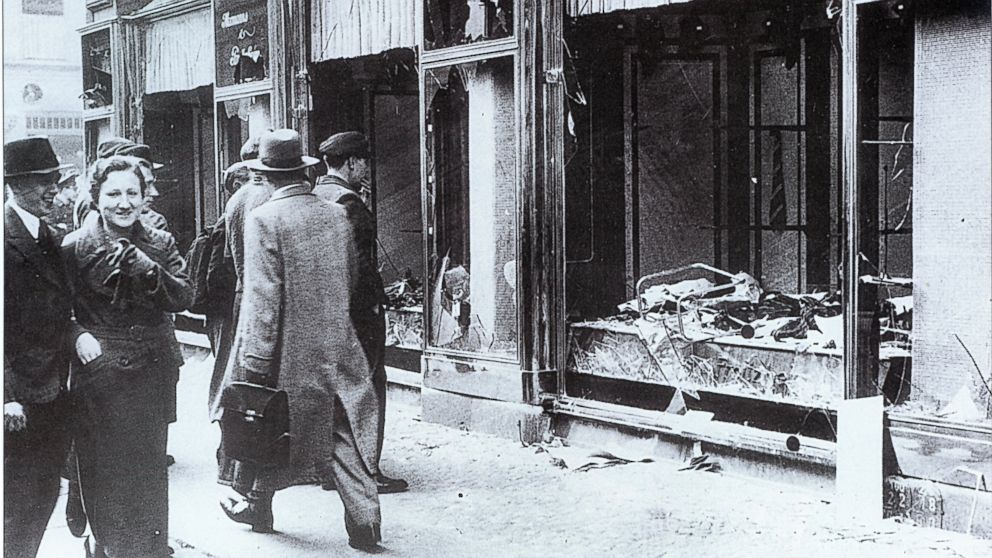 Pedestrians glance at the broken windows of a Jewish owned shop in Berlin after the attacks of Kristallnacht, November 1938. (Universal History Archive/Getty Images)
My first inkling that Johann and the German left sensed the unbridled nationalism that would soon engulf Germany came two months later in West Berlin, when a drunken East German, proclaiming, "Germany for the Germans!" attacked Mahmud Azhar, a defenseless Pakistani doctoral student. When Azhar died six weeks later, not only was the suspect not indicted, but no national outcry emerged, nor did the news provoke a mass protest in West Berlin.
Chancellor Kohl remained notably silent about the subsequent rise in far right attacks, which in 1990 killed an estimated seven people, four of them foreigners. Except for sustained warnings by the Green Party, the far left media, and select mainstream reporters, Germany stood by as the violence festered for two critical years.
Kohl and his cabinet, dominated by his Christian Democratic Union (CDU) party, focused instead on brokering an historic unification treaty. This required persuading East Germans to favor absorption into the Federal Republic, then winning broad support for Kohl's rapid unification plan in the all-German election. Kohl squandered an opportunity, choosing to galvanize German national aspirations without tempering German nationalism.
This pattern continued in 1991, when, fresh from its electoral victory, the Kohl administration placed a powder keg under the nation's simmering nationalist tensions. First, attempting to spark a swift transition to capitalism, the government transferred 30 percent of the East German workforce into complete unemployment, subsidized part-time work, or jobs training programs within a year.
Then the Kohl Administration indifferently or cynically lit a match. Conservatives had long urged the limitation of Germany's constitutional asylum law, especially since many of the rising number of non-German refugees, they complained, were fleeing economic instability, not persecution. Now, implementing concessions exacted from East Germany during unification negotiations, the administration deployed one fifth of all foreign asylum seekers into the imploding economies of eastern Germany.
Attacks on asylum homes predictably intensified in the East, then in the West. Five foreigners died in less than six months, from November of 1990 to April of 1991. The ruling party reacted by intensifying calls to limit the constitutional right of asylum, which they claimed would quell the xenophobic unrest, a message embraced by CDU voters and increasingly echoed even by center-left officials.
In mid-September, the Bild-Zeitung joined the chorus, running a flurry of alarmist articles in its massive 4.5 million-circulation tabloid, trumpeting, "We can no longer cope with the onslaught," "Who should pay?" "How long can it last?"
Late that month, a Ghanaian refugee burned to death in an arson attack on an asylum home in western Germany. A mob in the eastern town of Hoyerswerda began attacking foreigners and their accommodations around the clock with bricks and Molotov cocktails. When Saxony's CDU interior minister refused to send a significant police reinforcement, the attackers grew more brazen.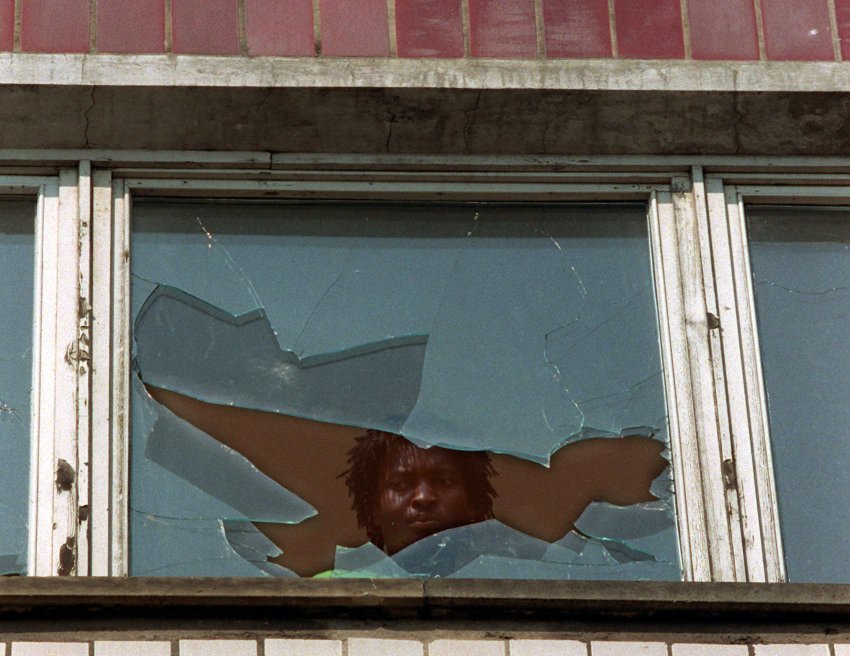 A man peers through a broken window of a Hoyerswerda asylum home on the first day of a week of racist violence waged against the town's foreigners in 1991. (Photo by Rainer Weisflog)
After five days of personal assaults and broken glass, over 200 of Hoyerswerda's foreigners, including many Africans and Asians, were evacuated. For the first time since the Third Reich, a group of Germans publicly boasted that they had made their town "foreigner-free."
Germany's interior minister condemned the attacks, but reiterated that only limiting the number of asylum seekers would stop the violence. Such a message did not exactly discourage far right hooligans. According to police, nearly 1,000 fire bombings subsequently erupted against asylum homes on and around October 3rd, the first anniversary of German unification. Racist attacks rose an estimated eightfold to tenfold in 1991 compared to the previous year; by one count, to 2,368.
Though vigilant, and sometimes boldly protective of foreigners, Germany's protest-prone left reserved its mass demonstrations in 1990 and 1991 for foreign affairs, turning out in far greater numbers at that time against the US-led coalition seeking to eject Iraq from Kuwait than against the rise in xenophobic attacks in Germany.
Chancellor Kohl didn't strongly condemn the upsurge of racist violence until a late August, 1992 TV interview. Though Germany's figurehead president, Richard von Weiszaecker, condemned the attacks at a large Berlin demonstration on November 8th that year, the Chancellor, the nation's top elected official, never addressed the crowd, which was protesting his goal of limiting the asylum law. Though several massive demonstrations followed, it was too late to stop what had become a time of terror for many foreigners. The annual death toll from far right attacks that year more than tripled, to twenty-seven, with roughly half of the victims foreigners.
The administration's leadership failure lay not in wanting to moderate the annual number of asylum seekers, but in using foreign asylum seekers as a scapegoat to do so. The consequences of this strategy soon again become chillingly clear: Days after Germany's parliament passed legislation restricting the constitutional right of asylum, in May of 1993, neo-Nazi youths set fire to a home of Turkish residents in the western town of Solingen, killing five people, including a four-year-old girl.
Germany has since tightened prison sentences for racist violence, established a national holiday commemorating the Third Reich's victims, and installed a powerful Holocaust memorial in Berlin. But though xenophobic attacks in Germany have significantly declined since the 1990s, 2013's tally, 473, still exceeds pre-unification levels, and represents a 20 percent rise over 2012.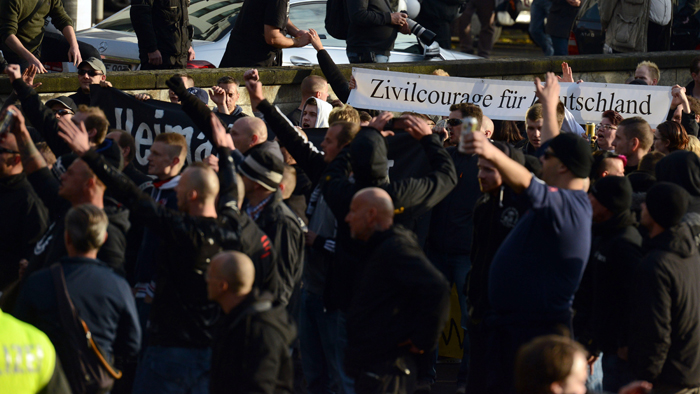 Demonstrators from the group "Hooligans against Salafists," who are known to be violent, march through the city during a demonstration in Cologne, Germany, 26 October 2014. Some 1500 hooligans from various soccer club fan group announced a rally to demonstrate against Islamic radicals. (CAROLINE SEIDEL/dpa)
Granted, German Chancellor Angela Merkel and other leaders in her CDU-led government recently displayed strong leadership by joining the nation's top church leaders to unequivocally condemn an upsurge of anti-Semitic slurs in Germany triggered by the Gaza War between Israel and Hamas.
But she must swiftly do more, and hopefully with more success than from 1991 to 1994, when she served the Kohl Administration as Federal Minister for Women and Youth, during the worst period of racist violence by youths in Germany since the Third Reich.
Now, with nearly 7,000 members, the jihadist Salafist movement has undergone exponential growth in Germany. At the other end of the spectrum, the nation's nearly 10,000 violent neo-Nazis hope to gain adherents by exploiting fears over Muslim fundamentalism: Almost 5,000 right wing radicals recently staged a violent anti-Salafist demonstration in Cologne, wounding nearly fifty police, a potential test for more large scale activities.
Coming of age under East Germany's dictatorship gives Chancellor Merkel unique credentials to resoundingly condemn both totalitarian Salafists and neo-Nazis, which could appeal to the moderate instincts of both immigrants and German natives.
Merkel should also support increased funding for social programs that steer youth away from far right extremism, a supplement the government has promised (but not yet honored) after revelations surfaced of a wave of poorly investigated neo-Nazi murders that left nine foreign shopkeepers dead from 2000 to 2007.
Germany and all countries can cultivate moderation and tolerance by funding programs that unite members of immigrant and host populations to collaborate on key projects in schools, communities, and in professional training programs.
Finally, Chancellor Merkel should adopt inclusive messaging to promote the political center on all sides: That by building strong personal bonds with native speakers, foreign residents can integrate into German society without necessarily assimilating.
Not only can the world's political leaders learn from the breakdown of moderation after the fall of the Berlin Wall. Understanding past human rights abuses can help us all: to see our potential for greater tolerance, to build rapport with those different than ourselves, and perhaps someday, instead of looking the other way from an instance of persecution unfolding before our eyes, inspire us to protect the inalienable rights of at least a single human being.
____________
Tim Stone's articles on Germany have appeared in The New York Times, The Wall Street Journal, and the Economist. He is writing a novel set in reunifying Berlin. He can be reached at timstonewrites@gmail.com and followed on Twitter at: @timstonewrites