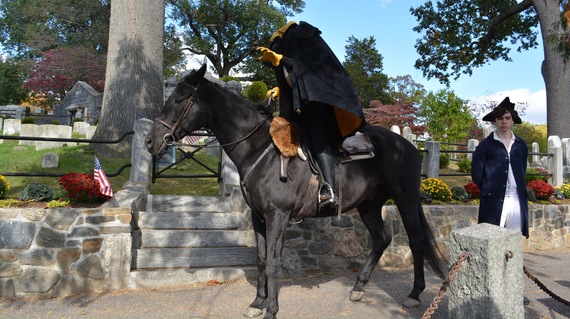 I've been fascinated with the story of the Headless Horseman ever since I was a little girl watching the somewhat frightening animated Disney short. My young interest grew as I learned, through the Judy Blume classic Otherwise Known as Sheila the Great, which takes place in Tarrytown, New York, that the location of the original story is real. But although I lived just an hour away, I never visited the area until recently.
My journey to Sleepy Hollow started in the morning as my family and I drove from New Jersey across the Tappan Zee Bridge to the Hudson Valley of New York. As we came into Tarrytown, the traffic increased and the sidewalks became filled with families like ours, searching for fall fun. My husband found public parking near our planned dinner spot, Horsefeathers, and loaded our toddler son, Sam, and all our gear into the stroller. Unsure where to head to next, we walked along Broadway, the main road.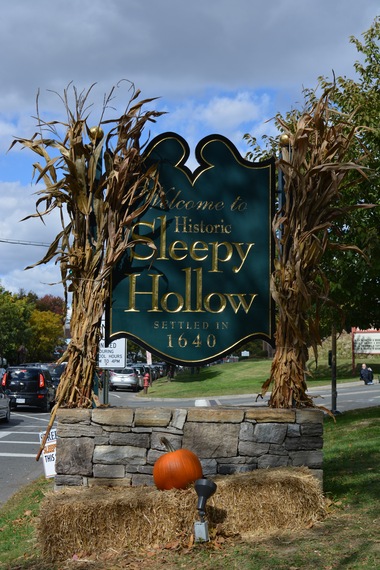 Our first stop was the Sleepy Hollow sign--it's cliché, but how could you pass and not snap a picture? We continued walking until we reached the Sleepy Hollow Street Fair, which was filled with the usual foods, music and booths. At this point Sam wanted out of the stroller, which made me nervous in the crowd. But with a vice grip on his wrist, I tried to enjoy the festivities. Ultimately, there's not too much to do at a street fair with a toddler besides eat funnel cake, so we moved along.
We passed a book fair at the library and a craft fair at the park, neither of which would hold much appeal for our son, so we kept going. At this point the walk started to get a bit long, especially pushing the stroller up a fairly large hill. But now we were getting closer to the real Sleepy Hollow--or rather, the Sleepy Hollow I'd constructed in my head since childhood.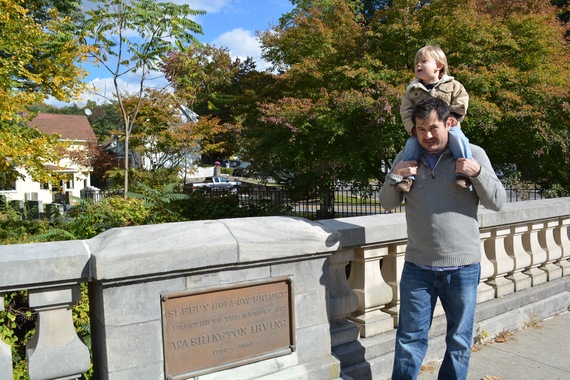 Here it was: The bridge immortalized by Washington Irving in his story, or at least the spot where the bridge once spanned. A newer bridge now stands there, erected in the author's memory. And up on a hill just past the bridge, the Old Dutch Church. We had to pay a small fee to enter the churchyard, which was brimming with activity for such a macabre spot. Our first stop (because it was on the way in, not because we needed a drink--really!) was the beer tent. Brews in hand, we explored the cemetery. "Nothing like drinking beer in a graveyard!" I remarked to my husband.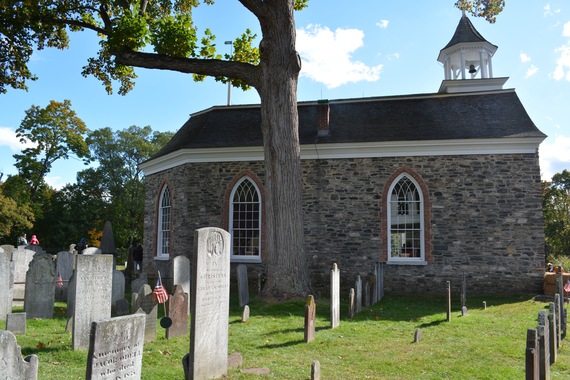 Sam again asked to get out of the stroller, and I figured the cemetery, since it was enclosed, was a fairly safe place to run around--until I realized that many of the gravestones were short and stubby, a perfect spot for my son to trip and bash his head on. My husband gulped the last of his beer so that he could chase him around, and I ventured into the church, where the history of the building was being recounted by candlelight. An old stove burned as I looked up to the pulpit, remembering the gruesome fate of one character who stood there in Tim Burton's film adaptation of the legend.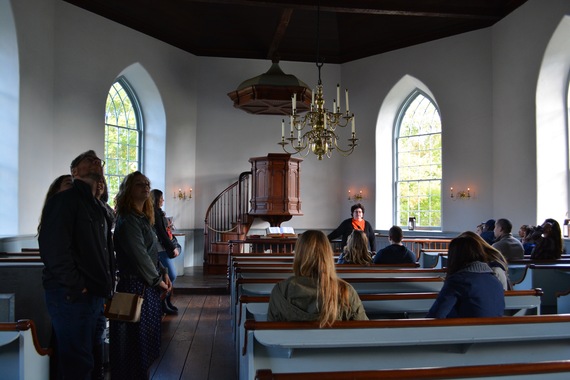 Back outside, I found my husband and son, as well as an unexpected visitor: the Headless Horseman himself! Posing for pictures while atop his black steed, he was accompanied by a young man in period garb. After taking our own pics with the ghoul, I followed him around the cemetery, trying to get another glimpse. Even for an adult, it was thrilling.
Continuing to explore the graveyard, with final resting places of note marked on a handy map distributed at our arrival, I came upon revolutionary war gravestones and other colonial figures. One that gave me a shiver was the grave of Eleanor Van Tassel, thought to be the inspiration for Irving's character Katrina Von Tassel in his legendary story. Further up the hill, in a family plot surrounded by an iron fence an under a large tree, was Irving himself. It was an oddly cozy spot to be buried.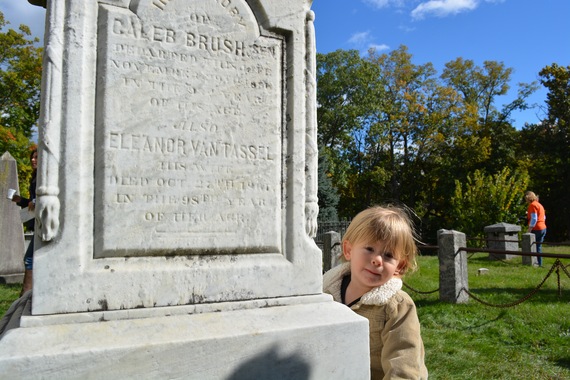 The cemetery seemed to go on forever, and we meandered as our son, back in the stroller, dozed off. One could spend a whole day in the place, exploring the hidden mausoleums and little paths. But we had planned on an early dinner before our big event for the evening (more on that later), so we headed back.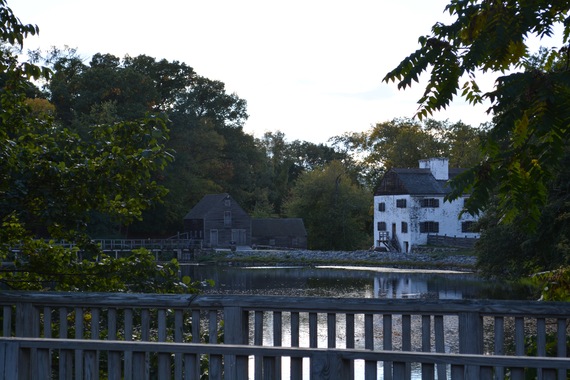 We passed Philipsburg Manor, a historic mansion that's now the site for Horseman's Hollow, a haunted landscape "ruled by the undead, the evil and the insane," the event's website announces. It looked lovely from the road, but the event was not appropriate for kids (much less for grownup scaredy-cats like us), so we made our way back to Tarrytown proper. Our son woke up as we approached Patriot's Park, so we took a quick break to have him run around the playground. Eventually we lured him back into the stroller and up the road to Horsefeathers.
I had heard that this was the family spot to eat in Tarrytown, but due to its popularity it was full inside even at 5 pm, so we ate outside. The fall sun had made the day warm, but as it dropped in the sky it started to get chilly although not unbearable. The food was decent, although it did not live up to the recommendations I'd received.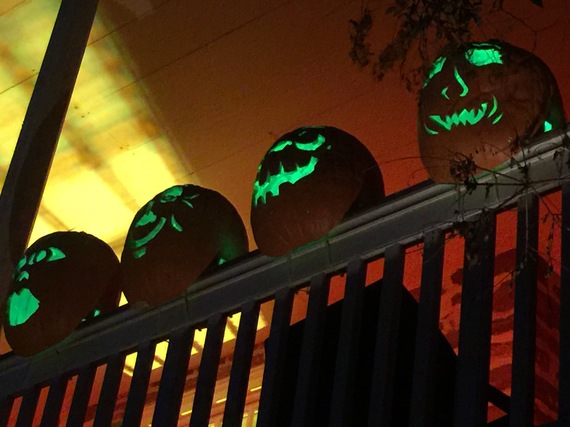 After dinner, we loaded up the car and drove to Van Cortlandt Manor, about 20 minutes north, for The Great Jack O'Lantern Blaze. We had gotten the first time slot of 6:30 pm, and a line of cars was waiting at the entrance. When we were let in, we were well-directed to parking just outside the temporary tent that served as the entrance. There, a man was expertly carving pumpkins (to prove the jack o'lanterns are all real, no doubt), which fascinated my son and his toddler friends who we had met up with. Our group got on line to enter (tickets must be purchased in advance as they usually sell out), and entered the grounds of the historic house.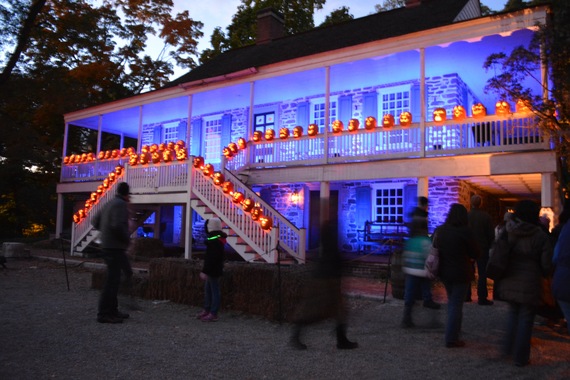 For all the hype I had heard about this event, it did not disappoint. It was well-organized, with one path that kept the crowd moving along, and the artistry of the carvings was jaw-dropping. Mood lighting and scary music added to the ambience. I realized that we didn't have any glow sticks or brightly colored clothing for my son, probably my only regret--if we had lost him in the dark grounds it would have been very hard to find him. So we held on to him tightly, or had him ride on our shoulders, as we didn't bring the stroller.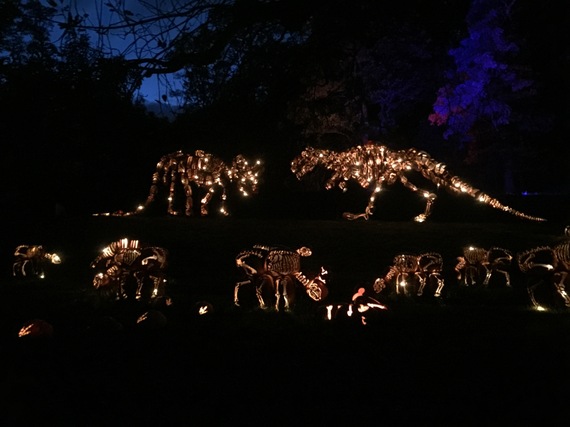 The pumpkins were carved and then formed into giant shapes, both Halloween-themed and not: dinosaurs, trains, skeletons, ghosts. A walk-through tunnel of jack o'lanterns created an other-wordly atmosphere that exceeded my expectations. It took about 45 minutes to an hour to meander through the entire thing, marveling at the sight and snapping pics (picture-taking tip: Don't use a flash).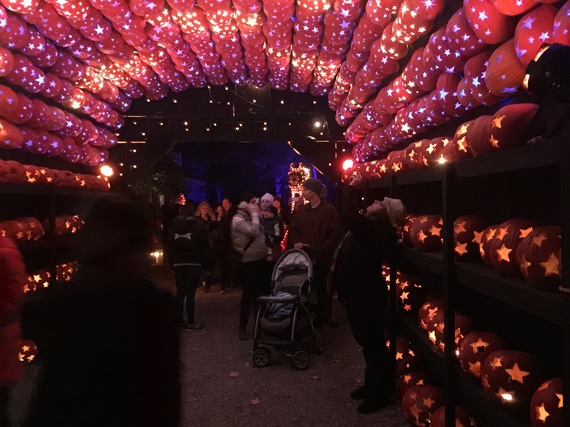 Back in the tent, we had snacks and hot cider. Just a little past bedtime, I changed Sam into his pajamas in the car and then drove off as he fell asleep. We arrived back to our northern New Jersey home at 9 pm. Sam was still asleep as we placed him in bed, no doubt dreaming of pumpkins and fall festivals and a none-too-scary Headless Horseman.
To plan your visit to Sleepy Hollow, The Great Jack O'Lantern Blaze and other events in the Hudson Valley, visit hudsonvalley.org.
Tina Donvito is a freelance writer. Her work has appeared online in The New York Times, The Washington Post, Cosmopolitan, Good Housekeeping and many others. She was selected by author Elizabeth Gilbert to be included in the anthology Eat Pray Love Made Me Do It. She blogs at foggy mommy.com.
All images copyright Tina Donvito.