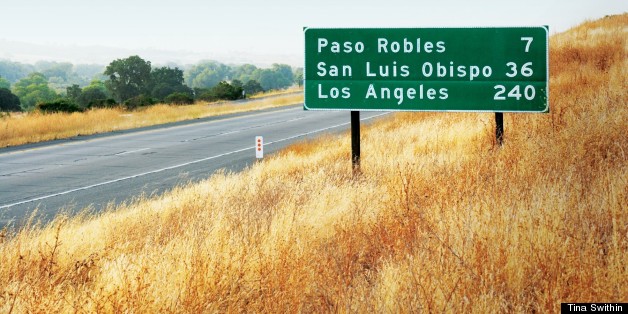 When my husband wants to go on a trip with the boys, they like to have a few items in place: fun, food and well, more fun. I recently set out to explore the perfect man-cation and my trusty "man compass" took me straight to Paso Robles, California.
I know, I know, Paso Robles is becoming known as the next great wine country (move over, Napa!) and that connotation seems to have an air of romance to it. While Paso Robles can be a romantic location, it is also a "man-tasticly" fun place to bring the guys for a getaway. It's brimming over with food fit for a king, fabulous wines, tons of beer, great manly events and tons of outdoor fun! To take the work out of the trip, I've created a list of "must dos" for your man-cation to Paso Robles. You can thank me later.
Manly Adventures
Zip through the Vines- Ziplining with Margarita Adventures
Contrary to the title, there are no margaritas served during this adventure. I've been told that margaritas are best accompanied by salt and not high speed ziplining. The good news, you will enjoy wine tasting at Ancient Peaks Winery when the tour is complete. This is an adventure for the memory books.
Back-Country Wine Tasting- Cloud Climbers Jeep Tours
Take a rugged, yet refined, wine tour with Cloud Climbers Jeep Tours. Climb aboard a classic, custom CJ8 Scrambler for a back-country adventure to taste some of Paso Robles' finest wines -- off the beaten path! Cloud Climbers' signature "Back-Country Wine Tasting Tour" combines some off-road trails through vineyards and stops at four unique wineries for complimentary tasting and a picnic lunch.
Learn to Drive a Stagecoach- Harris Stage Lines
Cook your own steak to your liking in a totally cool western setting, enjoy a complete meal with caesar salad, ranch beans, garlic bread, homemade peach cobbler with ice cream, and lemonade. Take a ride in an authentic stagecoach that was built for comfort and speed. Gather around the campfire, roast a marshmallow or two and share your Wild West stories.
Holy Back Nine, Batman- Hunter Ranch Golf Course
Some of the best golf on the Central Coast of California can be found at Hunter Ranch Golf Course, which will lull you into a false sense of tranquility with its beauty and then POW! sneak up and smack you on the handicap like Cat Woman on Robin.

Cowboy Up and Kick Dirt- Work Ranch
A down-home experience awaits you on the 12,000 acre, oak studded cattle ranch where you can kick dirt, ride horses and learn about life on an authentic working ranch.

Lodging
Beyond the Man Cave- Paso Robles Inn
If you want to sleep where Jesse James laid his ornery head while recovering from a gunshot wound and get a taste of some of the best steak in the country and some of the best cuisine in the region, book your stay at the Paso Robles Inn. Historically renowned for its healing waters, this site hosted outlaw Jesse James and international dignitary and composer Ignace Paderewski and nursed them both back to health. The old wells have been tapped and select rooms now offer their healing properties to the average mortal. The hotel also features a first-class steak house, cocktail lounge, an old-fashioned coffee shop and is located in the heart of Paso Robles.
Fit for a King- La Bellasera Hotel & Suites
If you believe that real men wear spa robes, then make La Bellasera Hotel & Suites your home base during your visit to Paso Robles. La Bellasera offers spacious suites with a Jacuzzi tub, plasma televisions, wired and wireless high speed internet, thin client computer, fully stocked mini-bar, wet bar, two telephones in each room with speaker and dataports, voicemail, lap tables, premium in-room coffee & tea, room service for dining, and morning newspaper delivery. There is also a pool, gym and fine dining restaurant on site.
Manly Food
For the Foody Man, Paso offers many restaurants and food related adventures.
Central Coast Food Tours- On your tour, you'll enjoy a mix of food and wine tastings at five specially selected food and wine venues that best represent the array of agricultural, culinary and viticultural resources in Paso Robles.

Firestone Walker Taproom- Amazing food, cool vibe and tons of great beer. Winemakers and vineyard workers are staple clientele. The restaurant is themed after a bottling facility which provides an authentic manly beer drinking atmosphere.
Paso Robles Inn Steakhouse- Giant steaks and baked potatoes never go out of style at this historic spot. Longhorn bull horns adorn the walls of the upstairs Cattlemen's Bar. Be sure to pack your cowboy boots.

Thomas Hill Organics- Food is sourced directly from their own organic farm and prepared with a French twist. Seasonal menu that includes one of the best grass fed burgers in all the land. Be prepared to dine. Enjoy a fabulous wine list, fun location and great outdoor seating.
Villa Creek- Great bar scene for pre-dinner cocktails or for Taco Tuesday. Amazing seasonal menu includes nachos with duck confit and mouthwatering, well, everything. That's the short version.
Dining with Andre
Discover the art of manly French cooking. Andre is a giant among chefs and an altogether manly dude. He isn't going to baby you in the kitchen, but he will teach you the correct way to wield a chef's knife. Learn the basics of French cooking with an emphasis on bold flavors that will pair with your favorite Paso Robles wine or Cuban cigar.
Manly Wineries and Breweries

A man-cation isn't complete without a tour of the local wineries and breweries and you'll quickly discover why Sunset Magazine named this area the West Coast's "most exciting wine region."
The Man Caves- Eberle Winery
Experience 17,000 square feet of underground caves at Eberle Winery where Gary Eberle has been coined a pioneer in the local wine culture going back to 1973.

Old West Meets New West- Tobin James Cellars
Belly up to the grand, antique 1860's Brunswick mahogany bar from Blue Eye, Missouri for some fabulous wine and a chance to shoot the breeze with the fun folks who run the tasting room.
Taste and Tour- Firestone Walker Brewery
Visit the Visitor's Center at Firestone Walker Brewery where you will receive a guided tour and tasting from a world class brewery.
New Brewery- BarrelHouse Brewing Company
Wander off the beaten path to experience the cool vibes of Paso Robles' industrial center. It is here that you will find the new Barrelhouse Brewery.
Paso Robles may score a place on the map as being the new Manly Mecca. If you aren't able to make it to Paso Robles during Father's Day weekend, make sure you head on out for one of their manly events throughout the year such as the Paso Robles Car Show over Labor Day weekend, Crush & Roll West Cigar Festival in September or even the Paso Robles Air Show in October.
For more additional information about Man-tastic vacations in Paso Robles, visit www.travelpaso.com.