Easter is one of the holidays I have always looked forward to the most. Perhaps even more so than Christmas, which is still not as festive a celebration in the former Soviet Union as New Year's Eve. Back in the USSR, where I was born in 1984, Christians were discouraged from celebrating Easter, as the Soviet Union was still considered an atheist state.
As a result of the political reality I was born into, "red egg fights" and home-baked Paska Easter bread cake were the two highlights of the holiday my cousins and I anticipated every spring. Not to mention, of course, the traditional Georgian feast, supra, that my grandmother would prepare days in advance, at times staying up till the wee hours of the morning to put finishing touches to her exquisite holiday menu.
And so, around the lavish and lively family table (that included not only family members, but also neighbors, friends and acquaintances), we would spend the day celebrating Paska like true Georgians, which implied countless hours of cheerful and endless toasts; amazing dishes; beautiful, polyphonic songs and roaring laughter.
But before the celebrations would officially begin, there was a family ritual we could not bypass, regardless of the weather. Nothing could ever hamper "graveyard visits" -- going to the cemetery to remember the loved ones that were no longer with us. As somber as it may sound, those late mornings at the cemetery were always filled with fuzzy, heart-warming stories and fond recollections from the past.
It has been just over two decades since I left my native Georgia with a backpack filled with countless memories that I will always carry wherever life may take me. Sadly, some of our loved ones that stayed behind (my parents and I immigrated to neighboring Russia) are no longer with us. I think of them every day, especially my grandparents, whom I lost after I relocated to America. There are quiet moments when I feel a faint twinge of guilt for being unable to spend enough time with them in their later years, due to something as banal as geography.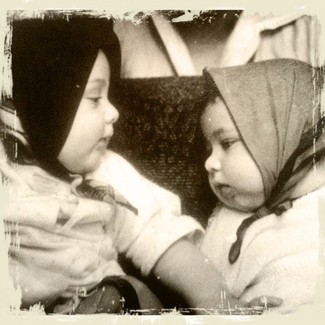 Every Easter Sunday, I wake up feeling like that same little girl, looking forward to a long holiday weekend with Nana Bebi (bebi translated from Georgian means "Grandma") and Geta Bebi, being pampered and spoiled by them both in the best possible way -- with heaps of unconditional love and warmth. Tapping hard-boiled burgundy-colored eggs with my cousins, competing to see who'd break another's egg without breaking his or her own. Childishly bickering over silly nothing's, then making up and laughing as though nothing had happened... Childhood -- a far cry from the distant past, so careless and pure, surrounded by love, unconditional and free. It was something we may have taken for granted at one time, but are now just a little older and hopefully wiser to appreciate so much more in hindsight.
There is a place in midtown Manhattan that I will visit this coming Sunday, like I always do... As I sit in solitude for a few quiet moments, I'll reminisce on snapshots from my childhood, those Easters that have long passed, and the family I love and miss not only on this day but every day. On the way out, I'll light a candle in the name of those for whom I will always hold a special place in my heart. Easter means a lot of things to a lot of people, but to me, that's what it's all about -- the ones that created and kept those memories so special, so unforgettable and above all, still alive.
Happy Easter to those of you who choose to celebrate this holiday for reasons that are religious, traditional or perhaps just deeply personal, like mine. In timeless words of the late Gabriel García Márquez: "What matters in life is not what happens to you, but what you remember and how you remember it."