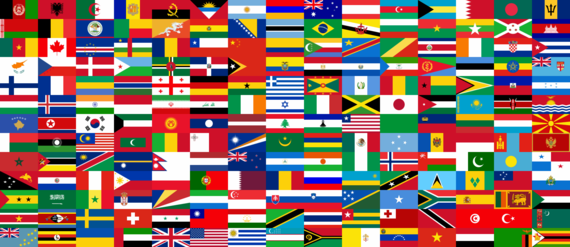 While Sochi 2014 enters its final week before the closing ceremony, it is safe to say that the XXII Olympics will likely go down in history as the most global Winter Games ever. As of this morning, a total of 26 countries have won a medal and have hailed their national flag so far. Undoubtedly nationalism has yet again infused the Olympics -- a truly global event.
This past Saturday, as the United States and Russia, two super powers, collided on ice in a riveting revival of their classic Olympic hockey rivalry, it was clear that what spectators were witnessing was perhaps more than a mere hockey match.
Hardly an avid follower of hockey, this was the first time I ever watched the sport I had long ignored, even throughout my childhood years spent in Moscow. But suddenly I was hooked -- this was definitely more than just a game, and taking sides proved to be a difficult task.
I left Russia in late 2001, and after two-and-a-half years spent in London, New York became my new adopted home. This year marks my 10th anniversary as a New Yorker, and my third as a U.S. Citizen. But even so, deciding which of my adopted homes (I was born in Tbilisi, former Soviet Republic of Georgia, and relocated to Russia with my family when I turned 9) I should be rooting for during this important match was a tough call.
According to USA Today, one of the most closely watched moments of the Opening Ceremonies to the Winter Games on American television was the controversial Coke commercial, which originally aired during the Super Bowl. "Who could have imagined that a 90-second version of the song America the Beautiful, would become a social-media hot button about what is -- or isn't -- American?"
In her thesis on Multinationalism and Performance: Does Multinational Experience Predict Competence? Elizabeth A. Dries describes "multinationals" as individuals who have lived in several countries and cultures over the course of their lives. "The term 'multinationalism' can mean many things. In this paper, multinationalism is not a simple measure of the number of citizenships an individual holds, or even the number of countries in which he/she has lived. Instead, multinationalism is meant to indicate genuine, long-term exposure to several national cultures. It is important to remember that an individual can live in a foreign culture and not identify with that culture."
So does rooting for America in hockey and Russia in figure skating make me a "multi-nationalist" or a "patriotically challenged" citizen? To confuse me even further, watching the Georgian Olympic delegation during the opening ceremony waving my native flag stirred up deeper patriotic feelings inside me. The tricky question for me remains, which of the three countries do I identify myself with the most? Whenever the most common introductory question, "Where are you from?" is posed, I more often than not reply: "I was born in Georgia, raised in Russia and am currently living and working in America." Which one of the three capitals do I refer to as my home (note home not homeland)? New York.
Each time I visit either Tbilisi or Moscow, I must admit I do feel a deep sense of homecoming. At the end of the day, I took my first steps (both literally and metaphorically) in Georgia and spent the most crucial formative years in Russia. But the thrill of landing in JFK and crossing the Queensborough Bridge with spectacular views of the Manhattan Skyline gives me the same thrill every time I return home from a trip abroad. If so, does this make me an American?
In the words of the first President of the United States, George Washington, who recognized the U.S. as a melting pot, enriched by its immigrants' "language, habits, and principles (good or bad) which they bring with them." It is, after all, possible to embrace your adopted home without forgetting your roots no matter where you end up in life.