"I'm flying to Louisville to attend a theatre festival," I announced to my collaborator, who even with four extensive decades of theatrical career under his belt, stared at me wide-eyed in complete disbelief. "Louisville? As in Louisville, Kentucky?"
To be fair, one doesn't automatically associate this northernmost Southern city situated along the border between Kentucky and Indiana with an innovative, highly imaginative theatrical experience that is The Humana Festival of New American Plays.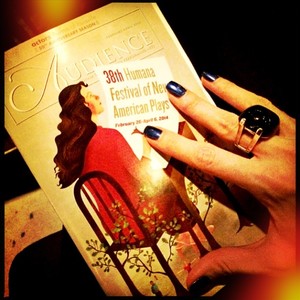 I first attended the festival, hosted annually by The Actors Theatre of Louisville last spring, invited by my longtime friend and literary mentor, Ian Williams. Ian had long raved about it, and I happily joined him as a relative novice in the theatre world to cover the event for my native Russian media. Admittedly, attending three brand new plays a day over a long weekend was hardly an easy task, but the experience certainly surpassed my limited expectations.
There were shows I enjoyed immensely, some I failed to connect with entirely, but there was one play in particular that stood out from the rest -- Will Eno's Gnit directed by The Actors Theatre's very own artistic director Les Waters. I later discovered that many die-hard fans return to Humana year after year, rain or shine. It was right after Gnit's closing performance that I decided to come back the following season.
Lo and behold, when the invitation to the 38th Annual Humana Festival arrived in the mail earlier this year, I didn't hesitate for a moment and RSVP-ed immediately. Although this time around, with Mr. Williams working on a project across the pond in the UK, I travelled to Kentucky alone... Only to be welcomed by the warm and personable team at The Actors Theatre like an old friend. Southern hospitality? Perhaps. But also rather tight organization, to say the least.
Ultimately, however, it's the material showcased during the long weekend that proved to be most impressive. Not unlike last year, once again there were shows that I (completely unbiased one way or another) connected with, and others -- not so much.
Jordan Harrison's The Grown-Up turned out to be one of the favorites -- an interesting journey through time and space that asks (and somehow manages to answer) a universal question: is there a way to find our way back to the children we once were? Casting was brilliant, the storyline, with undertones of a fairytale, was complex but sufficiently easy to follow.
Steel Hammer directed by Anne Bogart, with music and lyrics written by Julia Wolfe, was one of the plays I was personally interested in seeing, particularly due to my own pending musical theatre project. With Steel Hammer music EP cleverly included in the Humana package handed out to all festival guests upon arrival, I was intrigued to see the show for myself. While the acting was quite impressive on several levels (not to mention the actors' physical endurance and dramatic control maintained throughout the grueling two-hour performance), of all the shows I attended during the long weekend, this was the one that left me cold, confused and to a certain degree even exhausted.
Much like last year (but for no specific reason, other than perhaps out of sheer coincidence) the ultimate favorite that has stuck with me to this day was Lucas Hnath's The Christians directed by -- yet again, no surprises here -- Les Waters.
As I read the brief synopsis prior to the performance, I knew this was a show I could not and should not miss -- even if it meant missing my flight that was some three hours away.
Twenty years ago, Pastor Paul's church was nothing more than a modest storefront. Now he presides over a congregation of thousands, with classrooms for Sunday School, a coffee shop in the lobby, and a baptismal font as big as a swimming pool. Today should be a day of celebration. But Paul is about to preach a sermon that will shake the foundations of his church's belief. A big-little play about faith in America -- and the trouble with changing your mind.
Thought-provoking, philosophical, spiritual, completely unbiased yet highly entertaining -- The Christians certainly stood out as a story of deep meaning that is more than likely to have a life beyond Humana. On the way to the airport, I picked up a copy of Lucas Hnath's script to read on the plane... and what a thrilling journey that turned out to be!
With many more unanswered questions and one too many impressions left to digest in three days, I anticipate an equally fun, unpredictable and dynamic 39th annual season of Humana next year that I will be sure to attend yet again.
So remember, folks, Louisville, Kentucky isn't all about KFC, hand-crafted bourbon whiskey and Muhammad Ali -- they do take theatre very seriously, and quite rightly so. After all, we're talking 51 seasons... and still counting.