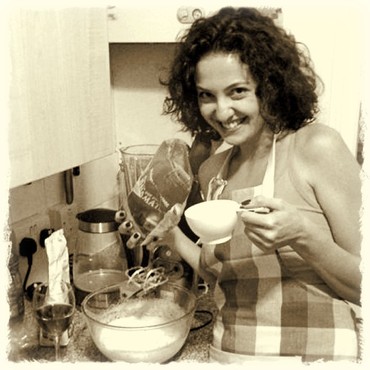 Many years ago, I heard a Latin American proverb advising a complete woman to be a lady in the living room, a chef in the kitchen, and a courtesan in the bedroom. Of course, the times have long changed, and so has the social status and the very definition of a modern complete woman.
But no matter what anyone says, one of the shortcuts to a man's heart is still through his stomach. Banal but so true. Besides, who wouldn't enjoy having the skills to whip up something quick and delicious in the kitchen without incurring too much stress? Not necessarily for anybody but yourself. In no way am I directly implying that I was already a natural lady in the living room or a courtesan in the bedroom, but the chef in the kitchen status was the part of the equation I had given up on without even making a legitimate attempt.
A daughter of an incredibly versatile and experienced culinarian, I spent my twenties living and eating like a student. Not only could I not cook the most basic of dishes or even prepare a simple omelette for breakfast, my culinary "handicap" eventually became a joke among my closest friends.
In fact, a few years ago, one of my good friends sent a humorous letter to the producers of Food Network's Worst Cooks in America, nominating me as "New York's Best Worst Cook." Need I admit that the network ended up inviting me to an audition for their first season. Far from flattering, to say the least, but unfortunately the ultimate icing on the cake was yet to come.
When asked to cook my "signature worst dish", I did not hesitate and asked for two eggs along with a ripe avocado. Get ready for a recipe of a lifetime! I boiled the eggs, and the result was mind-boggling -- one came out soft-boiled, while the other one was rock-hard. Considering I had placed them in the same pot of boiling hot water, I have no idea how that was even possible.
Not in the slightest bit discouraged, I proceeded to cut the avocado lengthwise, opened the two halves to expose and remove the pit, and placed my soft-boiled and hard-boiled eggs -- one of each -- inside the raw (but at least pitted) avocado. The producer and her assistant were, well, mildly speaking, horrified and refused to even taste my culinary masterpiece. They binned my dish right in front of my eyes, and politely thanked me for coming. Short and bittersweet. Slightly defeated but all the more amused by the outcome, I rushed home and ordered a delicious take-out from a local Indian restaurant to celebrate my defeat.
What were the chances I would ever learn how to cook? Next to none. That is, until last winter, suffering from indigestion and constant bloating, I went to see my nutritionist who diagnosed me with acid reflux. Aside from the obvious cure -- health supplements and a costly homeopathic treatment, she recommended making a worthwhile longterm investment and buying a food steamer. Now technically, that would mean "cooking", an idea I was somewhat opposed to.
Yet, after asking a girlfriend of mine who certainly knows her way around the kitchen but, like most of us, is always looking for new and creative ways to save time in the process, I decided to follow my nutritionist's advice... Ever since the day my slow-cooker arrived in the mail, I haven't looked back nor questioned my decision. Not once.
Exactly one year ago this month, I started cooking (and baking) for the first time. Without one ounce of exaggeration, my life, my health and my bank account have never been the same again. Although I don't mean to brag (well, just a little perhaps), I have had the pleasure of cooking for a number of friends -- including the girl that originally nominated me for a 'Worst Cook In America' spot on The Food Network -- and I am thrilled to say that not one of them has called to report indigestion, constipation or food poisoning issues. Not to my knowledge, anyway.
While I am, of course, no Julia Child or Rachael Ray, in my upcoming blog, I've decided to share some of my easy-to-follow tips for culinary beginners, including the most essential dos and don'ts for those of us less inclined to spend extra time in the kitchen. So please put that take-out menu back where it belongs -- an emergency bottom drawer in the kitchen cabinet -- and leave your credit card inside the wallet. Contrary to popular belief, it's so much easier done than said.