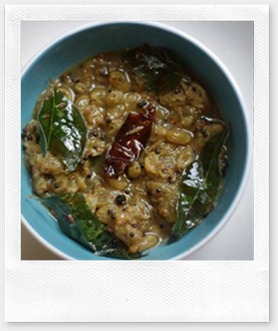 I had been looking for  spicy fruit recipes for a long time. Recently when I spoke to my dad he gave me few recipes which have been in the family for over many decades. This is a home made dish usually not served in any restaurants.
Gojju (pronounced as: go-jhu) is one of the curries of South India. It is usually a spicy gravy served with rice or Indian bread. In Gojju there are many varieties. This is one of the most simple recipes of them all.
The Raisin Gojju is a typical south Indian food, it is equally spicy, tangy and sweet to taste. It is a specialty dish served in festivals and auspicious occasions.
This is a super easy recipe to follow and taste's awesome. All the ingredients can be found easily in any Indian grocery store.
Ingredients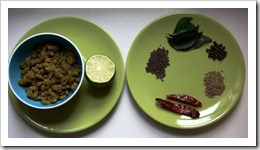 | | |
| --- | --- |
| Raisins (soaked overnight) | 1 cup |
| Sugar | 1/2 tsp |
| Salt | to taste |
| Lemon juice | 2 tsp |
Tempering
| | |
| --- | --- |
| Oil | 2 to 3 tsp |
| Mustard seeds | 1/2 tsp |
| Cumin seeds | 3/4 tsp |
| Pepper powder | 1/2 tsp |
| Red chillies (broken) | 2 |
| Curry leaves | few |
A kadai is required to fry the tempering and to cook the curry. The kadai is a deep circular frying pan, you can use a regular frying pan if you don't have a kadai.
You can use Canola or any vegetable oil of your choice for the curry. Olive oil, if used, gives a different taste to the curry.
Method
Mash soaked raisins with a spoon(can even be coarsely grinded in a blender). Heat oil in a kadai, add mustard seeds. When it splutters, add cumin seeds and pepper powder (can add 1 tsp of whole pepper if powder is not available). Now add red chillies. When it becomes dark red, add curry leaves. Now add Raisins, sugar, salt and little water. Cook for 5 mins and remove from heat. Now add lemon juice and mix well. Serve as a side dish with rice or Indian bread.
This serves as a best side dish with Khara Pongal. Khara means spicy in Kannada language. This dish is prepared specially during the Makar Shankranthi festival in Karnataka and Pongal festival in Tamil Nadu.
For more Authentic South Indian recipes, visit my site here. http://potpourri.typepad.com