Happy Holidays from Go Inspire Go! 'Tis the season to celebrate, give and inspire those around you as we come to an end of another great year. 2012 has been an eventful year for GIG as we continue to grow, creating three times the amount of original content as last year. We wouldn't have been able to do it without our 30-plus volunteers around the globe, the everyday do-gooders we feature, and folks like you! To thank you, we wanted to kick off the holidays with 12 Days of Inspiration!
But before we get to the deets, check out our GIG Virtual Holiday Greeting Card to show our gratitude.
Starting December 13, we started counting down to Christmas by sharing one of our original GIG stories each day, followed by an inspiring action item we want you to do right away.
We're asking you to share what you were inspired to do via social media.
KIND Snacks has partnered with Go Inspire Go to launch our 12 Days of Inspiration. We kicked off our 12 days of inspiration with a GIG Spark video from across the street from the Ferry Building in San Francisco, giving postcards to strangers and asking them to write a message to soldiers who can't spend the holidays with their family. GaiamTV and Volunteer Match are also joining virtual forces with us to share via their social media platforms each of the 12 days.
Thanks for the love -- won't you join us?
Check GoInspireGo.com. We"ve counting down to Christmas by sharing our inspiring videos for 12 consecutive days on GIG's website and blog.
How to Take Action
Our goal is to see how many countries we can get to share our campaign.
1. We need you and your friends/community to download this special 12 days GIG logo and post it as your/their profile picture on Facebook for 12 days.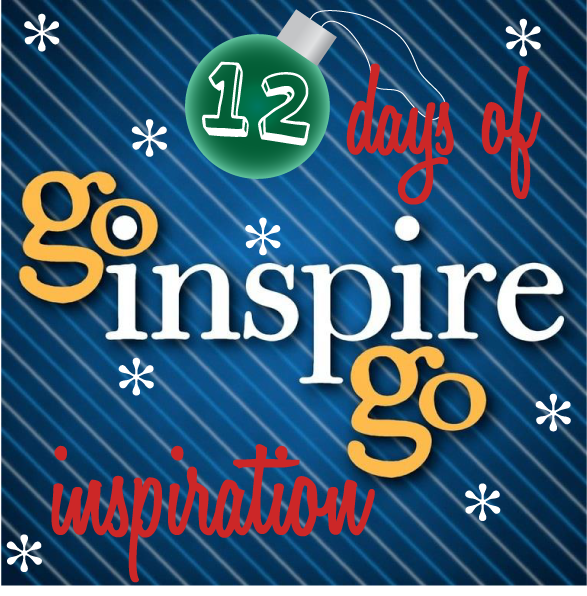 2. Share our Facebook posts/tweets everyday for 12 days.
Day 1: Inspire to write a letter to a soldier. GIG teams up with Kind Healthy Snacks to wish our soldiers a happy holiday and express appreciation for all that they've done for our country.
Call to action: Inspire to create and write a hand-written letter to a solider in the military
(Special thanks to Sirima Sataman, of Ink.Paper.Plate for helping us personalize our KIND GIG cards with her letter-press. Loved pressing each card by hand!)
Day 2: Inspire to create a GIG Spark. Toan and some GIGSTERS visit the Bayview Hunters Point Center for Arts and Technology (BAYCAT) community as the youth speak up about issues they'd like to address and the changes they'd like to see.
Call to action: Inspire to create a GIG Spark. Use your power and multimedia to be the change.