What do you think of when you think of the WNBA?
If you're like most people, you probably think of basketball, and rightly so -- the best women's basketball in the world is played by our 12 teams. As the league ramps up for its 16th season, it has become the most successful women's team professional sports league in the world, and is the undisputed top destination of the best players from every nation.
But what if I told you that the WNBA was about much more than just basketball? What if I told you that it was also about teaming up with first lady Michelle Obama's Let's Move! campaign to motivate our next generation to live a healthier and more active lifestyle? Or inspiring boys and girls to believe in themselves, respect others, and stand up to bullying through GLSEN's Changing the Game campaign? Or working with the UN Foundation's Girl Up program to encourage girls around the world to support each other so that no matter where you grow up, you have a chance to reach your full potential? What if I told you that the WNBA was about mothers reaching out to mothers, sisters reaching out to sisters, women reaching out to women to help them deal with far-reaching issues such as malaria prevention or universal concerns such as breast health awareness?
I've been fortunate to travel the world with the WNBA, taking players into remote villages and third-world countries. And, in China, Europe, Africa, India, and elsewhere, I have seen some variation of this scene repeat itself: a group of young girls waits eagerly on a dirt-floored basketball court as Tamika Raymond or Ruth Riley or Tamika Catchings approaches. The moment the player steps on to the court, a look of hope and joy overcomes the youth.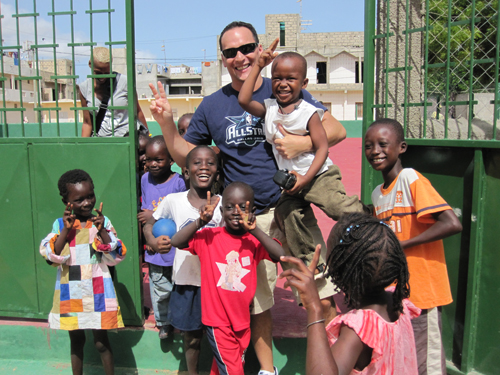 I never tire of these scenes, and not only because they validate our league's mission to inspire girls and women around the world, but because they show that the league is having a true impact off the court in ways we never could have imagined. And the impact, I believe, is lasting rather than fleeting, as a mother receiving a bed net to protect her and her children from malaria or a young girl or boy learning new skills to lead a healthier and more active lifestyle can alter the course of a person's life in a positive way.
And the best thing about these moments? Often, they're not momentary at all, but rather step one in an ongoing relationship. Not so many years ago, the best women's basketball players in Mali were stuck in decrepit facilities, with ragtag uniforms and little else. They had just qualified for the 2008 Olympics -- a first for their national basketball team -- but they did not have the support to be able to properly prepare. When a group of our players heard their story, they quickly went to work collecting uniforms, sneakers, and basketball equipment from teams around the league to send to their newfound sisters. Before the games, Ruth Riley -- who now plays for the WNBA's Chicago Sky -- headed to Mali to meet with the team and give them a motivational talk on behalf of her colleagues. Building these relationships, inspiring and empowering women, and sharing the universal language of basketball are as much a part of the league as three-point shots and championship banners.
This week, all 12 of our teams are getting out in their communities, promoting health and wellness, encouraging anti-bullying, reading to children, and taking part in countless other activities as part of WNBA Cares Week. Our season tips off next Friday. Our players are focused and anxious to get back on the court. But I have little doubt that they are just as excited to hit the streets and parks this week, along the way making a few more friends and a few more fans, most of whom will never think of basketball or the WNBA in quite the same way again.