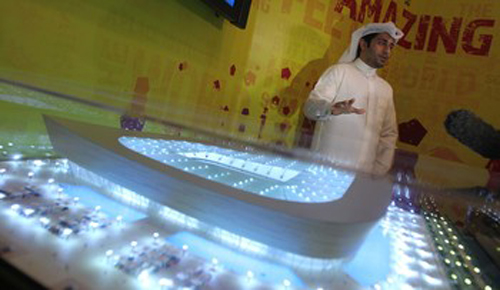 Qatar's proposed Al-Shamal Stadium
[This article was written with Rory Hyde.]
How do you build a 'real' nation? If you've got the cash, the tangible stuff is relatively straightforward; lay down key infrastructure like power plants, water supply, gas, highways, seaports, airports, police, fire, hospitals, etc. You might build office towers, hotels, and an airline to stimulate opportunities for trade. And to lure the tourist dollar, you might add leisure resorts and theme parks to the mix. But what about the intangibles? How do you create that elusive quality of 'culture'?
No region has been asked this question as ceaselessly as the Gulf. As our recent piece on Dubai-bashing illustrated, to criticise development in the Gulf states as being 'hollow' or 'superficial' has become a well-worn cliché of the Western media.
One popular strategy is the international sporting event. It is no secret that the Olympic Games, Formula One Grand Prix and World Cups are viewed by leaders not just as money-spinners, but as opportunities to demonstrate all their country has to offer and to recast national stereotypes for the better. In the Gulf, sports are readily embraced as non-ideological culture.
With South Africa's World Cup only barely behind us, anticipation is not only building for Brazil in 2014, but sights are already set on who will host in 2018 and 2022. The Financial Times gives a rundown of where the various bids stand so far, which includes one unlikely contender: Qatar.
With its searing heat, tiny population and a national side that has yet to qualify for the World Cup, Qatar would seem to have its work cut out to convince FIFA's jury. Qatar is likely to face off against the United States, Japan, Australia, and South Korea for the rights to host in 2022. Each of these bidding nations offers a clear expression of their perceived strengths and identities.
The United States marshals 18 cities spanning from Los Angeles to New York to make its case. With seemingly little investment in facilities required, this would be a good little earner for a country facing the heavy burden of national debt. Japan is playing to its strengths as a technological powerhouse, proposing to broadcast live, full-scale 3D holographic games on empty pitches across the world. While this technology doesn't exist yet, it shows a certain audacity and enforces Japan's image as technoland.
Australia, already considered an experienced host of sporting events, seems to think soccer is more about the bicycle kick than teamwork. And there are few doubts that South Korea can deliver, having co-hosted the World Cup Finals with Japan in 2002.
But what about Qatar? They have demonstrated their ability to host large events with the success of the Asian Games held in Doha in 2006. With no shortage of money to devote to construction, the key focus of their promotional bid video is their five proposed new stadia. Each is designed by Albert Speer & Partner, a firm with a history of working at more intrepid scales in the Middle East than at home in Germany.
Promotional video for Qatar 2022
For a region not shy of symbolism, it might be no surprise that a familiar list of metaphors weighs the proposal down: the dhow fishing boat (Al Shamal Stadium); the seashell (Al Khor Stadium); the national flag (Al Gharafa Stadium); and the oasis (Al Wakrah Stadium), which might also make up for the sole missing metaphor, the pearl, in the form of a spherical glass dome.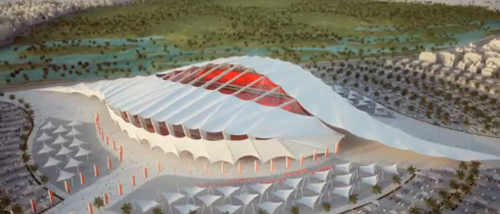 Qatar's proposed Al Khor Stadium
This compulsion for architects to justify their schemes with references to historical or natural precedents is not unique to the Middle East, although it does seem to be incredibly popular here. While this strategy may lend a certain inevitability to the genesis of a design, in the context of the Gulf, we can't help but imagine the mutually pandering and condescending sales pitches delivered to get their proposals approved. The metaphor does away with subtlety in lieu of an easily communicable design at a client review meeting.
But the battle to host the World Cup will not be won with architecture alone. Qatar's strategy for differentiation is their 'compact bid'. In stark contrast to the US' coast-to-coast approach, Qatar proposes that every match will be played within an hour's drive from any other. This would be an advantage for both the players and the fans, reducing travel and creating a dense critical mass around the event sites.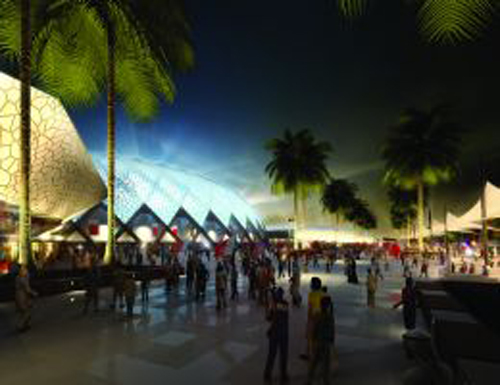 Qatar's proposed Al Wakrah Stadium
Reduced travel with ample air-conditioning is Qatar's awkward combinational answer to the environmental issues. But naysayers also point out that the spectators need to be 'entertained' when they're not at the pitches. In other words, there are limited places you can consume alcohol. Doha can entertain. It has one of the most beautiful exhibitions on Islamic Art in the world, a primped but still enticing souk. And it has not shied away from lavishly spending on cultural events. But it would be fascinating to see how a country would invite the world without offering the ever present plastic cups of beer.
In addition, to have five soccer stadia in a country of 1.6 million people (of which 75% is likely transient) seems absurd. While the designs feature demountable upper seating tiers to reduce capacity post-World Cup, one would expect they are still destined to become white elephants. They wouldn't be Qatar's first.
Which leads to the question, why not then put together a regional bid?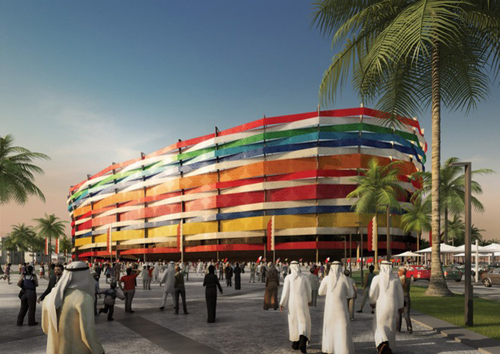 Qatar's proposed Al Gharafa Stadium
This perceived shortfall could be turned into a positive boost for the entire Gulf. And besides, international sporting events have mastered a paradox: 'fostering unity' while determining who is the best. This unity is already being sought through promises of heightened collaboration within the six-state Gulf Cooperation Council. Ideas focus currently on infrastructure such as rail and road; why not use the World Cup Finals as a chance to demonstrate this for a global audience? For Qatar to co-host with Bahrain, the United Arab Emirates, and possibly Kuwait and Saudi Arabia would stand as a compelling example of regional cooperation.
If Qatar is simply out to buy another piece of the nation-builder's toolkit, then by all means it should host alone. But if it is looking for a platform to convey the intangible qualities of trust, collaboration, culture, international diplomacy and regional responsibility to the world, it could do better by teaming up.