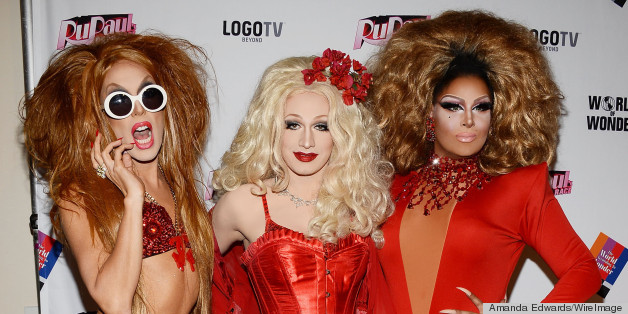 SPOILER ALERT: If you haven't yet seen the season finale of RuPaul's Drag Race Season 5, read on at your own discretion: I reveal the name of the winner.
Last night RuPaul crowned "America's Next Drag Superstar," and that winner was Jinkx Monsoon. I'm sure some people feel that Jinkx didn't deserve to win, because she is a "comedy queen." Hell, that point was even the basis for some of the drama on the show over the last few weeks. I have to admit that I don't understand this line of logic. To me, the best drag queens have a bit of comedic genius in them.
Of course, I'm sure I'm influenced by the drag queen I'm married to, and by the city I live in, Columbus, Ohio. We are fortunate enough to have some of the most amazing drag queens in the country, and I have been lucky enough to have seen most of them perform. What they all have in common, in my opinion, is that they all can be funny. Whether performing or emceeing a show, all these queens can make you laugh.
Some of these queens accomplish this through being crass. Others do it through physical comedy, and still others through jokes, and some have their own style of comedy. The one thing that the majority of them have in common is that they have competed and won titles. Many of them have several titles, and some even have national titles. Even though they have been or are "pageant queens," they still understand the importance of entertaining an audience through laughter.
Now, I'm not saying that comedy is the only way to entertain an audience, but let's admit it: A two- or three-hour pageant featuring men in dresses lip-synching and modeling different costumes can get old. I can't tell you how many pageants I've seen where the only thing that kept me engaged and entertained was the humor of the emcee. I believe that drag should be fun and something that takes your mind off the worries of life.
To me, a "pageant queen" should also be a "comedy queen," and vice versa. Queens should be well-rounded enough to rock the runway in a fabulous gown and the next moment make the audience laugh with a skit or a joke. Vivian, the drag queen in my life, has never competed, and I'm not sure if she ever will, but I feel that if she wanted to, she would have a good run at it. Vivian is campy first and foremost, but just ask anyone who has seen her and they'll tell you that she always brings the fashion and beauty no matter what she may be doing onstage. Vivian does camp not because she can't dance or bring the pageant glamor but because camp is what she enjoys doing onstage, and honestly, drag should be about what the individual performing it enjoys.
So if Jinkx wants to showcase her comedy, good for her. She is extremely gifted at it, and I don't feel that it took away from her beauty and fashion once she started bringing that to the show. Roxxxy Andrews wanted to showcase her beauty and fashion, and guess what? She rocked that. However, that didn't stop her from being funny when it was needed. Every queen showcases her strengths. But if one drag queen's strength is not one of yours, or if it's something you choose not to showcase, that does not mean that her strength is something that shouldn't be respected. Being true to oneself is the only way for any entertainer to succeed and grow.
Success shouldn't be measured by how many titles you hold or how much money you have made but by how much you enjoy doing what you're doing. So to all the "comedy queens": Keep making us laugh. To all the "pageant queens": Keep bringing that beauty and fashion. I enjoy both, and in my opinion, the drag queens who can marry the two are the best!
This blog post originally appeared on Diary of a Drag Queen's Husband.