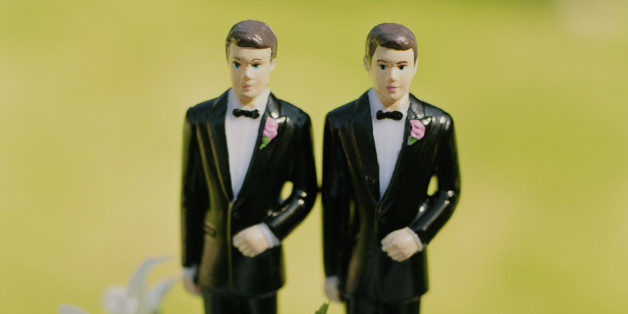 I believe in marriage equality, and I want to marry Vivian. My current dilemma is whether to wait for Ohio to wake up and embrace marriage equality or take Vivian to New York City and marry her there. I also still do not know what the perfect proposal should be. I realized I missed an opportunity when The Huffington Post published my piece "How Do You Say, 'Will You Marry Me?'." I should have proposed at the end of that. As they say, hindsight is 20/20.
Well, I think I've added another bump in the road toward proposing. I read a HuffPost blog post by a gay man who is one half of one of the couples who recently married in Montgomery County, Pa. While watching the videos of his wedding in the post, I realized that Vivian and I need to have two weddings. "Why two weddings?" some of you may be asking yourselves. Well, there has to be the official, legal wedding between Jeff and me, and then there needs to be a more symbolic, fun wedding for Vivian and Mr. Von B. It just doesn't seem right if the Von Bs don't have their own separate wedding.
So now you see my problem. Once I've proposed -- and it's coming -- we will have to plan not one but two weddings. Each wedding will more than likely have its own theme and date. Who knows? Maybe the Von B wedding will turn into more of a show, and we'll have some of our favorite drag queens perform! I can already see the Von B wedding in my mind: Vivian dressed in a new, white dress, of course; me in a black tux, or maybe a white one, depending on when the wedding takes place; our favorite drag queens serving as Vivian's bridemaids; our favorite drag kings as my groomsmen; and, to send it over the top (and since we know that she loves Columbus, Ohio), Latrice Royale officiating. After the "I do"s are said, one hell of a drag show commences to celebrate the Von Bs finally being married. The more I think about it, the more I like this idea.
So if you want an invitation to the Von B wedding, be sure to stay tuned. The Von B wedding will surely be the wedding of the century, or decade, or year, or, OK, month. Actually, it will probably be the wedding of the day.
Here's hoping that Jeff and Vivian will say yes when I pop the question!