It's almost August, which means soon the "Back to School" ads will be inescapable. Although I finished school a long time ago, that still bothers me.
Think of it from a kid's point of view: being constantly reminded of school when you still have about a third of the summer to go is not cool, and borders on cruelty.
Having attended the same public school since kindergarten, after 6th grade I had to move to a new town. I didn't want to hear about going back to school at all, knowing I had to start 7th grade at a Catholic school, where I didn't know anyone.
I had been dealing with some fairly heavy things for a few years. I was no stranger to angst, and by 12 I was pro, teenager or not.
Music always helped me through bad times, but at that age I was already obsessed with the sound of electric guitars. Loud, crunchy electric guitars. Rock and Roll guitars.
It was Chicago, I listened to Steve Dahl, and Disco Sucked.
That first year in Catholic school was a bit rough, and a bit funny too. (click to read) I listened to a lot of music, trying desperately to be cool and make friends.
Most of those school friends lived pretty far away from where I lived, though. The summer after 7th grade I listened to a lot of music, trying desperately to be cool and make friends in the neighborhood.
Eighth grade was fun, being big shots and all, but still turbulent. I remember getting certain albums that helped me through some rough spots.
For my birthday, I got Cheap Trick's Heaven Tonight.

For confirmation, my sister got me AC/DC's Highway to Hell. (How cool is that?)
For graduation, my brother let me pick out any three albums. (How cool is that?)
I chose Let it Bleed by the Stones, Who's Next by the Who, and Physical Graffiti by Led Zeppelin. It was going to be a good summer.
My friend Tom lived at the end of my street and was about 4 years older than I. We rode bikes, played baseball and football in the street, and listened to rock and roll.
One day, Tom said he was taking me to meet his friends who were starting a rock band. They were practicing at his friend Bob's house, only two blocks away.
When we turned down Bob's street, we encountered two girls twirling in circles in the middle of the street, giggling and getting dizzy on purpose -- my type of girls. They were my age, but went to public school. That's how I met Roseann and Kerry, who are dear friends to this very day.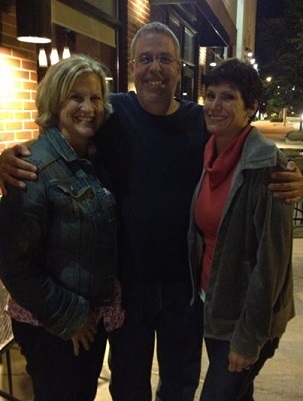 We said goodbye, and continued on. When we got to the house, and went down to the basement. Tom introduced me to Danny (drums), Dennis (lead guitar), and Bob (bass.) If I'm not mistaken they were all headed into senior year of high school. Bob had a sister Cathy, also my age, and friends with Roseann and Kerry.
They started playing, and Bob's parents had to be super cool, because they were loud. It was the first time I saw a rock band up close.
I thought I knew music, because I could usually name group, song and album in very few notes. This was different; I began to understand of the roles of each instrument, and how they combined to make that sound. The band's name was Revelations.
When they played "Cowboy Song" by Thin Lizzy, I was hooked. It started off with just vocals, a guitar softly picking out notes of chords, and bass thumping only the root notes beneath. The drums entered just before it shifted gears and the volume kicked in.
I went to see them practice as often as I could, and most of the time Roseann, Kerry and Cathy were there, too. It was so much fun -- it made us feel cool. Technically, we were no longer 8th graders, but we still had the swagger. Plus, we were hanging out with the band.
We all got Revelations t-shirts and went to see them play in the Battle of the Bands at the local carnival. We were cool.
And then, the flood of "Back to School" ads began. We realized we were going to be lowly Freshman in about a month.
Although, I think the girls were pretty excited about it. They were all going to the local co-ed Public school. And they knew Seniors in a rock and roll band.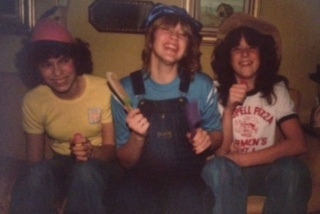 I was headed to an all-boys Catholic school in the city, where I had to wear a tie, was bound to get called a "Benny" and get pummeled by Seniors.
Thank God for Rock and Roll.