Since I live in the Midwest, I'm always happy to say goodbye to January.
Generally, January is the harshest of the winter months. The rest of winter is no picnic either, and it's not like I'm happy to say hello to February. Personally, I find February to be far more depressing.
The Super Bowl has been in February recently, but it's been falling on the first or second of the month. After it's over, there's not much to do except shovel snow and watch TV. I'm not much of a basketball or hockey fan unless it's the playoffs, and baseball still seems light years away.
On the last day of January, the night before the big game, it started snowing about 7:30 and didn't stop. I was really looking forward to the Super Bowl party the next day, but I didn't make it. Most of my friends didn't, either.
After the game, I was alerted that the plant was closed on Monday. It was the fifth largest snowstorm to hit Chicagoland, and that's saying something. When I looked outside in the morning, I forgot all about Groundhog Day (silly little whistle pig.)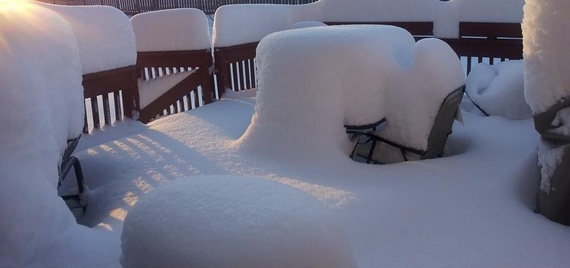 The following Sunday, going through football withdrawal, I decided to watch the Grammy awards for the first time since 1989 (the great Best Hard Rock/Metal debacle.) The show was OK, I guess. I saw Kanye run up on stage, seemingly about to rip the award from a startled Beck's hands, before thinking better of it. At least I could follow the water cooler talk at work the next day. Usually I'm clueless.
Personally, the hardest part of February is Valentine's Day. Last year, I wrote about how it's my least favorite holiday. This year, it was a perfect day to stay in. It was cold, the winds were howling, and I was happy to have no obligations. I was playing on the computer, and with tongue firmly in cheek, decided to have a little fun.

It didn't take long for the comments to start. Here are some of the highlights: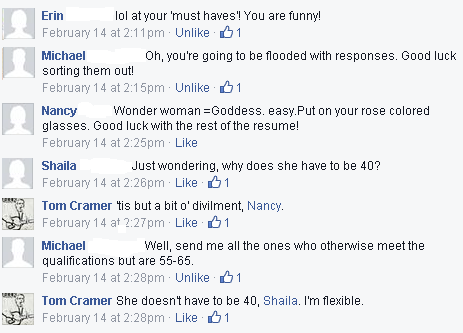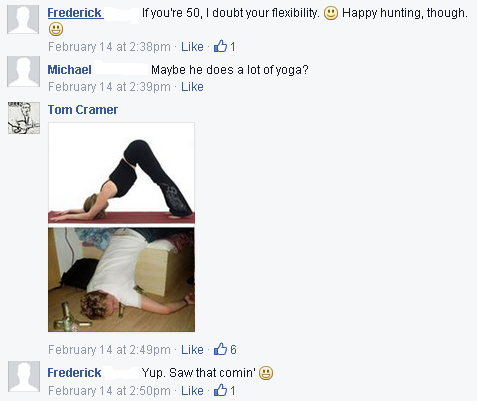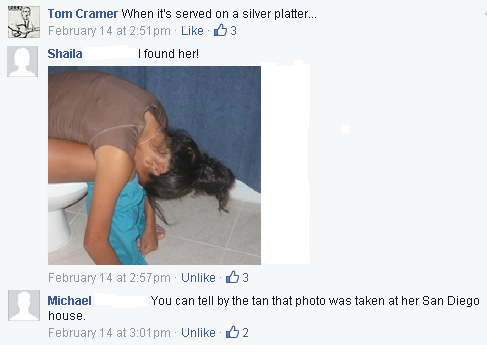 Poking fun at myself and laughing with my friends kept my spirits up. I survived.
The next day, I was excited for the Saturday Night Live 40th anniversary show, SNL40. Just thinking about it brought me back to the mid '70s and childhood. I can't say that the show lived up to my expectations, but I liked a lot of it. Bill Murray as Nick Ocean singing the "theme" to Jaws, Jeopardy and Wayne's World were my favorite live skits. Even though Valentine's Day had passed, I still needed the laughs.
On Monday the 16th, I tuned in for the Stevie Wonder Songs in the Key of Life Grammy Salute. I'm sure glad I did. To be honest, I had heard of Lady Gaga, but never listened to any of her music. I was skeptical when she was introduced to sing my all-time favorite Stevie song is "I Wish." Her performance delivered all the joy and happy memories of the original. She nailed it.
It made me think of my step-daughter. While two years have passed since her mother and I divorced (finalized in February, of course) I still think of her when it comes to music, especially asking her opinion of the new stars. I remembered asking her about Taylor Swift years ago. She thought for a moment, trying to put it in terms I would understand. "She's kind of like Sheryl Crow, except way younger and hotter."
About two days later, out of the blue, my step-daughter requested to be friends on Facebook. I was thrilled, and gladly accepted, taking it as a sign that any residual resentment had subsided. A few days after that, I complemented her on a picture of herself she posted, and started to look at her page, marveling at how grown up she was.
It was then that I saw she was friends with her mother (naturally) who was using her maiden name. I clicked on my ex's profile, and that's how I learned she had gotten remarried.
What a kick in the teeth. I was shocked, angry and mostly sad. I barely slept that night, and made it through the first half of the next day at work, before requesting to finish the day from home. I didn't want to break down in front of coworkers.
I'm better now, after having time to process everything.
The way I look at it, it takes two to tango. There's no point in placing blame or fault. We were married, and we failed. While I would have appreciated hearing the news directly from her, it doesn't change anything. She's married again, and I truly hope she's happy.
But man, I can't wait to say goodbye to February.
Earlier on Huff/Post50:
PHOTO GALLERY
What Do You Do About The Winter Blues?