Due to the nature of my job, summer is the busiest, most stressful time of year. It starts to get nuts in late May, and usually doesn't end until late August. During this stretch, I don't have the time to shop, plan meals or cook. I eat poorly and gain weight.
In early May of this year, I drove up to Madison Wisconsin to meet friends and sleep out for tickets to the Great Taste of the Midwest. It's a craft beer festival held in early August, and it sells out quickly. Last year, my friends were kind enough to get me a ticket, even though I couldn't sleep out. This year, I returned the favor.

Once I know I have a ticket, I put in a request for a half day on the Friday before the fest, and notice that I will not work that weekend. That goal keeps me motivated all summer; I want to enjoy the fest with a clear conscience, knowing I've done all I could beforehand.
On Friday August 8th, I left work around lunchtime. When I arrived in Madison, I noticed a huge crowd in the hotel lobby. I feared check-in would take forever, until I noticed the throng was there to pick up t-shirts and numbers for a 5K the next day. They weren't all checking in to the hotel.

After getting my room key, I got on an elevator along with a cheerful hotel employee. He looked at me and immediately asked if I was ready to taste a lot of different beers this weekend.
Apparently, my physique does not imply "runner." Although correct, would it have killed him to throw me a bone?
I unpacked, and realized I had forgotten my deodorant. I headed into town to get some, then went to a popular bar and grill. A famous craft brewery had "taken over" the tap handles there, and I enjoyed a couple hard-to-get and tasty pints before returning to the hotel.

I parked in the far lot, and was walking towards the hotel entrance when I spotted a woman who appeared to explode out of the lobby. Even at a distance, I could feel her energy and enthusiasm. She wore a red and white summer dress and a stylish straw hat, and had a lovely figure.
I bet that happy-a** hotel employee didn't ask her if she was there to taste beer...
She must have gotten something from a car parked in the small lot across from the roadway entrance, because she caught my eye again. She must not ave been paying attention, and apparently walked in front of a car that had to stop to avoid hitting her.
Even the way she dodged the car was graceful and endearing. She waved as if to say sorry. Instead of the driver honking the horn, yelling or flipping the bird (I'm from Chicago), he just smiled, waved back and watched her walk away.
She looked like an angel.
As I neared the entrance, she joined a group of men and women standing outside. Some were wearing craft beer shirts, and realized they were here for the beer fest! As my face lit up, the angel looked right at me. She didn't notice her group start to move towards the just-arrived shuttle, and one of her friends actually bumped in to her.
It was but a flash, but life-affirming. I had forgotten those moments were even possible.
I turned around to see if some handsome devil was standing behind me, but didn't see anyone. It occurred to me that she may have mistaken me for someone else, maybe some other member her group -- but it didn't feel that way. I hoped I'd run into her again. Either way, I wanted to meet this angel.
Eventually, I met up with some of my friends, and we also took a shuttle into Madison to enjoy Great Taste Eve. Many bars around town team up with the craft breweries who present at the fest and it's a lot of fun. We were quite silly by the end, and my sides hurt from laughter.
Saturday was even better. The fest is held in a park on the shores of Lake Monona, a beautiful setting. There are a mind-boggling amount of different craft beers to taste, bands scattered throughout the fest, and thousands of happy and well behaved people.


Towards the end of the fest, my friends Cheryl and Sarah were getting a lot of attention for the funny fake beards and mustaches they put on. Cheryl and I went to get one last taste, and a couple of women started talking to her. I got my beer and joined them, and I noticed the mood change. One of the women ended her sentence with "...and we don't smell, like your man friend here," looked down her nose, and walked away.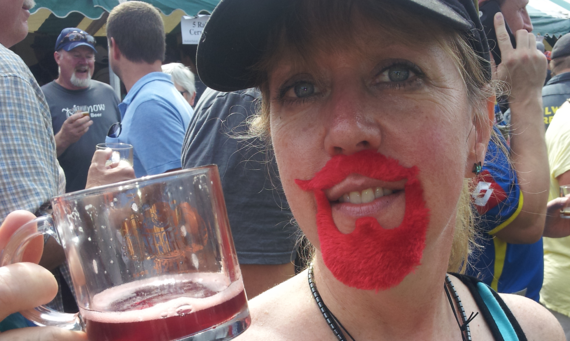 Three things shot through my mind:
1. The deodorant I bought didn't hold up to five hours in the sun.
2. Those women might be attending the "special interest" parade in Madison that Sunday.
3. Good Lord, I hope I don't run into the angel now!
I never did; I only have the moment, and fond memories of another Great Taste.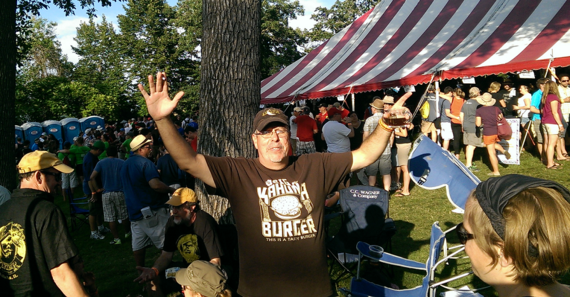 PHOTO GALLERY
Great Taste 2014