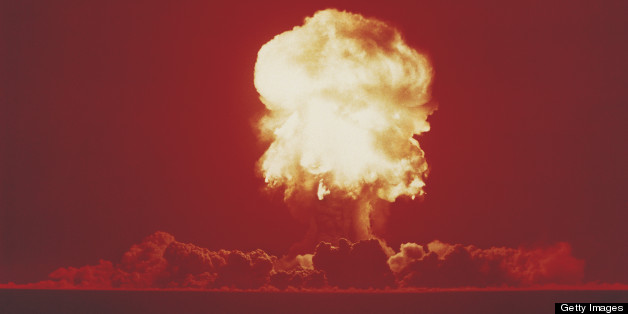 Cross-posted with TomDispatch.com
It didn't take long. In the immediate aftermath of the dropping of the "victory weapon," the atomic bomb, on two Japanese cities in August 1945, American fears and fantasies ran wild. Almost instantly, Americans began to reconceive themselves as potential victims of the bomb. In the scenarios of destruction that would populate newspapers, magazines, radio shows, and private imaginations, our cities were ringed with concentric circles of destruction and up to 10 million people in the U.S. and tens of millions elsewhere died horribly in a few days of imagined battle.
Even victory, when it came in those first post-war years of futuristic dreams of destruction, had the look of defeat. And the two wartime American stories -- of triumphalism beyond imagining and ashes -- turned out to be incapable of cohabiting in the same forms. So the bomb fled the war movie (where it essentially never made an appearance) for the sci-fi flick in which stand-ins of every sort -- alien superweapons and radioactive reptilian and other mutant monsters -- destroyed the planet, endangered humanity, and pursued the young into every drive-in movie theater in the country.
As late as 1995, those two stories, the triumphalist end of "the Good War" and the disastrous beginning of the atomic age, still couldn't inhabit the same space. In that 50th anniversary year, a planned exhibit at the National Air and Space Museum that was supposed to pair the gleaming fuselage of the Enola Gay, the B-29 that carried the first atomic bomb to Hiroshima, with the caramelized remains of a schoolchild's lunchbox ("No trace of Reiko Watanabe was ever found") would be cancelled. The outrage from veterans' groups and the Republican right was just too much, the discomfort still too strong.
Until 1945, of course, the apocalypse had been the property of the Bible, and "end times" the province of God (and perhaps a budding branch of pulp lit called science fiction), but not of humanity. Since then, it's been ours, and as it turned out, we were acting apocalyptically in ways that weren't apparent in 1945, that weren't attached to a single wonder weapon, and that remain difficult to grasp and even deal with now. It's a subject Noam Chomsky takes up in his new essay "Humanity Imperiled."