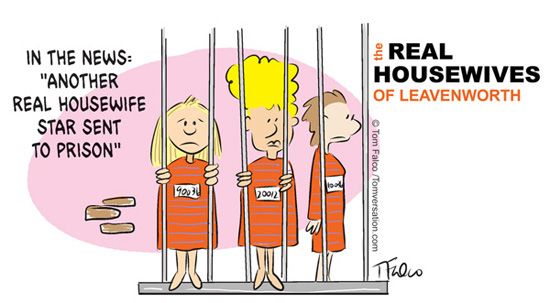 Another Real Housewife cast member is heading to prison. What's with these people? Were they crooks before they got on tv or was this their M.O. for life?
Apollo Nida, from the Real Housewives of Atlanta was sentenced to eight years in prison for fraud. He was in prison about five years ago, was released and then started up his shady ways again, stealing from pensions and other blue collar crimes.
Teresa Giudice and her husband Juicy Joe will be sentenced in September for fraud, they are from The Real Housewives of New Jersey.
Other Housewife stars have been in trouble with the law as well, from Nene Leakes allegedly not paying $1 million to her wedding planner to Bethenny Frankel allegedly not paying her management company for their cut of Skinny Girl. And the list goes on. I hate to see them all in trouble, but it's great fodder for cartoons. Bravo TV and Andy Cohen knows how to pick 'em!