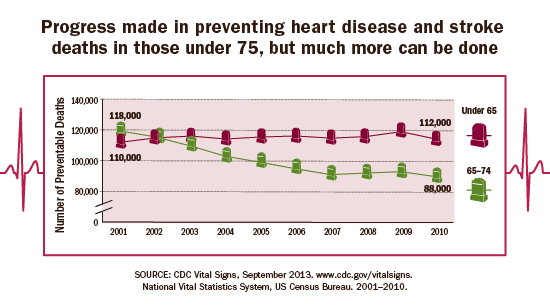 Heart disease and stroke kill nearly 800,000 Americans every year. They're two of our nation's leading killers.
In this month's CDC Vital Signs, we're reporting that 200,000 of these deaths in people under 75 could be prevented through better prevention and better care.
As a doctor, I find this heartbreaking, especially when research clearly shows we could prevent so many of these deaths so simply.
More than half of those preventable heart disease and stroke deaths happen to people under 65, and we've made little progress in reducing that number.
Controlling high blood pressure is one of the key things that can prevent these deaths. There's great work being done across the country to make a difference.
Recently, I shared the story of how Kaiser Permanente Northern California doubled the percentage - and nearly quadrupled the number - of their patients who have their blood pressure under control.
In Connecticut, Aetna's success in providing counseling tailored to African-American patients resulted in 50 percent more patients with blood pressure under control.
The American Pharmacists Association Foundation's Asheville Project provided regular blood pressure and cholesterol consultations with a pharmacist and reduced co-pays and waivers for medication. As a result, blood pressure control moved from 40 percent to 67 percent, and on-target cholesterol levels increased from 50 percent to 75 percent.
This week I'm headed to Minneapolis where recent reports show that 66 percent of men and 72 percent of women have their blood pressure under control. That's a striking difference from the national average of only 47 percent.
I'm so intrigued by these results that we're convening a group of public health and clinical care leaders to learn why they're doing so well. It's likely not a coincidence that in addition to high levels of blood pressure control, Minnesota has the lowest rate of preventable deaths from heart disease and stroke in the U.S.
We can learn from health care systems like Kaiser Permanente Colorado in Denver and Ellsworth Medical Clinic in Wisconsin, winners of the Million Hearts® 2012 Hypertension Control Challenge. Nominate others for the 2013 challenge through September 30.
Controlling blood pressure, managing cholesterol and reducing smoking can help millions of people live longer, healthier lives.
Under the Affordable Care Act, most health plans must cover preventive services such as blood pressure and cholesterol screenings without a copayment, co-insurance or deductible.
With enrollment in the Health Insurance Marketplace beginning October 1, more Americans will have access to better health coverage and preventive care.
Even one preventable death from heart disease and stroke is too many. By working together to improve heart health, we can save at least 200,000 lives every year.