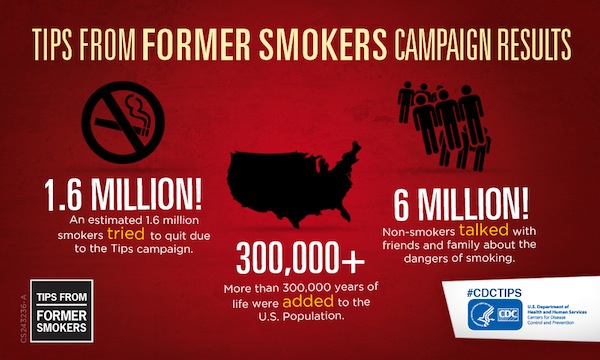 Last year, with funding from the Prevention Fund of the Affordable Care Act, we launched our Tips from Former Smokers media campaign. For three months, we ran hard-hitting ads showing true stories of real people that vividly illustrated the damage caused by smoking and secondhand smoke exposure. We encouraged people to quit and offered help to those who wanted it.
We pulled back the curtain and showed the tobacco-caused tragedies that we health care professionals see day in and day out.
We now have data showing the impact of the Tips from Former Smokers campaign.
The campaign reached nearly 80 percent of all U.S. smokers. Millions of nonsmokers talked to friends and family about the dangers of smoking.
Using the most conservative estimates (i.e., lower than I think is accurate!), the ads:
Prompted nearly a quarter million smokers to quit, of whom more than 100,000 will likely remain tobacco-free for good.
Added more than 300,000 total years of life to the U.S. population.
This is a tremendous accomplishment.
Tobacco kills more than 440,000 Americans every year -- 1,200 every day. And each day, 1,000 of our nation's children begin smoking. Three-quarters of teen smokers continue to smoke into adulthood, even though most thought they would quit after a few years.
Almost everyone knows that smoking kills, but that's only a small part of the story. Smoking also disfigures and disables, preventing smokers from doing the things they want to do and robbing them of their independence.
We know what works to help smokers quit and prevent young people from starting. One of the most effective but underused tools at our disposal is advertising.
The Tips campaign is an important counter to the more than $8 billion the tobacco industry spends annually to make cigarettes more attractive and more available, including to youth and young adults. They spend more money in three days than we had to spend for the year.
Comprehensive tobacco control programs that include mass media campaigns are a best buy for state and federal dollars. The $2.4 billion spent by California on tobacco control over 20 years reduced the state's health care costs by $134 billion, an astounding return on investment of 55 to one.
If you want to be inspired, watch the ads and listen to the stories of men and women whose lives were changed forever by smoking and secondhand smoke exposure. I will never forget the brave people who came forward to tell their stories. I was honored, humbled and inspired to meet them.
Then quit, or encourage someone who smokes to quit, and if you or they need help, call, 1-800-QUIT-NOW from anywhere in the U.S. to access free quit help, or visit www.cdc.gov/tips for additional quit resources.
All too often, I hear people say things such as, "cigarette smoking isn't an important issue any more" and "so few people still smoke and those who do aren't ever going to quit." These beliefs are dead wrong!
Smoking remains the leading preventable cause of death in the U.S. and the world. One in five American adults still smokes. Most of those who smoke want to quit. Even more importantly -- we KNOW what works to help people quit: smoke-free policies, price increases, comprehensive state-level tobacco control programs, ongoing public education campaigns and easy, free access to smoking cessation services. But in too much of the country, we aren't doing these things despite the fact that they save lives and save money.
CDC's Tips program was a stunning success. We won one battle against cigarette addiction.
We need you to help us reignite progress so that we can win the war against the illness, disability, disfigurement and death that tobacco causes. Nothing could be more urgent than preventing deaths from tobacco use, which needlessly kills one American nearly every single minute of every single day.