OK, so I get this call from my editor and she tells me that The Lunch Café in Berkley has this rep for great soups and that the owner, Cindy Coon, can create a soup from anything.

While on my way to do the article, I figure I can stop and get a few ounces of Petrossian caviar to see what she can do with it.

See BerkleyLive budget.

So I ditched that idea and just dropped in.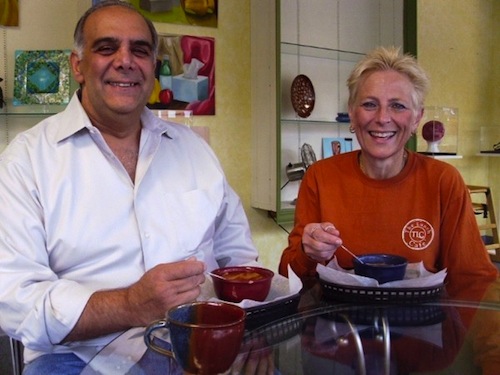 My editor wasn't kidding. Cindy has a repertoire of 60 soups that rotate through the weeks, months and seasons on her menu and sells about four gallons of soup a day.

"I love soup," Cindy says. "There isn't anything I can't turn into a soup."

Every day at The Lunch Café, Cindy starts off by making her fresh stocks for the two soups she will serve that day: one veggie and one with a meat protein, and the journey starts to create her unique soups.

She makes three types of tomato soups: creamy tomato with basil, fire-roasted tomato chipotle and tomato Angeline, named after her daughter, Angela, that's made with crushed and diced tomatoes, Italian seasonings and orzo noodles. If she makes cream of mushroom soup on a Thursday, she'll make extra for her green bean casserole soup, which is a feature every other Friday. She makes her own golabki (go-wompki) for her stuffed cabbage soup. She tops her baked macaroni and cheese soup with crispy potato chips. She bakes her own pastry crust, cuts it into corners, and puts it on the chicken pot pie soup when it's on the menu that day. And don't forget the taco soup.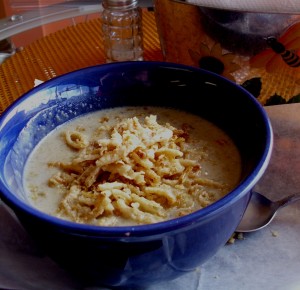 "It looks like a chili with ground beef but it tastes like a taco and it's topped with tortilla strips and cheese," Cindy says.

Then come in and have the baked potato soup, vegetarian. Now this is where the coolness begins. Not a vegetarian? Then add some bacon bits or cheese. You can customize your soup with whatever fresh goodness The Lunch Cafe has on hand that day. Cindy's philosophy is to never run out of an item and never say "No" to a guest's request.

Cindy takes pride in listening to her guests as to their special dietary needs and requests. Many of her soups are vegetarian and gluten-free and her "cream" soups are made with skim milk. Since The Lunch Cafe is a scratch kitchen, if you want to know what's in an item or if it's vegetarian or gluten-free, Cindy and her staff can tell you all the components of a menu item without having to go to the kitchen to read a label. And Cindy hand picks all of her produce.

"To buy a case of lettuce or peppers, that's just nasty," Cindy says. "During the summer, my neighbor brings over tomatoes, cabbage and peppers from her garden."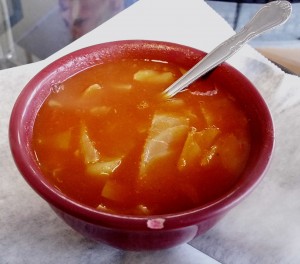 The same goes for The Lunch Café's sandwiches and wraps. Fresh breads make up this table: low-carb wraps; multi-grain, white, wheat, and gluten-free breads; and fresh-baked ciabatta. You can order just a half of sandwich or create your own soup, salad or sandwich combo without the usual hassle of "Let me see if they will do that for you." Not too many rules here.

One final note, the bottom of The Lunch Café's menu states: "* Prices subject to change." Well, they still have the same pricing they have had for the past five years. In this economy, talk about paying it forward to keep the loyal coming back. I know I will, but it will be for her awesome cabbage soup.

The Lunch Café, 3116 W. 12 Mile Rd.; 248-544-2233