American wind power needs your help and you can make a difference.
This week or next, the U.S. Senate is expected to vote on H.R. 3474, also known as the EXPIRE Act, a bill which includes a two-year extension of the renewable energy Production Tax Credit (PTC). This critical policy allows us to scale up amid nearly 100 years of permanent incentives for other energy sources.
By encouraging your U.S. senators to pass this bill now, you can help American wind power stay on course to be the clean, homegrown, and affordable electricity source of tomorrow as well as today.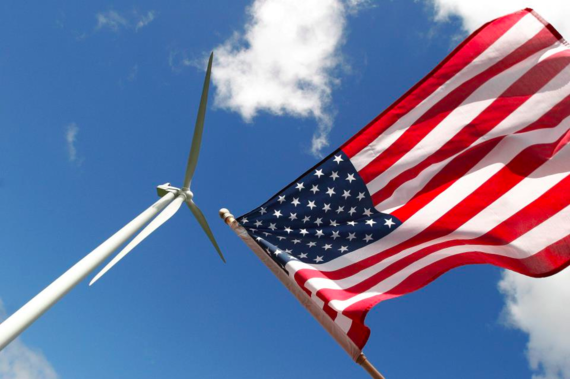 I was given a glimpse into the future growth of wind energy during our annual conference, WINDPOWER 2014, last week, as the Department of Energy discussed preliminary results of its Wind Vision initiative. The Wind Vision shows American wind power can more than double in the next six years and puts us on the path creating 400,000 good-paying jobs by 2050, keeping $520 billion in the pockets of consumers by lowering electric bills, and conserve enough fresh water to fill the Dallas Cowboys stadium more than 430 times.
The good news is that the Wind Vision is achievable with today's technology. Wind power has already demonstrated it can grow fast enough to generate 35 percent of the U.S. power grid by 2050 and already saves consumers money by keeping electricity rates low. American wind power has employed up to 80,000 jobs and attracted up to $15 billion a year in private investment into our economy, it hasn't come close to reaching its full potential.
So how do we get there? I listened to the story shared by WINDPOWER 2014 keynote speaker and CEO of Honest Tea, Seth Goldman, about how his company became a profitable business as it increased sales from $250,000 in 1998 to $88.5 million in 2012, while distinguishing its product for its environmental and health benefits. The message embedded in Seth's story was this: wind power can succeed by differentiating itself from other energy products.
What does differentiating wind from other energy sources mean? It means acknowledging and promoting rapidly-scalable, zero-emission wind energy as the cleanest source of low-cost, utility-scale electricity production we have available. After all, wind farms already installed in 39 states produce enough electricity to power the equivalent of 15.5 million homes and avoid 126 million tons of carbon dioxide emissions a year in the U.S.
That's important because the U.S. produces nearly six billion metric tons of greenhouse gas emissions a year and electricity generation is the largest industrial source of carbon emissions in the U.S., according to the Environmental Protection Agency, and because the White House warned us just last week about the impact of climate change on our economy and our environment with the release of its National Climate Assessment.
The president identified accelerating the growth of clean energy, including wind power, as a major component of his climate action plan. Fortunately, as wind energy continues scaling up from over 4 percent today to 20 percent of the U.S. power grid and beyond, the pollution savings will rapidly grow.
We can get there. I can see it, and I know you can too. But first I need you to join me and the many other Americans across the country in telling Congress to pass the EXPIRE Act today.
While a bipartisan coalition of 144 members of Congress have already publicly supported extending the PTC, wind power still needs your help. If you're one of the majority of Americans who support wind energy, urge your senators to pass the EXPIRE Act. Go to www.powerofwind.com and contact your senators, or call the Capitol Switchboard at 202-224-3121 and ask to speak to your Senators. Let them know you want wind power to continue helping lower electric rates, attracting new investment to your community, and fostering economic development across all 50 states.
Equipping wind power with stable tax policy today is only one part of the equation that helps America get to the clean energy landscape of tomorrow. To fully realize the targets laid out in the Wind Vision, we need long-term policy that appropriately values carbon-free electricity, and provides the same stability under which other forms of energy operate.
I look forward to working with members of Congress on both sides of the aisle in addressing this need not just because I know it's achievable, but because I know you will be with me every step of the way.