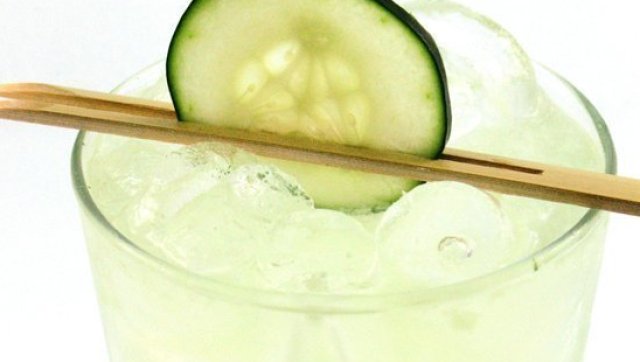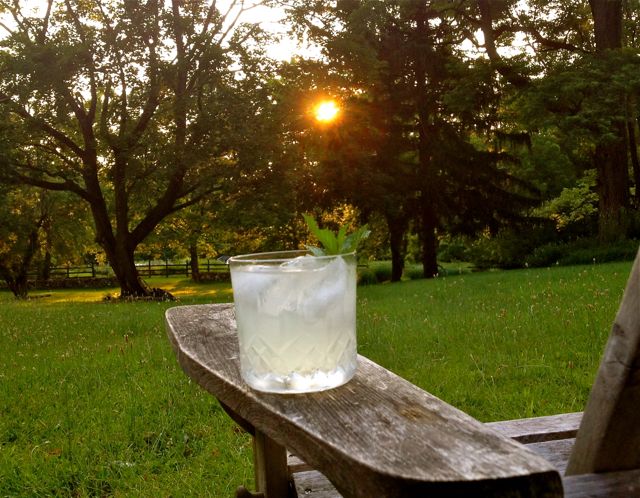 In the dead of summer there is no better supplement to rest and relaxation than a cocktail. Best enjoyed outside, poolside or seaside -- basically anywhere not on the stoolside of a bar -- summer drinks are often a do-it-yourself endeavor. But being a labor of time and effort, sometimes the fuss of making a proper cocktail can eat into the time you're trying to savor. It's no wonder people turn to sour mix and a blender. But have no fear, I am here to tell you that you can, in fact, have your cocktail and drink it too.
Craft cocktails being my passion and trade, I have long been designated bartender at any gathering where there's an excuse to drink. (I often think my presence is the excuse, which makes me wonder about the sincerity of the invitation.) While in my neophyte days I relished the opportunity and slaved away in the kitchen to put out custom cocktails to order, these days I'm much more inclined to enjoy a cocktail in my downtime rather than make one. Now I go for the quicker, easier option.
This does not mean I've turned to concentrated limeade and the cheapest handle of rum I can find (not that I would refuse a cocktail derived from those ingredients). My methods may have changed but my standards have not. It is possible, I have learned, to make high-grade cocktails for a group with minimal hassle.
Below I give you five easy and amazing cocktail recipes perfect for summer and five tips on how to make them easily and amazing. You'll notice that there's a lot of ingredient overlap, which makes it a snap to serve more than one option.
First:
5 Tips for Making Great Drinks at Home
1. Use fresh squeezed citrus juice. Put down the sour mix and juice those limes yourself! This is non-negotiable and it seems to be the biggest hurdle for people to overcome when making cocktails at home. It's really not that much work. Think of it as prep, like chopping vegetables before cooking. Hand juicers are cheap and easy to find.
2. Regarding simple syrup, it's equal parts sugar and water dissolved together. No need to put it over the stove, just use hot tap water and stir the mixture until it's completely clear.
3. Buy quality booze. The alcohol is 50 percent-70 percent of the drink. You wouldn't skimp on lower quality meat when it's the main course would you? You don't have to go top shelf, but bottom shelf isn't a good idea either.
4. Don't underestimate the importance of the garnish. While it isn't completely necessary, a beautifully applied garnish will give your cocktails an extra authenticity. It's less work than you think and your guests will notice.
5. For groups, batch the drinks. Get out the pyrex and extrapolate cocktail recipes from ounces to cups and make it in a pitcher. Pouring already mixed drinks into a shaker rather than making them to order will save you eons of time (it took me far too long to figure this out). Make sure you taste the batch first and adjust to taste. Don't worry about going off recipe, use your instincts.
So keeping those in mind:
5 Great Drinks for Summer Sipping
1. Bourbon Smash
I served this cocktail at my wedding and it is one of my all time favorites. It's basically a mint julep with a little citrus added, the oils from the muddled lemon wedges add a tart, bright citrus note that goes beautifully with the fragrant mint.
2 ounces Bourbon
.75 ounce Simple Syrup
.25 ounce Lemon Juice
3 Lemon Wedges
Pinch of Mint (10-12 leaves)
In a cocktail shaker muddle the lemon wedges and mint in simple syrup. Add remaining ingredients. Shake with ice and strain over fresh ice into a rocks glass. Garnish with a mint sprig.
2. Aperol Spritz
Aperol is the lighter and brighter cousin of Campari. It's low in alcohol so you can be sipping (or gulping) on these all afternoon.
Build in a wine glass over ice:
3 ounces Prosecco
2 ounces Aperol
1 ounce Soda Water
Garnish with a lemon peel or an orange wedge. Believe it or not an olive is also a really nice garnish in this drink.
3. South Side
Just a gin sour with mint. Simple right? The best ones always are.
2 ounces London Dry Gin
.75 ounce Lime Juice
.75 ounces Simple Syrup
Pinch of mint
In a cocktail shaker muddle the mint in simple syrup, add remaining ingredients. Shake and strain over fresh ice in a rocks glass, or serve it up if you prefer. Garnish with a mint sprig.
4. Daiquiri
Perhaps the greatest cocktail ever. It is simplicity personified. Though its public image has been diminished over the years by pre-mixes and tropical fruits blends, in its primal form the Daiquiri is a wonder to imbibe. It's a great party drink, easy to make as can be and most people have never had a real one. I always love turning people on to daiquiris, it's often a revelatory experience for them.
2 ounces White Rum (again I stress the importance of quality booze, personally I'm a fan of Flor de Cana 4yr and Banks 5 Island Rum)
.75 ounce Lime Juice
.75 ounce Simple Syrup
Shake and strain. Serve up.
5. Paloma
A favorite south of the border, this is a great alternative to the margarita. It's a longer drink and won't throw you too many sheets into the wind at once. The only snag you might hit is finding real grapefruit soda, but it can be done.
2 ounces Blanco (white) Tequila (use something that's 100 percent agave)
Lime Wedge
Pinch of Salt
Grapefruit Soda (Jarritos and Ting are good options.)
In a collins glass add tequila, fill with ice, add a pinch of salt, then squeeze in the juice from the lime wedge and throw it in. Top with grapefruit soda.