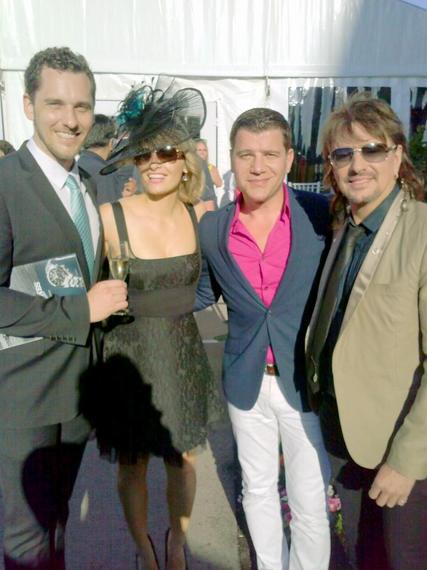 The generous folks from the New York Racing Association were kind enough to invite me to the Belmont Stakes last Saturday. It's the first year they allowed a jackass to enter the race. Nevertheless, I'm grateful they hooked me and my royal party-mate, Miss NY Kira Kazantsev, up with VIP Champagne Room access. You can lead a horse to water but you can't make him drink, and you can lead me to free champagne and wonder what the heck you're going to serve the other guests.
Believe me, I needed a little (OK A LOT) of bubbly after sitting in two hours of bumper to bumper traffic on the Cross Island Parkway (AKA the spot where bad hats and bad accents converged). After fighting my way through the Hamptonite/Stakers traffic, I finally made my way into the track to meet Kira.
We got down to business as soon as we connected. We grabbed some food, a few glasses of champagne, then immediately began judging what secretly I call the Longines Watch Companies Most Glamorous Broad in the Joint contest." I'm sure if Longines was aware of this, they wouldn't give me the time of day (Get it? They were the official timekeeper of the race and I made a time joke).
It didn't take long for me to pick my personal 'winner': a boozed up gal in a flowered dress who looked like she stumbled out of a rave--15 years ago--and never found her way home. All kidding aside, the real winner of Longines Most Elegant Woman contest was actually Kelly Davis (#84), and she was quite deserving. Longines awarded Kelly with a beautiful stainless and gold Conquest watch that was like her, classy and understated.
Afterward we continued partying in the VIP area with our new BFFs Kelly, Lauren,Travis, Lavell, + hot blonde Australian News Anchor Lynda Kinkade, while former Yankee, Bernie Williams, pumped out some jazz tunes on his guitar for guests up on stage. It was a nice unexpected touch. After 10 or so bottles of MUMM--or as I like to call it, YUMM! ( They call it the Champagne Room for a reason)--we went outside to catch the highly anticipated 11th race. I had five dollars to win on California Chrome (Because I'm a big shot) but as we all know, victory wasn't in the cards for him that day as Tonalist came in 1st place. Chrome broke his streak, but I kept mine, I lost, there's something to be said for consistency.
Actually, maybe we were all triple-crown winners that day. Unlimited champagne;gorgeous ladies; LL Cool J singing "Mama Said Knock You Out"; witnessing the owner of California Chrome have a certifiable meltdown (Imagine how much fun this guy is at home); and elbow rubbing (And nothing more) with Bon Jovi guitarist Richie Sambora. It doesn't get any better than that (Unless you rub elbows, or even graze shoulders, in passing, with Jon Bon Jovi).
Cheers to NYRA for a fabulous event!
PHOTO GALLERY
Belmont Stakes Fun With Miss NY , Bernie Williams and Richie Sambora