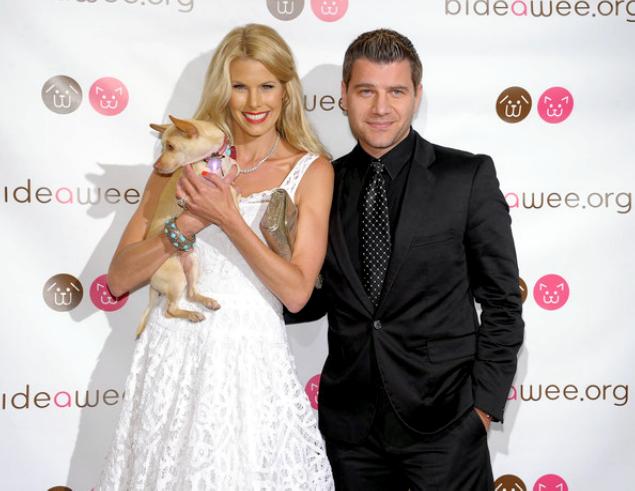 Pups and people alike were groomed to their finest for the 2012 Bideawee Ball at Gotham Hall in New York City last Monday, June 11.
Beth Ostrosky Stern, wife to the one and only shock jock Howard Stern, stepped in last minute as the replacement host for actor Adrian Grenier from the hit HBO series Entourage, who canceled just 24 hours before the ball. Grenier's excuse for being placed in the dog house is still unknown. Mrs. Stern announced her new position on Twitter:
"I feel bad for all the animal lovers who are expecting to see @adriangrenier hosting tomorrow's Bidewee Gala and see me instead!"
Howard Stern expressed his displeasure with Grenier on his radio show the following morning saying:
"A lot of celebrities agree to do something for a charity. And at the last minute they cancel, leaving the charity stranded. I do lose respect for people when they do this. They always have a great excuse -- I don't know. Send out a tweet and say 'I'm so sorry.'"
Howard is one lucky man, because Beth takes the cake for sweetest bombshell I have ever met. She fluttered the room all night, giving hugs and handshakes to the humans, with smooches and back-scratches to the pups (lucky dogs). Filling in? The typical animal lover probably wouldn't associate the last name Stern with words like caring, bubbly, and kisses, but Beth is the exception, the only thing missing that night was the fairy dust.
Tickets for the ball went as high as $1,000 (that's a lot of doggie treats). Visualize tuxedos, and ball gowns (and that's just the K9's) with fancy dog bowls, a private red carpet photoshoot, with hors d'oeuvres passed around for us humans and our four-legged friends. Guests were careful not to grab any of the fancy gourmet biscuits on the silver trays, although after a few cocktails, it was mildly tempting.
Other notables at the event included Real Housewife of New York Sonja Morgan, Tinsley Mortimer, animal advocate Wendy Diamond, and Mayor Bloomberg's daughter, Georgina Bloomberg. Now I'm on of the mayor's biggest fans (as long as he keeps his hands off my BigGulp), but I do have to say Georgina probably gets her looks from her mother (no offense, Mr. Mayor).
Overall, the event was drama free with the occasional No. 1 "accident" on the hall floor. All proceeds for this event went to animal welfare services, including adoption, training, and grief counseling for men and women who may have lost their furry best friend.
PHOTO GALLERY
2012 Bideawee Ball at Gotham Hall in NYC