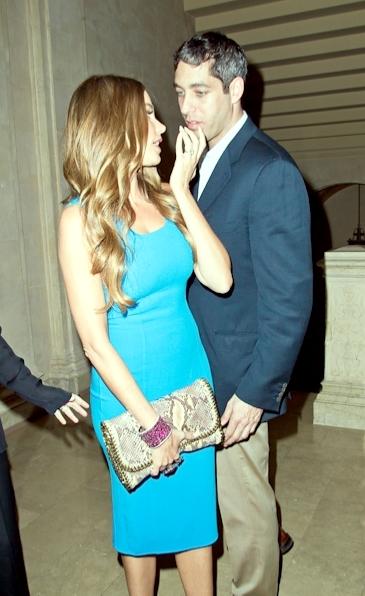 Photo credit: Ken Arcara of GuestofaGuest
Sofia Vergara is happily engaged to the charming Nick Loeb and they might be bucking tradition by having him take her name.
Some Hollywood stars keep their own names once they tie the knot, like Reese Witherspoon and Gwyneth Paltrow , and other women like Courtney Cox Arquette and Jenna Dewan Tatum take their famous husband's names.
I enjoyed meeting and sipping cocktails with Nick at the 2013 Gordon Parks Foundation Awards in NYC Tuesday night as he patiently waiting for his date (Sophia) to arrive. I learned that by marrying the spicy Colombian actress, the president of Onion Crunch, and grandson of NYC philanthropist Carl M. Loeb (the man who donated the Loeb Boathouse to Central Park), hasn't completely ruled out taking her last name once they get married.
As we chatted, Actress Rachel Heller introduced Nick to a few of her friends as Sofia Vergara's fianc'e.
"People are introducing me as Sofia Vergara's fiancé now?, Do you think I should take her last name and change mine to Vergara after we're married?" Nick joked about the Modern Family star's fame.
Sofia arrived soon after and the two were quite affectionate for the rest of the evening.
Sofia and Nick got engaged in July 2012, and Nick proclaimed he loves her for who she is, and not for her fame, "I'm not with her because she's famous, I loved her before that".
Does this mean we may be enjoying crunchy onion snacks at the Vergara Boathouse sometime in the future??
Click here to see more great photos from the event.