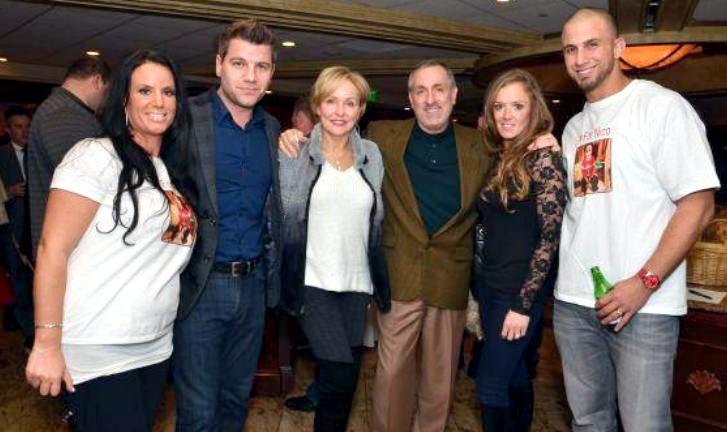 N.J. Socialites with Dominic and Christina Santoli. Photo by Jeremy Smith.
Celebs and Real Housewives Support A N.J. Child With Cancer and Kim Granatell Films The New Jersey Socialites At The #ForNico Benefit Dinner.
The New Jersey Socialites, a new competition-based reality series, is a cross between Celebrity Apprentice and The Real Housewives of New Jersey. Like, imagine if Donald Trump and Teresa Giudice made a baby -- on second thought -- let's pretend that thought never happened and move on.
The New Jersey Socialites features glamorous women of New Jersey competing to be the "queen of philanthropy" by organizing and promoting fundraising events and headed up by former Real Housewives Of N.J. pot stirrer Kim Granatell. Naturally, this show will be packed with delicious drama, as there can be only one charity queen of New Jersey.
Last Monday, while taping an episode of The New Jersey Socialites, Granatell and her crew attended the #ForNico benefit dinner at Seasons in Washington Township, N.J., and thankfully, that night was drama free. More importantly, these socialites helped raise awareness and generate donations for this very worthwhile charity. Other Real Housewives of New Jersey cast-members who were not in attendance that night, Teresa and Joe Giudice, along with Jacqueline and Chris Laurita, have also shown their support for Nico.
#ForNico benefits a little boy by the name of Nico Santoli.
Nico, 22 months, is fighting a battle that no child should ever have to fight. On September 14, 2012, Dominic Santoli and Christina Santoli were told that their baby has unilateral retinoblastoma, a rare childhood cancer of the eye, and their lives were forever changed.
Because this type of cancer is so rare, the invasive treatments are specialized and frightfully expensive.
In addition to a fun-filled night of delicious food and some serious dancing thanks to the Gotham City Cheerleaders, Nico's mom and dad designed and sold #ForNico t-shirts to raise funds as well as awareness. The Santolis' efforts have also caught the attention of several professional athletes and many A- list celebrities, including Leonardo DiCaprio, Dwayne 'The Rock' Johnson and Jessica Simpson.
"Anybody I can ask a favor for to take a picture with a t-shirt, I've been asking," Dominic said. "If I can get that one parent to notice this earlier and save a baby from going through these intense, invasive, intra-arterial chemosurgeries, then you know what? My son saved somebody."
Click here to find out more about #ForNico.