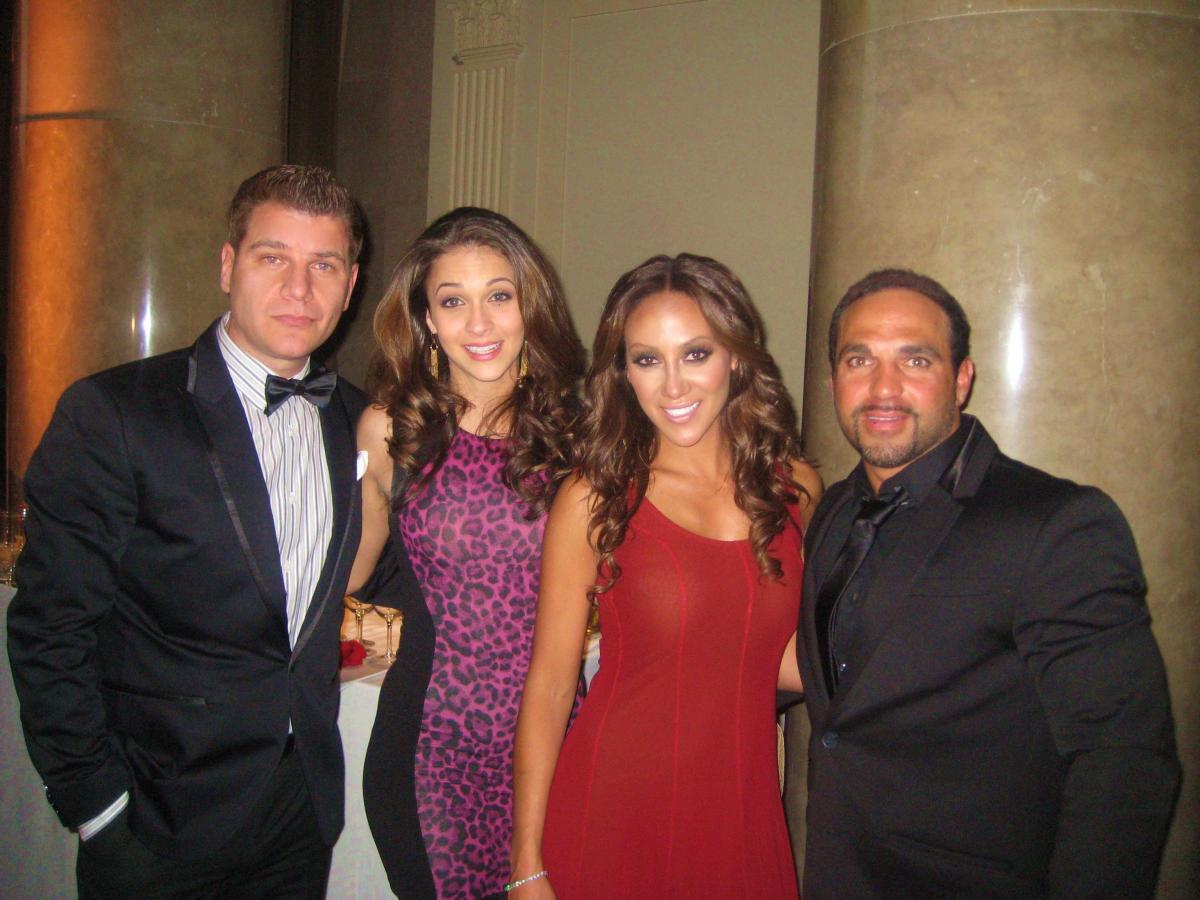 This past Wednesday night November 28th, I attended the Christopher and Dana Reeve Foundation's 21st annual A Magical Evening Benefit Gala at Cipriani Wall Street. Proceeds from the event went to the Reeve Foundation, which is dedicated to finding a cure for paralysis and improving the quality of life for people living with paralysis.
Two of Christopher's children, Matthew Reeve and Alexandra Reeve Givens, hosted the star-studded event. The siblings are so stunningly beautiful and genetically perfect, I cannot help but to wonder if they were conceived in a phone booth. The Superman actor would've been incredibly proud of their poise, graciousness, and dedication in continuing his legacy.
As always, a heap of celebrities showed up to support the cause. Fittingly, Christopher Reeve once said, "Nothing of any consequence happens unless people get behind an idea."
I had my own reason to feel proud, since my party buddy for the evening was Miss New York 2011, Kaitlin Monte. I'm sure she had no idea that she would be doing additional charity work that evening by being seen with me. It certainly didn't hurt my image. Kaitlin's beauty and lovely personality was more powerful than a speeding locomotive, attracting all the A-listers in our direction (OK, in her direction).
One of those A-listers was Meryl Streep, a long-time supporter of the foundation, who I love-love; who I legitimate love. The usually elegant Meryl looked a bit frumpy and was wearing some sort of beaded dream-catcher necklace. Even though high fashion may have been her kryptonite that evening, it was still exciting to see this living legend mingling about.
While we hung with Harvey Weinstein, Kaitlin and I were approached by the Houdini of our time, David Blaine. We quickly learned that one does not simply ask an illusionist for "his card." A normal person would present a card, say keep in touch, and go about his business. David Blaine is not a normal person. Pulling a deck of cards out of his pocket, David treated us to 20 minutes worth of mind-bending tricks. It was surreal. Thankfully David didn't make me disappear, although I was invisible to him. I don't recall if Kaitlin ever got David's card, but they're now Facebook friends, which is even better!
Next, Kaitlin and I had the pleasure of talking with Eric LeGrand. Eric became paralyzed following a severe spinal injury during a football game in 2010, but he has since regained movement in his shoulders and sensation throughout his body. Full of infectious energy, Eric said he currently feels great and seemed to take a liking to Kaitlin. Can you blame him?
Ali Stroker, the cute girl on Glee, and spokesperson for the foundation, lit up the room. Ali, who has been paralyzed since the age of two, describes herself as an actor, singer, and wild child. After witnessing her hotness and fierce fashion choices, namely a pair of bad-ass black edgy heels, at the gala, I'd say a wild child indeed. Ali brought her charming mom as her plus one.
Another beautiful singer, Jordin Sparks attended the event with her boyfriend Jason Derulo. When Jordin and Jason weren't performing, my man DJ Whoo Kid kept the crowd entertained with his party-hearty playlist.
Last but certainly not least, we spotted Real Housewives of NJ's Joe and Melissa Gorga (more like, GORGeous! Damn she's hot!). What NYC party would be complete without at least one Real Housewife? I can't say if cameras were or weren't taping their every move for season 5, but we did get lots of Italian-style hugs, kisses, and maybe a few pinches... and that was just from Joe. He and I talked for a while throwing down some Johnnie Walker Blacks, while the ladies sipped on champagne. We had quite a buzz after hanging with Joe and Melissa; however, I don't know if it came from the booze or Joe's cologne. Now Joe's my bromee for life, but a few less dabs behind his ear wouldn't be a bad idea.
After about 15 minutes of this top shelf fun, Kaitlin and I said goodbye to Cipriani and headed to Capitale. for a party co-hosted by the a less likeable Housewife Teresa Giudice. I went under protest. The event was nearly over by the time we arrived, thank goodness for small favors, huh?
Upon entering we spied Teresa and Kim D deep in conversation. We had no idea what they were discussing so intently, but I'm guessing it involved cookbooks, her hubby Joe's erections (a.k.a. "Teresa's imaginary friend"), and maybe a little bit of talk about world peace and the struggling economy for good measure. Speaking of Joe, he was also there wearing what appeared to be the same blazer I saw him wear to court a few months ago. I don't know what's worse, the fact that he was wearing his courtroom best, or that I actually noticed.
This is where Kaitlin and I decided to take advantage of last call and also scored what appeared to be bottles of champagne suspiciously left behind on the tables, then we parted ways and headed home.
The next morning I woke up to find I actually brought home a bottle of Sparkling Fabellini with Teresa's face on it (that explains why they were left behind). This is not something you should see while nursing a hangover (or a baby... or anything else that needs nursing).
PHOTO GALLERY
Christopher Reeve Magical Evening Gala 2012