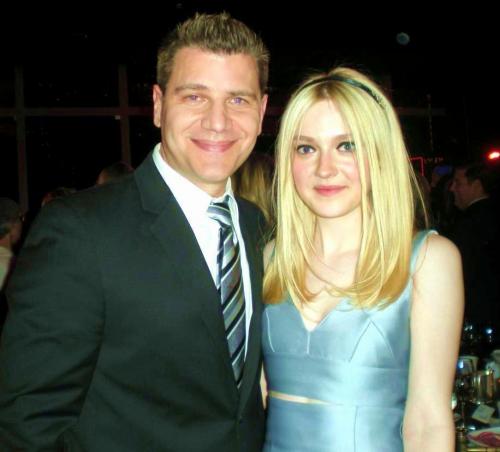 It was a fun night at the Mandarin Hotel in New York City to honor some of the most interesting men and women from the past 12 months. Celebrities gathered on the red carpet last week for the 15th annual Fun Fearless Awards presented by Cosmopolitan Magazine.
Upon entering, I quickly found myself striking a pose with Freida Pinto (while she freshened her lipstick) for a few photogs before she hit the red carpet. Also on the carpet was Dakota Fanning, who is all grown up now and very sweet, although I'm not too sure she has done anything all that fun or fearless yet. Chatting with Fanning proved to be a little difficult, as she was surrounded by about 10 people and tight security. Fear not! Difficult is by no means impossible.
After watching the celebrity guests parade down the red carpet we were all directed toward the cocktail hour held on the 35th floor which was noticeably lacking of anyone fun or fearless, at least where the VIPs were concerned. I guess they must have had their own little gathering somewhere in the back. The dinner portion of the night held in the grand ballroom on the 36th floor was another story entirely.
Dinner was an event unto itself (and healthy enough for Moneyball co-star Jonah Hill to still be able to stick to his diet). It started with an autumn green salad with pears, goat cheese and dried cherries with a light maple vinaigrette. The main course was burgundy- braised beef with horseradish gremolata. Dessert was a light raspberry tart with Patron Citronge liqueur.

Leading the list as "Fun Fearless Male of the Year 2012" was Australian actor, Sam Worthington who said, "Well, you think you know who you are in your 20s. When I was in my 20s, I thought I knew who I was. And then as soon as I turned 30, I realized that person has bruises and bumps and dark parts. And you kind of go, well, that's it. I'd rather embrace it than force myself to change. And by embracing those parts of you, you can actually work on them more. You don't act as if you know it all."
Um, what?
Taking home the award of "Fun Fearless Female of the Year 2012" was the super cute Dakota Fanning, who said of her win, "Since I was young, I've always known who I was. I never really had to go through finding who I am. I've always felt really secure."
Another honoree that night, Paul Rudd, entered the stage and said "When I told my wife that I won a Fun and Fearless Male Award, she said, 'I'm not going to go to that dinner with you, because if I did, that would in some way validate and acknowledge this giant falsehood," he explained in his acceptance speech. He went on to say "Actually, it's just because the babysitter bailed on us (that she's not here), but I know the truth." Other winners in attendance included Blake Shelton, Miranda Lambert, Jonah Hill, Liam Hemsworth and Minnesota Vikings running back Adrian Peterson.

Musical guest for the evening, Robin Thicke, performed a few songs to the delight of a crowd of screaming girls, and dedicated "Lost Without You" to Paul Rudd and Jonah Hill. Rudd and Hill embraced each other and danced romantically before taking to the stage with Robin to continue their antics. See? now that's Fun and Fearless! Jonah was the first to bolt from the party right after Robin finished singing and the lights came up.
On my way to the elevators I bumped into Liam Hemsworth, beau of Miley Cyrus, before riding the elevator down to the lobby with Robin Thicke's hair, I mean Robin Thicke, and a few giggling girls eye-kissing him. On the way down we chatted about Tom Cruise's ultra graciousness at the Mission Impossible premiere back in December. This was where Cruise delayed the opening by like two hours to sign autographs and pose for pics with all of the fans, and where Thicke and I first met as he accompanied his wife Paula Patton, who was starring opposite Cruise in the film.
As we exited the elevator and headed for the door we were handed Cosmo swag bags containing full-sized bottles of bodywash, lipsticks, mascara, and of course the obligatory current issue of Cosmo Magazine.
Thankfully it was still early enough to head home to watch the episode of Hawaii Five-O I recorded starring James Caan, who proved you can also be Fun and Fearless even at 71.